The Top 10 Fantasy Series Published In The Past Decade
The end of the decade is rapidly approaching. The 2010's were good for sci-fi & fantasy fans as shows like Game of Thrones, and huge movie franchises like the Marvel Cinematic Universe brought genre into the mainstream. The decade was great for books as well, with several huge epics finally reaching their conclusions (Wheel of Time). Other books languished due to writer's block, with promised trilogies never completed, and epic sagas that still have not reached their conclusions. However, the 2010's brought us many new epic fantasy series. There has been an influx of female writers, and writers of color making their stamp on the traditionally white-male dominated realms of sci-fi & fantasy. And so we have endeavored to seek out the best fantasy series of the past decade. Below is our (incredibly subjective) top 10 list of the best fantasy series published in the past decade.
The Rules Of This Top 10 List (That I Made Up)
First, some ground rules. Epic fantasy series have a tendency to sprawl over multiple decades. So I've decided to count only series whose first book came out in 2010, or later. Obviously, this list will have some bias for the series that I personally have read and loved. But, consideration will also be given to highly rated/ranked series that I haven't gotten around to yet.
Only one series per author is allowed. There must be at least at least three books in the series published. Trilogies are considered a series. I also do not differentiate between 'teen' fantasy and 'adult' fantasy because I find that female fantasy writers often get unfairly labeled as YA or Teen when their work is just as legitimate as the male 'adult' fantasy authors. Got all of that? Good, let's dive in.
The Top 10 Fantasy Series of The Past Decade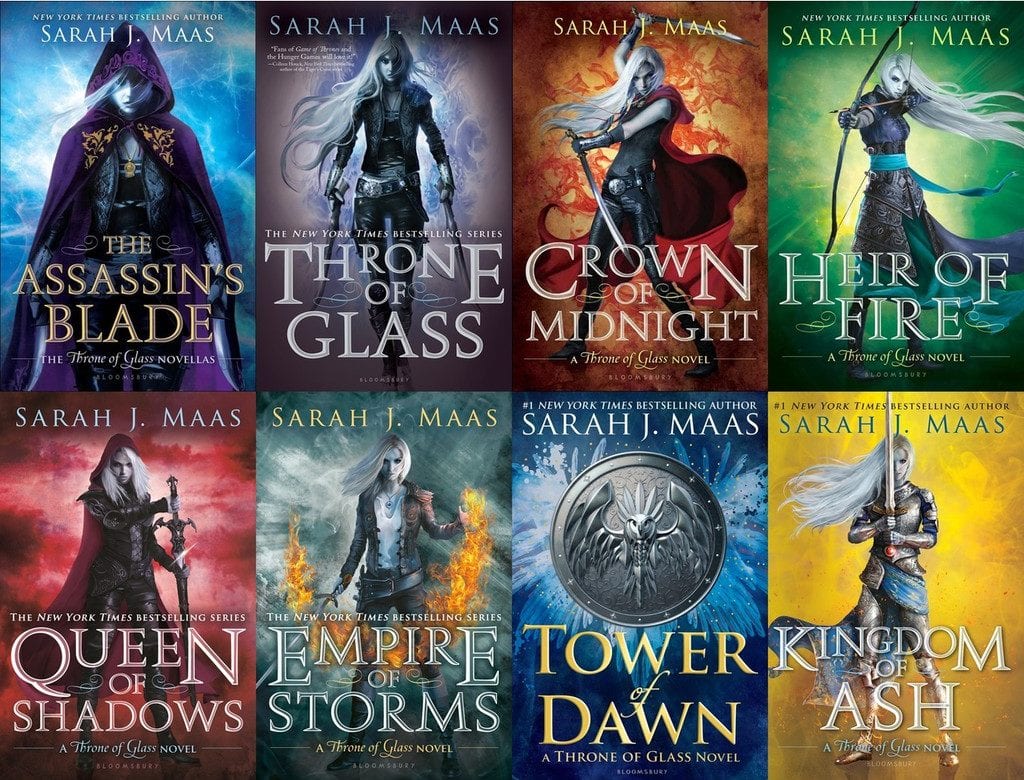 Bloomsbury Publishing
A seven-book series that began in 2012 with the titular novel Throne of Glass. This series also contains several novellas and short stories. The series ended in 2018 with the final novel Kingdom of Ash. This series follows an assassin named Celaena in a land without magic, and a despotic ruler on the throne. Hulu has also picked up the rights to Throne of Glass. They will adapt the fourth novel in the series – Queen of Shadows. For its wild popularity and cultural phenomena that brought a new generation of fantasy readers into the fold, Throne of Glass gets a place on list of top 10 fantasy series of the decade.
Night Shade Books | Cover art by Matthew Stewart
This series started with The Cloud Roads in 2011 and spans five novels and two novellas. The final novel The Harbors of the Sun came out in 2017. This unique fantasy world built by Martha Wells has shapeshifters, and tribal politics that mark it as something different than traditional high fantasy. Wells has a background in anthropology, and she is often lauded for the complex societies that she writes. The Cloud Roads was a 2018 Hugo finalist for best series. For its original setting and lyrical writing, we have ranked it as one of the top 10 fantasy series of the past decade.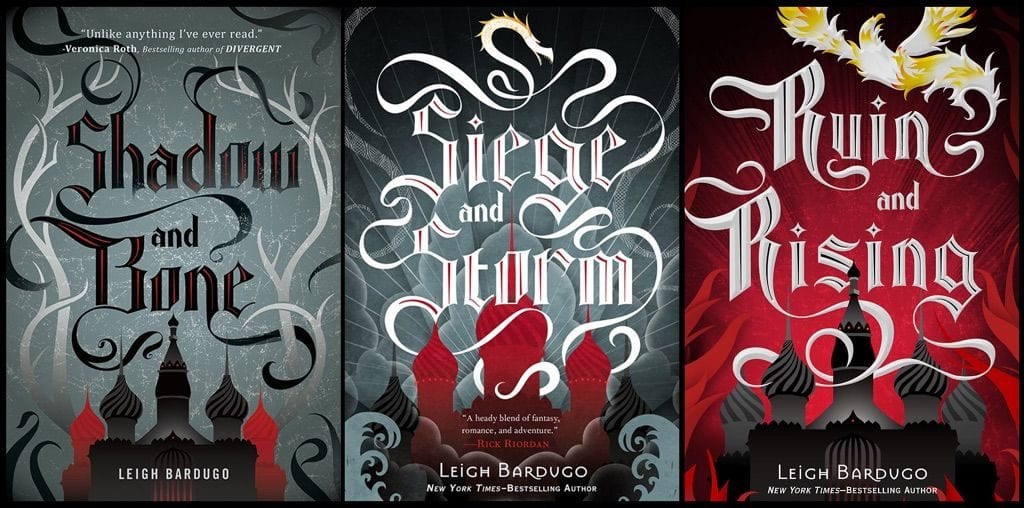 MacMillan Publishers
Shadow and Bone was the first novel of this trilogy and has been widely acclaimed since its release in 2012. This series also has several short stories, and a companion duology – The Six of Crows. The world of the Grisha trilogy takes inspiration from the Russian Empire in the early 1800's. This is a significant departure from the Western fantasy worlds typically seen in fantasy novels. The series follows the character of Alina as she comes into her dangerous magical powers, and struggles against those who seek to manipulate her. Rife with political intrigue and complex world-building, it is no surprise that Netflix is working on an adaptation of this series in an attempt to fill the fantasy void left by Game of Thrones. For its complex political intrigue and compelling characters, we have ranked Shadow and Bone as one of the top 10 fantasy series of the past decade.
Orbit Books
A fantasy series set in a world where magic and technology actually work in tandem. The titular powder mages can metabolize gunpowder, and utilize it for magical work, leading to (literally) explosive results. In a world ravaged by war, these individuals can change the course of battle. The first book in the series – Promise of Blood – came out in 2013. There are three books in the trilogy, along with eight novellas and a sequel trilogy Gods of Blood and Powder that came out in 2017.
I actually picked up the first book of the sequel trilogy without realizing it was part of a larger series, and thoroughly enjoyed it. These are the kind of books that can function well on their own, but enrich the larger world that they exist within. This steampunk fantasy series and all of its associated novels ranks as one of our top 10 fantasy series of the past decade.
Image via authors website Quillings.com
Twelve Kings in Sharakhai is the first book in this ongoing series that takes place in a richly imagined world. This is another series that strays from the traditional Western fantasy worlds to delve into a fantastical Arabian culture. The series follows Ceda, a pit fighter who lives in a desert city of Sharakhai and under the tyrannical rule of 12 immortal kings. After her mother's death, Ceda begins to unravel the secrets of the kings and her own lineage that will prove vital to taking them down. This series is full of complex mythology and flawed characters. There are horrific monsters and surprising twists that subvert reader's expectations.
Four novels in the series are out now, as well as several novellas that expand the mythology of the world. The overall series will span six books, with the last two slated for release by 2021. Artina Films has the rights for adaptation of Twelve Kings in Sharakhai into a television show. So keep an eye out for Ceda, Emre, and the Moonless Host to pop up on small screen in the future.
Image via Penguin
This Roman inspired fantasy world pairs a slave girl and a soldier who team up to take down a brutal empire. The Ember In The Ashes series blends historical fiction and fantasy in a richly detailed world. There are opposing factions of Martials and Scholars in a war between brains or brawn. The main character of Laia loses her brother to the Martial enforcers, and goes undercover at a brutal military academy in an attempt to get him back. This is where she meets Elias, a soldier who wants nothing more to do with the Empire he serves. Together the two of them must face the truth of the brutal world they inhabit, and attempt to change it.
The first book in this series An Ember In The Ashes came out in 2015. There are currently three books in this series, with the fourth due for release in 2020. Before the series was even published, the rights were purchased by Paramount pictures. So it is likely that this will be another potential fantasy film series we might see in the future.
Image via Tor
Every Heart A Doorway came out in 2016 to widespread acclaim, winning the Nebula and Hugo awards for best novella in 2017. This book asks the question: what happens to the children who stumble into fantasy worlds and then return to Earth? How would Alice change after her experiences in Wonderland? This concept brings us to a place called Eleanor West's Home For Wayward Children. This is where the children who have traveled through the portals into other realms find a home. But darkness and danger are just as present in the real world, as it was in the magical ones they knew.
This series plays with the concept of the 'portal' fantasy quite literally, as well as the psychological ramifications on the children who have traditionally inhabited epic fantasy series. Subversive and compelling, the Wayward Children series currently lists four books in print. The fifth novel Come Tumbling Down is due for release in 2020. SyFy has also purchased the rights for adaptation, so expect to hear more about these wayward children in years to come.
The Shades of Magic trilogy brings us to London, again and again. The series spans multiple dimensions that each has its own version of the city. There is the familiar Grey London of our world, where magic no longer exists. Red London, where the river Thames glows crimson with the power of all the magic in that realm. White London, where corrupt rulers hoard the fading magic. And Black London, cut off from the rest of the realms due to evil forces that have corrupted its magic.
This series focuses on Delilah Bard, a thief from our world with secrets unknown even to herself. And Kell, an interdimensional traveler and magic-user from Red London. Together they must face the dark magics of the other realms, while discovering secrets about themselves and what they are capable of.  Shades of Magic has an excellent cast of characters, and is one of the few fantasy series to seamlessly incorporate LGBTQ characters and relationships. This bold and innovative series will soon become a potential movie franchise. The compelling and complex characters and worlds of Shades of Magic earns it a spot in the top 10 fantasy series of the past decade.
Image via Hachette Books
N.K. Jemisin is a force to be reckoned with. She is the author of several excellent fantasy series, along with non-fiction books, comic books, and a stellar Twitter account. Choosing between her books for this list was actually very difficult for me, because my personal favorite is the Inheritance trilogy that came out in 2010. However, it was The Broken Earth trilogy that really put Jemisin in the spotlight. Every book in the trilogy won the Hugo award for best novel, making Jemisin one of the rare authors that has won three consecutive years in a row. And those awards were well-earned, the Broken Earth trilogy is beautifully written, with complicated protagonists that do not fit easily into the 'hero' box.
The Broken Earth series begins with The Fifth Season and is set in a world wracked with massive disastrous weather systems known as Seasons. These Seasons can last for generations and can dramatically reshape the world known as the Stillness. There are magic-users who are vitally necessary, but also vehemently hated by the rest of humanity. With strong parallels to real-world issues, Jemisin writes with a deft hand to weave science and fantasy together into a wholly unique series. For these reasons we rank The Broken Earth trilogy at number two in the top 10 fantasy series of the past decade.
At last we come to the most epic fantasy on this list, and our number one series of the past decade. In the past ten years, Sanderson has published at least 8 novels, along with a plethora of short stories, novellas, and a few graphic novels. Most of this work is part of his massive shared universe called The Cosmere. Sanderson has said that everything he has written prior to 2010 was leading to his ultimate epic fantasy series: The Stormlight Archive.
Way of Kings Cover Art by Michael Whelan / Tor/Forge
The Stormlight Archive takes place on the planet Roshar, a land shaped by mighty highstorms that imbue people and objects with magic. Long ago, an order called the Knights Radiant protected the lands of Roshar and wielded powerful magics. But then they disappeared, leaving behind a world in chaos. The Stormlight Archive follows the rebirth of the Knights Radiant. But this also means the return of the Void-Bringers – who sow chaos and destruction.
This is not your standard epic fantasy by any definition. There are no elves or dwarves on Roshar. There are magical weapons, but they are not what you expect them to be. Unlikely heroes do arise, but not everyone is who they appear to be at first glance. The world-building is rich and evocative, and the world has a deeply complex history that informs the current narrative.
This series will span 10 books eventually, but it is important to remember how quickly Sanderson can write. Three books in the series are out already, and Sanderson constantly updates his progress bars on his website, to let his fans know how close the next book is to completion. What we have seen so far from The Stormlight Archive promises an epic fantasy series like no other. For that reason, The Stormlight Archive takes the number one spot on our list of top 10 fantasy series of the past decade.
Did we miss your favorite fantasy series? Please let us know by joining the conversation with Comic Years on Facebook and Twitter today!
Emily O'Donnell is a writer and photographer with roots in some of the earliest online fandoms. She cut her genre teeth on the Wizard of Oz books at the tender age of 6 years old, and was reading epic adult fantasy novels by the age of 10. Decades later, she still consumes genre fiction like there is no tomorrow. She is delighted to be living through the golden age of sci-fi and fantasy popularity. She is unashamed of the amount of fanfiction that still lingers online under her name.
Leave a comment