Top 10 New and Ongoing Fantasy Book Series To Read In The New Decade
The past decade was a golden age for genre fiction, as sci-fi and fantasy fully entered the mainstream. The new decade promises plenty of exciting new fantasy book series, along with new entries in ongoing series. Below we have compiled a list of the top 10 fantasy series to read in the new decade. Let us know what you think of our entries, and if we missed anything you are looking forward to.
10) The Sorcerer's Song Series by Brian D. Anderson
Cover Art by Felix Oritz | Image via Tor Books
Bestselling author of The Godling Chronicles and Dragonvein, Brian D. Anderson is set to publish a new epic fantasy series in 2020. The first book of The Sorcerer's Song series is called The Bard's Blade, and will be out at the end of January 2020. This new series promises excellent world-building and epic fantasy adventures to read in the new decade.
A synopsis from BN.com tells us that this series is about "A dark prophecy announcing the return of an ancient evil spurs Mariyah, the daughter of a winemaking family, and her betrothed, Lem, a handsome, gifted young musician, to leave their magically protected home of Vylari and embark on a dangerous quest to protect their world."  An excerpt from The Bard's Blade can be found at Tor for anyone looking for a sneak peek of this new fantasy series.
9) The Serpent Gates by A.K. Larkwood
Image via Tor Books
This debut novel from Larkwood is already receiving rave reviews. In an interview with The Bookseller, Larkwood says "I wanted to write a sweeping adventure with all the wizard's towers, giant snakes and awful undead things that I've always loved." A novel with orcs as main characters; death cults, priestesses, assassins, and multiple dimensions is bound to be something different from standard fantasy fare.
An official synopsis from MacMillan tells us: "The Unspoken Name is an extraordinary epic fantasy. When a priestess is rescued from a death cult by a sorcerer, she becomes his personal assassin. But would you do anything for the person who saved your life?"
MacMillan signed a three book deal with Larkwood, indicating that this will be a trilogy. But as we know in the fantasy world, trilogies can easily turn into longer series. Regardless, this exciting new fantasy trilogy and author is one to watch in the new decade.
For a sneak peek of The Unspoken Name, the first four chapters are available online at Tor. The Unspoken Name will be out on February 11, 2020.
8) The Song of Shattered Sands by Bradley P. Beaulieu
Image via Penguin Random House
The first book in this series Twelve Kings in Sharakhai came out in 2015. Four books in the series have come out since then (along with several novellas). The final two books due in the next couple of years. Beaulieu is a fast writer, and having created such a rich and complex world it seems likely he could continue writing in this universe for years to come.
Penguin Random House gives a brief synopsis of this complex series: "This highly acclaimed epic fantasy series features Çeda, a pit fighter in the desert city of Sharakhai, who discovers a dangerous secret that might help her overthrow the cruel, immortal Kings of Sharakhai."
The Song of Shattered Sands is an Arabian Nights inspired fantasy, that draws heavily from Middle Eastern culture and religions. Although Beaulieu is a white man, he treats these elements with a respect bordering on reverence and does his best to explore themes that would be considered racist tropes in other fantasy series. The main character of Çeda is strong and good-hearted, but she is incredibly flawed and imperfect. Every character in the series is treated in a similar manner, even the evil immortal kings. This is a series that really delves into the way power can corrupt, and the nuances between good and evil. With more books on the way, this series easily ranks as one of the top fantasy series to read in the new decade.
The fifth book in this series When Jackals Storm The Walls is due for release in 2020.
7) Gentlemen Bastard Series by Scott Lynch
Image via Del Rey Publishing
The Lies of Locke Lamora came out way back in 2006 and enthralled a new generation of fantasy readers looking to graduate from Harry Potter to more adult fantasy fare. There are currently three books in this series, and I always assumed it was just a trilogy until I discovered that there are several more books scheduled. The fourth book The Thorn of Emberlain is finally due for release in 2020, with a total of seven planned in the series. Lynch seems to suffer under the same fantasy writer's curse as George R.R. Martin and Patrick Rothfuss who are both notoriously slow at releasing books. However, that does mean that fans can anticipate having more fantasy to read from Lynch in the new decade.
A synopsis of the Gentlemen Bastard series from Scott Lynch's website: "Follow the the life and adventures of Locke Lamora, a master con artist in a world where con artistry, as we know it, is a new and rare style of crime. These seven novels will reveal his grand ambitions as well as his astounding failures. See his wits pitted against ever-increasing odds on behalf of the few things that truly matter to him, through the highs and lows of crime, courtly intrigue, politics, love, and war…"
6) The Shroud of Prophecy Series by Kel Kade
Image via MacMillan
Fate of the Fallen came out in 2019, kickstarting a new fantasy series that is designed to subvert expectations. A synopsis from Paste Magazine gives a clue to how this book plays with the ideas of fate, destiny, and the hero's journey. "The world is ending. Its only hope is Mathias, the Chosen One foretold by prophecy. Mathias is charismatic, endowed with beautiful golden locks, skilled in all forms of combat and well-versed in magic spells. But this novel isn't about him."
Spoiler alert: the chosen one dies at the beginning of the first book. The hero's journey must then be taken up by his best friend, the unlikely character of Aaslo. Kade doesn't take the epic fantasy genre too seriously, balancing the comedic with heavy elements of death and grief.
In an interview with Den of Geek, the author talks about the themes of the series. "Death is an uncomfortable subject for many yet it is an inevitability we all share. This story posits life as a single experience to be appreciated while simultaneously confronting death as simply the transition or gateway to another realm, the next step in a soul's journey, rather than an end."
Kel Kade is also the author of another fantasy series called King's Dark Tidings, which may also have more books coming in the 20's. It is unknown how many books will be in this series, but since the first book only came out last year we can expect to see plenty more fantasy from Kel Kade in the new decade.
5) The Dark Star Trilogy by Marlon James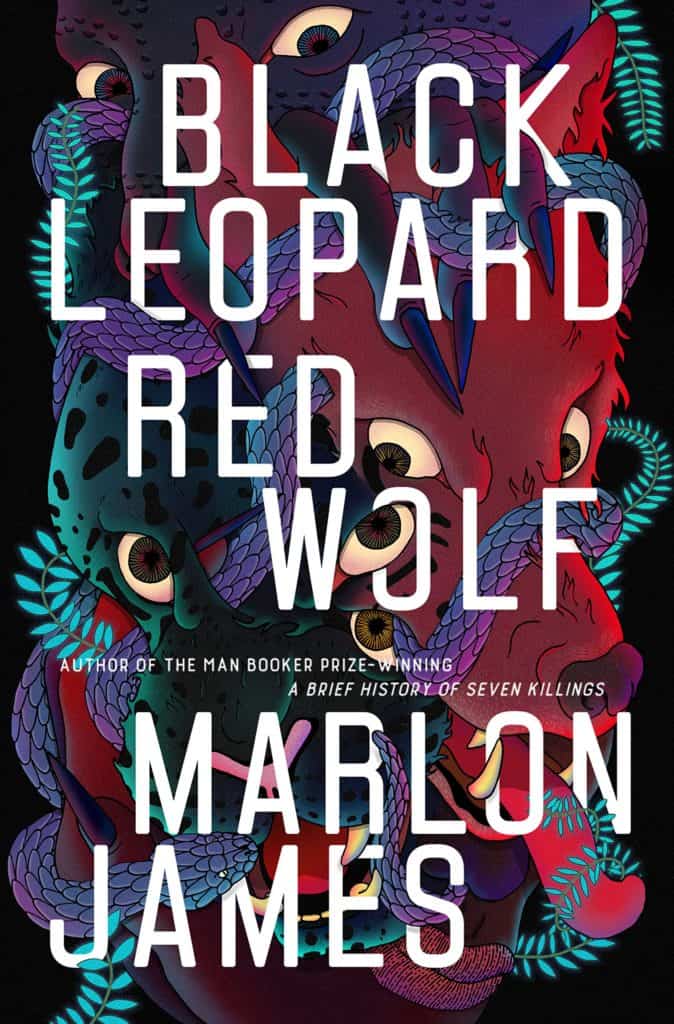 Image via Penguin Random House
Marlon James won the Man Booker Prize in 2015. It surprised many when he announced a genre trilogy would be his follow-up. But this trilogy is just as ambitious and layered as his non-genre work. Inspired by epic oral storytelling, James draws upon African history and folklore for The Dark Star trilogy.
A synopsis from Goodreads describes the series. "The Dark Star Trilogy will unravel the tale of eight mercenaries hired to locate a missing boy; nine years later, the boy is dead and only three mercenaries remain, locked in the dungeon of a dying king awaiting trial for the boy's death. Each book will take on one perspective—the Tracker, the Moon Witch, and the Boy—and reveal, Rashomon-style, what the previous books got right and wrong about the story."
An argument with a friend over diversity in fantasy led to his realization that "there was this huge universe of African history and mythology and crazy stories, these fantastic beasts and so on, that was just waiting there." The first book in this trilogy – Black Leopard, Red Wolf – came out in 2019 to high acclaim. The following books will be out in the new decade. Hopefully this is just the beginning of James' foray into epic fantasy series at the start of the new decade.
4) The Women's War by Jenna Glass
Image via Del Rey
'High Fantasy Feminist Epic' is a new subgenre of fantasy fiction that is being led by a number of female writers. The new fantasy series by Jenna Glass definitively leads that genre into the new decade. The first book also called The Women's War came out in 2019 to critical acclaim.
A synopsis from the author's website describes the first book in this series. "In a thrilling feminist fantasy epic, a revolutionary spell gives women the ability to control their own fertility–with consequences that rock their patriarchal society to its core. When a nobleman's first duty is to produce a male heir, women have always been treated like possessions and bargaining chips. But now, as the aftereffects of this world-altering spell ripple out, women at last have a bargaining chip of their own."
The feminist angle is not just a gimmick. It is the heart of the first book, and the source of the book's magic. The book is beautifully written, with complicated characters and unique magic systems. It is a world that feels familiar to many fantasy fans. A world where women are treated terribly because of patriarchal systems of power. While other fantasy novels allow these institutions to persist in their worlds, Glass takes this idea, and turns it on its head in a spectacular way. Recommended for anyone who loves epic fantasy, not just the ladies.
The second book in this series Queen of the Unwanted will be released on May 12, 2020.
3) A Chorus of Dragons by Jenn Lyons
Image via Tor Books
The debut novel by Jenn Lyons The Ruin of Kings was hailed as one of the best books of 2019. It is also an excellent start to a new epic fantasy series that we will be reading well into the new decade. This series has five books planned, with the second – The Name of All Things – already out.
Each book is a story within a story. There are multiple (unreliable) narrators who take turns telling their side of a story. The series is filled with sharply drawn characters, witty humor, and plenty of metafictional moments (the footnotes!) Jenn Lyons has been building this world for close to 30 years before publishing the first entry. And her hard work shows in every carefully plotted step, every layered character backstory, every detail of the immense world history. Highly entertaining and thought-provoking, Lyons is an author to watch in the years to come.
A synopsis from MacMillan describes The Ruin of Kings as the beginning of "an extraordinary fantasy adventure. Prophecy and magic combine in a powerful epic of imperial politics, dragons, gods and demons. And a young man discovers his fate will determine the future of an empire."
The third book in this series The Memory of Souls is due for release in August 2020. This fantasy series is on a nine month release schedule going into the new decade. Which means readers won't have to wait too to reach the ending.
2) The Kingkiller Chronicle by Patrick Rothfuss
Image via Penguin Random House
Ask someone what their favorite fantasy book of the past decade is, and very often you'll hear people say The Name of the Wind. Technically this book came out in 2007, an excellent beginning to a promising fantasy series. The writing is beautiful, the characters are vivid, the mysteries are compelling, and the magical system is fascinating. It is a great book. It is a book you can read over and over again… while waiting patiently for the trilogy to reach completion.
A synopsis from Penguin describes The Name of the Wind as "The riveting first-person narrative of Kvothe, a young man who grows to be one of the most notorious magicians his world has ever seen. From his childhood in a troupe of traveling players, to years spent as a near-feral orphan in a crime-riddled city, to his daringly brazen yet successful bid to enter a legendary school of magic, The Name of the Wind is a masterpiece that transports readers into the body and mind of a wizard."
Rothfuss published the second book The Wise Man's Fear in 2011. Since that time, fans have been eagerly awaiting the third book of this trilogy. We know the title is The Doors of Stone, but other than that we know nothing about it. Including its release date.
Kvothe by Kim Kincaid
We Can Only Hope To Read The Doors of Stone This Decade
Patrick Rothfuss is many things. He is a humanitarian who started a charity called Worldbuilders. He is an avid blogger. Rothfuss is a great reviewer of books. He is also an avid Dungeons & Dragons player. Patrick Rothfuss is a also an excellent storyteller, who writes beautifully. But he is definitely not a fast writer. Please don't ask him when Doors of Stone is coming out, even though we all want to know.
One thing we can certainly hope for is that The Doors of Stone will be out sometime this decade. Since a book in this trilogy has come out once per decade, this tracks. I don't think I'm being too hopeful by including The Doors of Stone on this list. It should definitely be out in the next ten years… right? It has to be out before another network picks up the rights that Showtime passed on recently… Or at least I hope so.
Rothfuss has said that The Doors of Stone will be the definitive end to Kvothe's story started in The Name of the Wind. However, he also says he is open to writing more stories in the world. But first, let's just finish this one please?
1) The Stormlight Archive by Brandon Sanderson
Cover Art for Words of Radiance (Stormlight Archive #2) by Michael Whelan | Image via Tor/Forge
If there is any author who we don't need to worry about publishing plenty of books in the new decade, it is Brandon Sanderson. A highly prolific and organized writer, Sanderson has a precise schedule for when his books will be released. And since his ongoing series The Stormlight Archive promises 10 books overall, with the first three already out. The first book The Way of Kings came out in 2010 and Sanderson reliably publishes a new entry every three to four years. So the new decade will see multiple entries in this epic fantasy series.
The Stormlight Archive is the lynchpin of Sanderson's Cosmere, a shared universe that encompasses most of his adult fantasy novels. Sanderson is a master of world-building. His universe is immersive and fully realized.
MacMillan describes The Stormlight Archive with the following vague synopsis "Welcome to the remarkable world of Roshar, a world both alien and magical, where gigantic hurricane-like storms scour the surface every few days and life has adapted accordingly. Roshar is shared by humans and the enigmatic, humanoid Parshendi, with whom they are at war." Truthfully, it is difficult to summarize this massive series, but it is highly recommended for fans of epic fantasy.
This is the fantasy series that I am most looking forward to reading in the next decade. The fourth book in The Stormlight Archive is tentatively titled The Rhythm of War. It will be out on November 17, 2020.
Honorable Mention: A Song Of Ice & Fire by George R.R. Martin
Art by Justin Sweet for The World of Ice and Fire by George R.R. Martin | Image via Random House
Oh, Game of Thrones. I can't escape this list without at least mentioning it. Even though the wildly popular HBO show is over now, technically the books are still going. The show outpaced the books long ago, and essentially made up their own ending. Did George R.R. Martin give Benioff & Weiss some insight as to how the books would end? Yes. Do I think he is going to change some of those things now just to mess with fans? Also yes.
The first novel in A Song of Ice and Fire (the titular Game of Thrones) came out in the year 1996. At the time, Martin planned for a trilogy. For awhile, he was doing well. Books were coming out every two years with A Clash of Kings in 1998 and A Storm of Swords in 2000. Then there was a five year gap that saw A Feast For Crows published in 2005. Then a six year gap, until A Dance With Dragons came out in 2011. Since that time, an entire television show has aired, and run eight seasons on HBO. All while we wait for The Winds of Winter.
Will We Get The Ending To ASOIF In The New Decade?
As a longtime fantasy reader, I picked up this series in 2005 right after A Feast For Crows came out. I watched the show from the very first episode. I convinced all of my friends to watch it too, and read the books. Many of them have still not forgiven me. To be a Game of Thrones fan often feels like an exercise in self-punishment. And yet, we hold on. We hold out hope that we might yet read The Winds of Winter this decade. Is it a foolish hope? Perhaps. Will Martin really ever finish his books? No one knows. I mean, The Winds of Winter is not even the final book in the series. GRRM still has to write A Dream of Spring.
Maybe someone will take him at his word and lock him up on a remote island in New Zealand to make him finish the next book. If so, then maybe we can expect the final two books of A Song of Ice and Fire in the new decade.
What new or ongoing fantasy book series are you looking forward to in the new decade? Let us know by joining the conversation with Comic Years on Facebook and Twitter today.
Emily O'Donnell is a writer and photographer with roots in some of the earliest online fandoms. She cut her genre teeth on the Wizard of Oz books at the tender age of 6 years old, and was reading epic adult fantasy novels by the age of 10. Decades later, she still consumes genre fiction like there is no tomorrow. She is delighted to be living through the golden age of sci-fi and fantasy popularity. She is unashamed of the amount of fanfiction that still lingers online under her name.
A Chorus of Dragons
A Song of Ice & Fire
A.K. Larkwood
Book News
Books
Bradley P. Beaulieu
Brandon Sanderson
Brian D. Anderson
Epic Fantasy
Fantasy
Fantasy Series
Gentlemen Bastard Series
GRRM
Jenn Lyons
Jenna Glass
Kel Kade
Marlon James
New Books
Patrick Rothfuss
Scott Lynch
The Dark Star Trilogy
The Kingkiller Chronicle
The Serpent Gates
The Shroud of Prophecy Series
The Song of Shattered Sands
The Sorcerer's Song
The Stormlight Archive
The Women's War
Top 10 List
Top 10 Of The Decade
Upcoming Books
Leave a comment