Wonder Woman #750 is a Delightful Celebration of the "1st Superhero"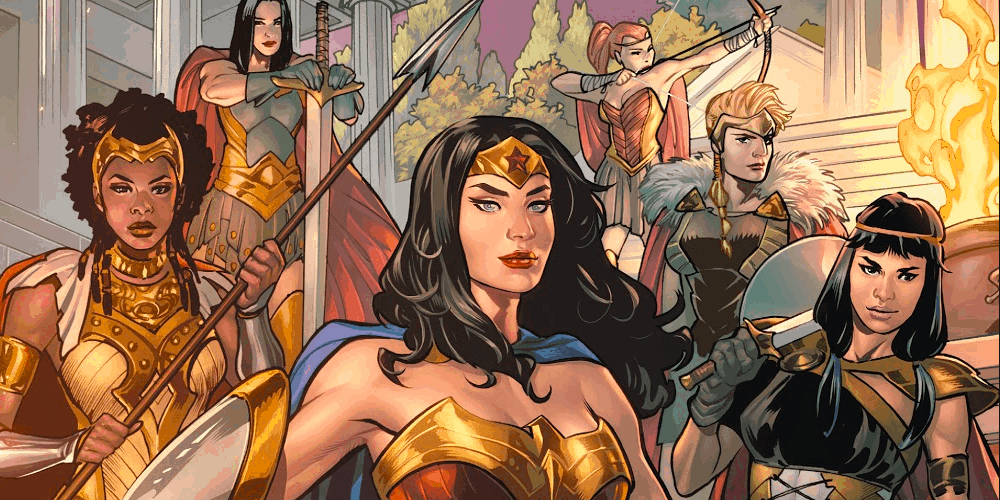 Seven hundred and fifty issues. Along with Superman and Batman, Wonder Woman is one of the most important Golden Age heroes—that's why they are the "trinity." However, ever since she made that hard superhero landing in Batman V Superman: Dawn of Justice, Princess Diana of Themyscira jumped leaps and bounds over her male counterparts. While many fans had their issues with BvS and Justice League, the one thing everyone could agree with was that Gal Gadot's Wonder Woman was the most successful aspect of the DCEU. And her movie? Inspiring. It's no wonder that in the most recent reboot of the DC Universe, the powers-that-be elevated Wonder Woman as the "first superhero." Wonder Woman #750 is a great celebration of the character, and more than anything, highlights how important and inspiring she is.
Wonder Woman #750: The Wild Hunt Finale Wraps Up the Main Comic Story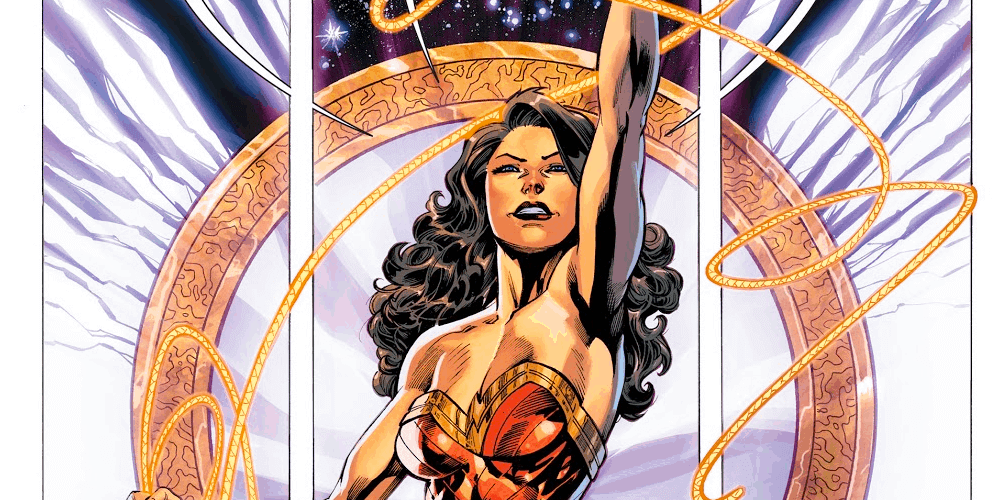 (Image: Wonder Woman #750, DC Comics)
Writer: Steve Orlando
Artist: Jesus Merino
If you haven't been reading Wonder Woman lately, the main story for Wonder Woman #750 won't be so much of a celebration as it will be a "what's happening" story. I haven't read the Wonder Woman tie-in for Year of the Villain, so yeah, this was confusing. Even with that, though, there are very enjoyable moments. He plea to Cheetah, reminding her that they were friends, was moving. But the most wonderful moment is towards the end, as Diana and her mother, Hippolyta, reform the gauntlets she originally wore when Herakles enslaved the Amazons. It's a touching moment that sets up the rest of the 96-page monumental issue.
Wonder Woman #750: Wonder Woman as a Mentor to Generations of Superheroes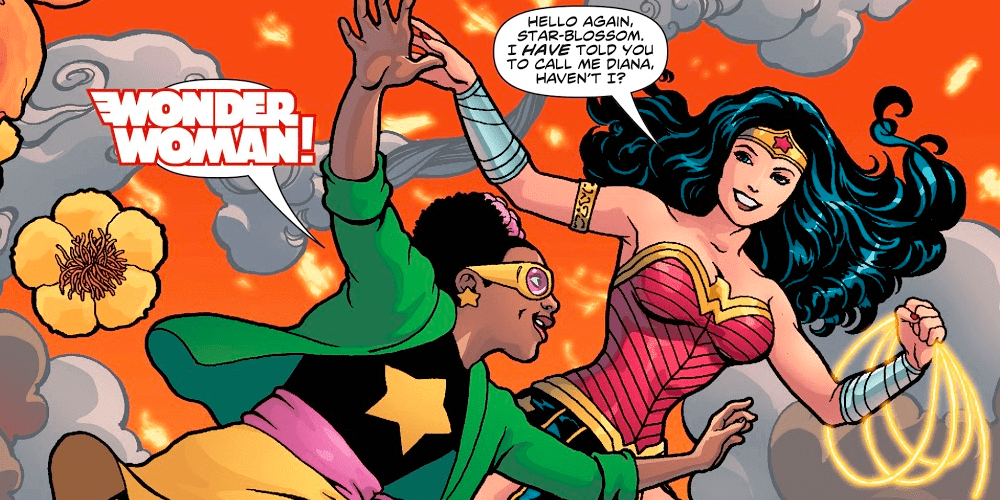 (Image: Wonder Woman #750, DC Comics)
Writer: Gail Simone
Artist: Colleen Doran
Without a doubt the best story in Wonder Woman #750, and not only a celebration of the character, but one of family, motherhood, and sisterhood. We start with a pre-teen hero, Star-Blossom, as she saves people from a burning building—her mother cheering her on all the while. And then Wonder Woman shows up to help her. Wonder Woman is her mentor, and Diana loves having that honor. When Hippolyta arrives to inform Wonder Woman that her childhood pet—a megalodon, because why not—died, Star-Blossom talks with her as Hippolyta bonds with the young girl's parents over mac and cheese. The art and the writing is beautiful—and if you don't at least feel tears welling in your eyes, you either don't feel things, or you're dehydrated and need some water.
Wonder Woman #750: The Interrogation Celebrates Wonder Woman's Tactical Mind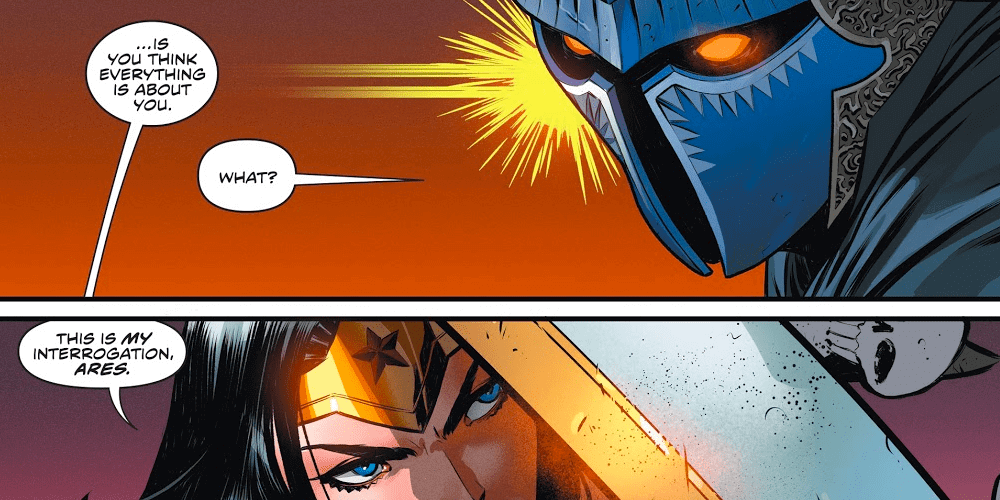 (Image: Wonder Woman #750, DC Comics)
Writer: Mariko Tamaki
Artist: Elena Casagrande
Wonder Woman is one of the most beautiful superheroes in comics. She's strong enough to throw tanks and hold up buildings as they fall. But The Interrogation, the third story in Wonder Woman #750, is a celebration of something much more important: her intelligence. In Tamaki and Casagrande's story, Wonder Woman dupes Ares, tricking him into imprisoning himself. Brains, Beauty, Brawn…no wonder she's been an inspiration for nearly a century.
Wonder Woman #750: A Hero Who Doesn't Give Up On Anyone, Even Friends Turned Enemies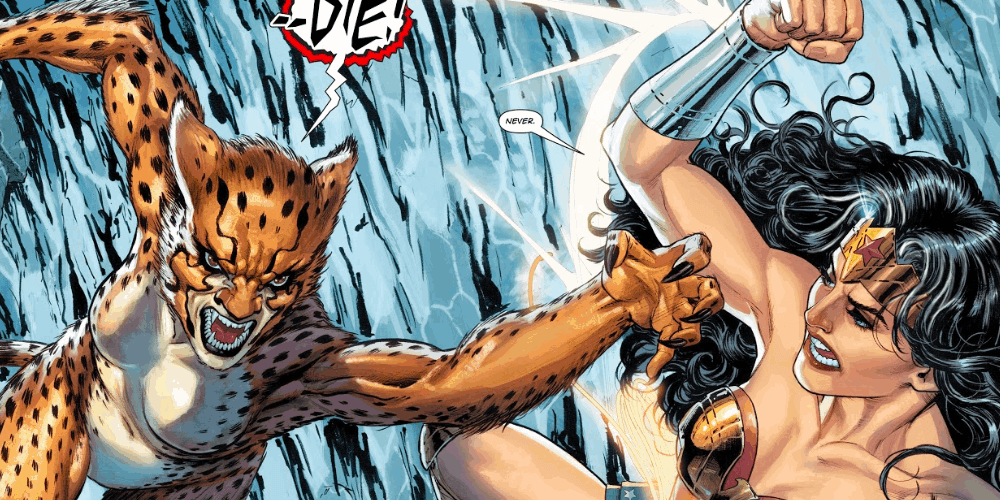 (Image: Wonder Woman #750, DC Comics)
Writer: Greg Rucka
Artist: Nicola Scott
As if sensing the reader needs to see just how much Diana cares about Barbara Ann, the Cheetah, Greg Rucka and Nicola Scott deliver a heartbreaking story that shows just how far Wonder Woman will go to save her old friend. She meets with Circe, an immortal magician, who says that she'd restore Barbara Ann—if Wonder Woman gives her the lasso of truth. Diana has no problem doing so, but when Cheetah is offered the chance to become Barbara Ann again, she refuses. Still, Wonder Woman has hope—and as Circe talks to her, giving her back the lasso, we see how she admires this quality in the Amazon warrior. How many others would go that far for their friends?
Wonder Woman #750: A Tale About Leaving Home (Even If It's Paradise)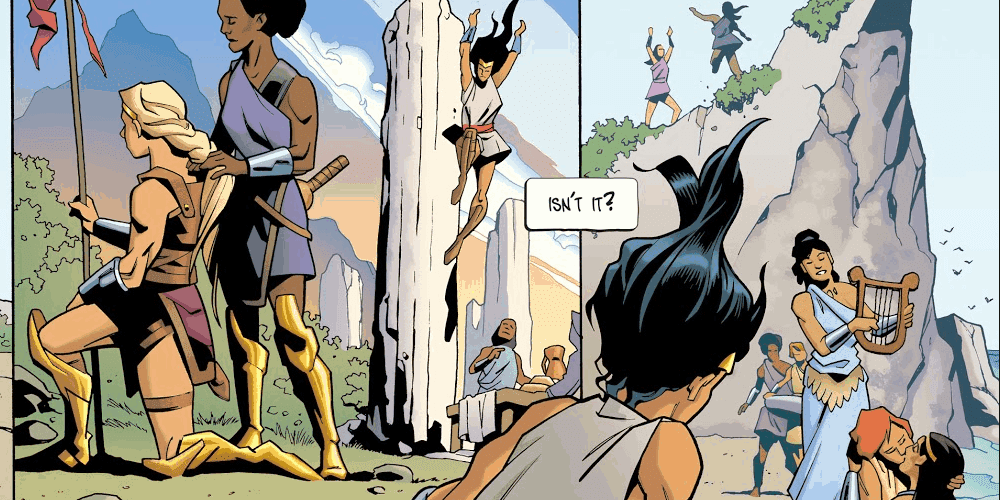 Young Diana questioning if Paradise is where she belongs. (Image: Wonder Woman #750, DC Comics)
Writer: Kami Garcia
Artist: Phil Hester
Kami Garcia is a popular young adult author, and the writer of the hit DCink graphic novel, Teen Titans: Raven, so it's not surprising that her story focuses on the young Princess Diana, before she left Themyscira or met World War Two One pilot Steve Trevor. What is paradise to someone who has never seen anything else? Diana is constantly curious about the outside world and pries as much as she can from her "sisters" and mother. It's a cute story, showing her need for independence and why helping Trevor was so important to her.
Wonder Woman #750: The Lengths a Mother Will Go to Hear from Their Kids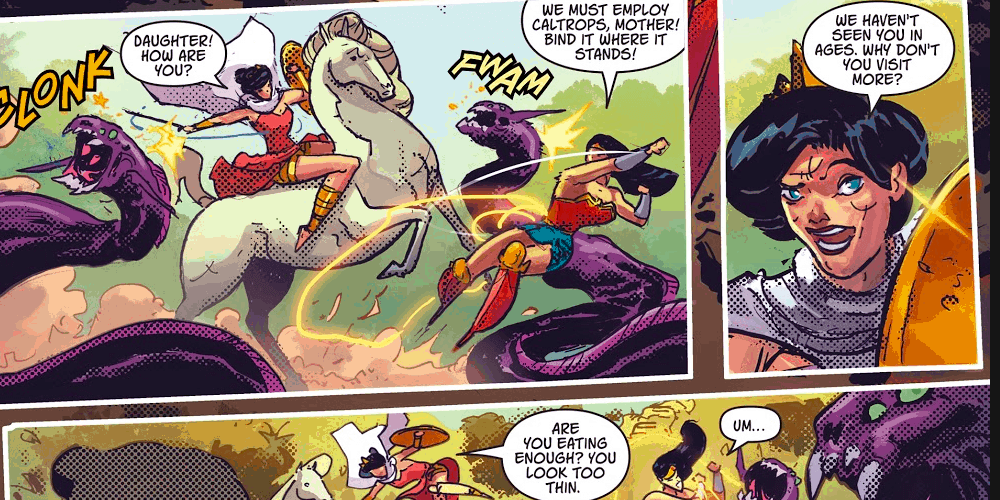 My mom totally did this to me once. Wonder Woman must be Italian too. (Image: Wonder Woman #750, DC Comics)
Writers: Shannon Hale and Dean Hale
Artist: Riley Rossmo
While most of Wonder Woman #750 is a serious celebration of the character, Hale and Hale's Emergency Visit is a much needed burst of comedy. Wonder Woman is always busy with work (aka, saving the world) and her mom just wants her to visit or call once-in-a-while. So what does Hippolyta do? Unleashes a hydra and sends an emergency message to her daughter so that she comes home to fight the beast together. So, just a reminder: call your moms!
Wonder Woman #750: How the Bombshells Feel About Wonder Woman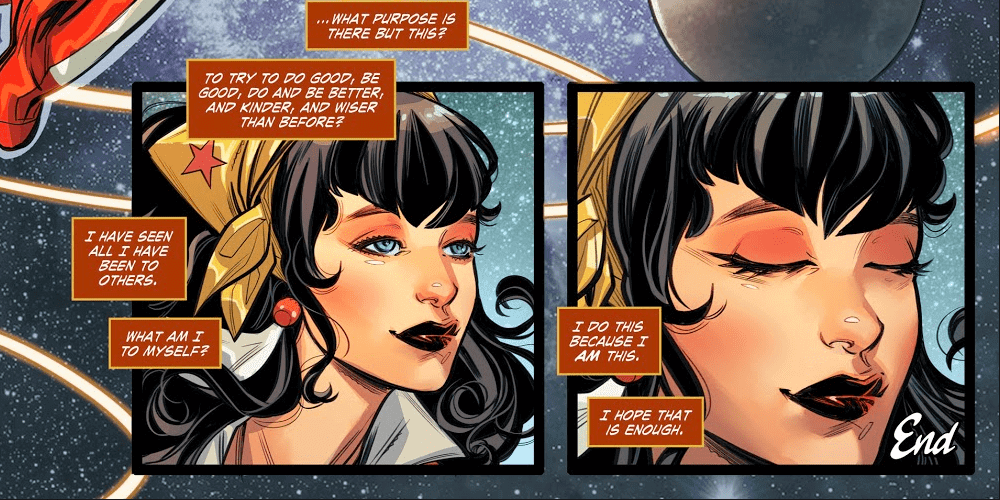 (Image: Wonder Woman #750, DC Comics)
Writer: Marguerite Bennett
Artist: Laura Braga
From the Bombshells creators, we get several little character pieces from the women of the Bombshells universe reminiscing about how much Wonder Woman means to them. None of the stories are bad, the only problem is that this segment goes on a little too long. It does serve as a good introduction, of sorts, to the Bombshells universe. So while it might not be the perfect celebration piece in Wonder Woman #750, it will hopefully make people more interested in the kick-ass series.
Wonder Woman #750: Always Faithful, Even to Friends-Turned-Villains
(Image: Wonder Woman #750, DC Comics)
Writer: Vita Ayala
Artist: Anthony Nahuelpan
Another tear-jerker, right before the end. And yet another celebration in Wonder Woman #750 of how dedicated Wonder Woman is as a friend. And you know what? I could have read 100 more stories like this. Sure, we see her struggle with Cheetah, trying to bring her friend back from the darkness. But in Always, we finally see her reach through to one of her friends-turned-villains, the Silver Swan. Vanessa lost the use of her legs and used nanotechnology to give her mobility again. Of course, the nanobots turned her crazy, she grew wings and figured out powers, and blamed Wonder Woman. But this time, Diana saves her friend. And even years later, she still goes to visit her in the hospital.
Wonder Woman #750: A Brave New World
(Image: Wonder Woman #750, DC Comics)
Writer: Scott Snyder
Artist: Bryan Hitch
So, the creative team consists of two of the top people in DC Comics (or comics in general) and it's called "A Brave New World." Obviously, this last story in Wonder Woman #750 is meant to be more than a short celebration, but something bold and consequential. And yeah, this is the story that sets Wonder Woman as the first superhero, as she saves President Franklin D. Roosevelt from an assassin. This is before World War Two—FDR is trying to figure out how to tell the nation they need to enter the war. In a way, Snyder's story is a "have your cake and eat it too" situation. Wonder Woman is already in America, so she had to have left Themyscira in World War One—like the movie. But having her go public right before America gets involved in World War Two still sets her up as a WWII superhero—like she is historically, in the comics. Pretty good trick. It's not the best story in the batch, but it succeeds at setting up the "G5" era of DC Comics.
Grade: Your Own Pet Megalodon!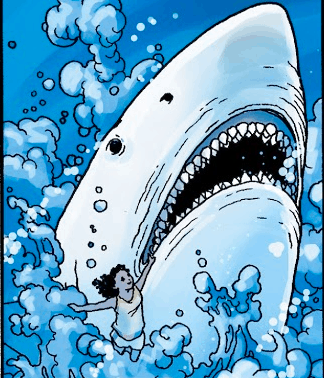 So cute! (Image: Wonder Woman #750, DC Comics)
(Featured Image: Wonder Woman #750, DC Comics)
Roman Colombo finished his MFA in 2010 and now teaches writing and graphic novel literature at various Philadelphia colleges. His first novel, Trading Saints for Sinners, was published in 2014. He's currently working on his next novel and hoping to find an agent soon.
Leave a comment