Random Acts Of Violence Review – The Perfect Stay-At-Home Horror
We've been dealing with stay-at-home orders for so long that the release of a new movie on a streaming platform is a cause for celebration! The latest film to debut this summer, Random Acts of Violence, has come out in Canada in advance of its August 20 release date in the United States. So, is it any good? In this review of Random Acts of Violence, we'll take a look at the unique horrors of the film and why it's worth adding to your "must watch" list. If you don't want any spoilers before you watch it, check out our post on the Random acts of Violence trailer.
Random Acts of Violence Review – Scary, Intriguing, and Violent
Random Acts of Violence is based on the one shot comic book of the same name by Justin Gray and Jimmy Palmiotti. The story takes on a meta approach to how fans perceive a work of art. Where is the line between obsessive fan and dedicated follower? The movie seems to draw that line at murder. However, this plot isn't as simple as just some blood and gore.
Todd (Jesse Williams) is the author of a hit comic book series, Slasherman. The pages of his comics are filled with gore and violence, especially against women. Based on some graphic and infamous killings of a never-caught serial killer, Slasherman has drawn up plenty of controversies. Those who knew the victims of the real killer are especially passionate about shaming Todd for benefitting off of tragic deaths.
While on a press tour ahead of Slasherman's final issue, Todd, his girlfriend Kathy, assistant Aurora, and friend/publisher Ezra (played by director Jay Baruchel) find themselves in a series of shocking events. They accidentally stumble upon the brutal killings of three travelers, only to realize that the way that they've been positioned mimics an exact copy of a murder in Slasherman.
Image via Elevation Pictures/Shudder.
A Meta Look At Horror
There's no evidence to make police officers believe that Todd and his gang could be murderers. Despite not being "guilty", they're labeled as partially responsible. Regardless of who did it, Todd's creation directly inspired the brutal killing of real people. This leaves the gang in an unsettling predicament where they're left to question their creations. The film asks the question of what it means to be a creator of graphic content, and what purpose that kind of media serves at all.
Random Acts of Violence uses overwhelmingly violent imagery, a terrifying masked villain, and our own morbid curiosity to challenge our opinions on graphic content. Do violent comic books serve any other purpose other than giving us an artistic outlet on things like rage? The film's answer to this question is mostly left for you to decide. Todd creates for reasons that are his own, and plenty of people seem to enjoy his artwork and stories. But what about the families of real victims?
By looking at this sort of topic through a film, we're forced to consider our own reasons for watching. Here we are, enjoying a brutal film that questions why such work even needs to exist. What makes us keep watching? Is it anything more than entertainment? No matter what it is, Random Acts of Violence keeps us at the edge of our sofas for its entire duration.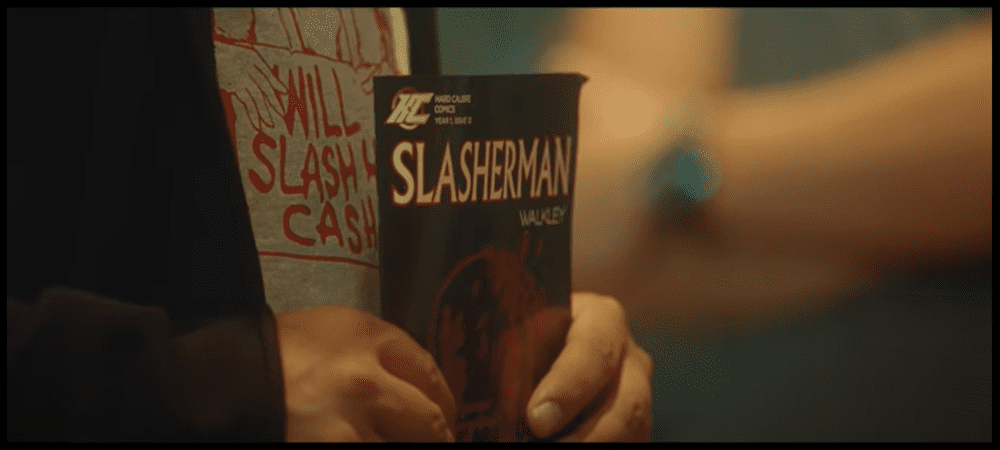 Image via Trailer screengrab.
A Film Filled With Love And Dedication
Horror films tend to be relatively cheap to make. Because of this, it's not uncommon to see a handful of low-budget horror movies that rarely make us stare wide-eyed at the screen over genuine scares. Instead, violence is used to cover up faults in the film.  Random Acts of Violence has more than enough blood and brutal kills, but Jay Baruchel manages to avoid sacrificing genuine relationships, a charming script, and character development. The unique questions that the film poses also makes all the creative deaths appear as purposeful. We never question if a kill was just for shock, which is a rare thing in slasher films.
Todd and Kathy's relationship is, without a doubt, a flawed one. She writes about the families of the real-life Slasherman, while Todd turns them into comics. Despite their obviously different viewpoints, they manage to continue working toward a solution that works for both of them. Meanwhile, Aurora and Ezra remain faithful friends and workers. The chemistry of all four leads has us forgetting that we're watching a horror film while tricking us into thinking we're watching a road trip movie, even if only for a moment.
Jay Baruchel may only have a small handful of directing credits to his name, but his ability to bring the graphic pages of a comic book onto the screen in this way is worthy of praise. Viewers are presented with deep introspective questions, captivating special effects, and shocking bloodshed, all within the film's relatively short runtime. Could Jay Baruchel be the next big name in horror? I wouldn't be surprised.
Our Review of Random Acts of Violence Is That It's Worth Your While
There is a place in this world for mediocre slasher films. Despite the name Slasherman, very little of this movie comes across as one of those movies. Instead, it uses fist-clenching, can't-look-away gore as a way to get us intrigued about some pretty important questions around how and why we consume media. Why do we love this movie? And is there anything wrong with loving this stuff? Maybe. While the idea of a crazy fan taking this movie too far is worth some fear, we have to remember that it's just a movie.
If you're in Canada, then you can watch Random Acts of Violence today. For American and UK viewers, you'll need to wait until August 20th, 2020 to stream the film on Shudder. Though I can assure you, it's worth the wait. You may even forget how long it's been since we've seen a great film released in cinemas!
Are you planning on watching the film? Let us know if you agree with our review of Random Acts of Violence!
Featured image via Elevation Pictures/Shudder
Meghan Hale is the kind of movie lover that has a "must watch" that is a mile long... and growing. When she isn't talking about the latest film and television news she is writing one of her many in-process novels, screaming film trivia at anybody who will listen, and working as a mental health care professional. Follow her on Twitter @meghanrhale for some fun theories and live reactions to all things entertainment.
Leave a comment