"One Piece Film: Red" Takes Over Box Office
For one day (and one day only) the movie One Piece Film: Red beat Black Adam for the top seat at the Box Office this past Friday.
The new DC Universe film, Black Adam, has been sitting at number one at the box office for consecutive three weeks in a row. That is, until, the hit anime film came to wear the crown. The new film for the One Piece franchise came to theatres in the United States on Friday, November 4th.  It brought in a total of $4.826 million to Black Adam's $4.726 million.
Though One Piece did not sit on the throne for long, since Black Adam quickly reclaimed its title the following day. Black Adam brought in a total of $18.5 million over the weekend of Friday, November 4 to Sunday, November 6 – with One Piece Film: Red's weekend total coming in at $9.5 million. Although it's lower than its DC Universe competition, it is still pretty impressive for an anime film's opening weekend.
Originally Released In Japan
One Piece Film: Red first made its cinema appearance in Tokyo back in July. Shortly after in August, it was released nationwide across Japan. It has made a whopping ¥17.7 billion JPY in Japan and $171.9 million USD worldwide thus far. Anime culture has been tremendous in Japan for many years now, but we are starting to see it blow up all over the world. This is likely because of social media and the large amount of exposure anime content can now receive.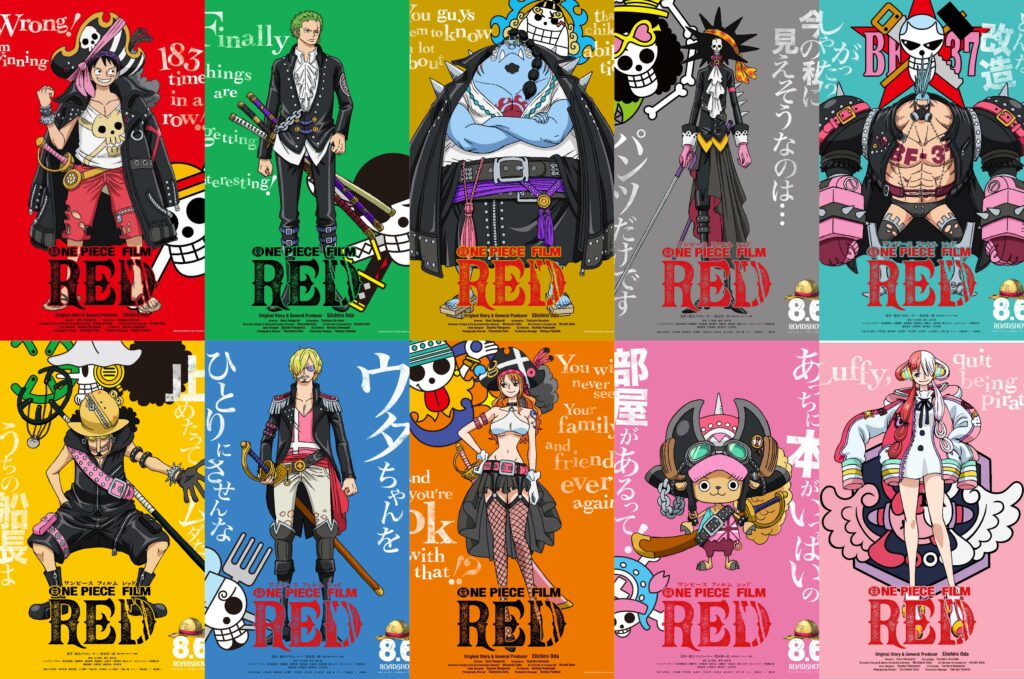 "One Piece Film: Red" Posters
The History of One Piece
If you are unfamiliar with One Piece, it is not for the weak by any means. The manga, written and illustrated by Eiichiro Oda, was released in 1997. It is still currently being written, even to this day, with over 1000 chapters and 100 volumes. After the popularity of the manga blew up, the anime adaptation was released in 1999. There are over 1000 episodes of the anime currently out now. This is an insane amount of content, but it is perfect for those who want to disappear into the world of a new show. It is considered one of the best animes out. As intimidating as 1000 episodes sounds, you would be doing yourself an injustice by never watching it.
The story follows the character known as Monkey D. Luffy, a  young man who has the ability to stretch his body like rubber. He has the dream of becoming "the king of pirates". Aside from his dream, he also leads the Straw Hat Pirates as they explore their world in search of the treasure known as "One Piece".
The Plot
There are currently 15 One Piece films out. One Piece Film: Red follows the story of a beloved singer named 'Uta'. Uta typically hides her identity while performing. But, she decides to show her face for the first time at a live concert. Pirates come from all over to witness this legendary performance and then the plot of the movie ensues. It is definitely a must-watch film if you are already familiar with One Piece. 
One Piece Film: Red is in theatres now in the United States and Canada. Don't miss the opportunity to watch the anime film that was able to knock Black Adam off its throne this past Friday night!
Check back for any new movie, TV, or anime news!
Nicole enjoys escaping reality and immersing herself in any world possible - that includes anime, gaming, and superheroes.
Leave a comment