The Iconic Beetlejuice Look Came From Michael Keaton Himself
Tim Burton's horror comedy classic Beetlejuice is embedded in pop culture in the best way. It gave us the best of the "say the name 3 times" summons and doubled the number of space-themed poltergeists you could watch on tv. Beetlejuice also offered the world one of the best outfits we're ever going to see. Black and white stripes with licked-electric-socket hair? Moldy coat with that patterned shirt beneath? Art. Space Ghost could never. What we haven't had the chance to hear yet is the backstory behind the iconic outfit. It didn't come from a haunted wardrobe or a gutter between a power plant and a mime academy. Michael Keaton made the Beetlejuice look himself.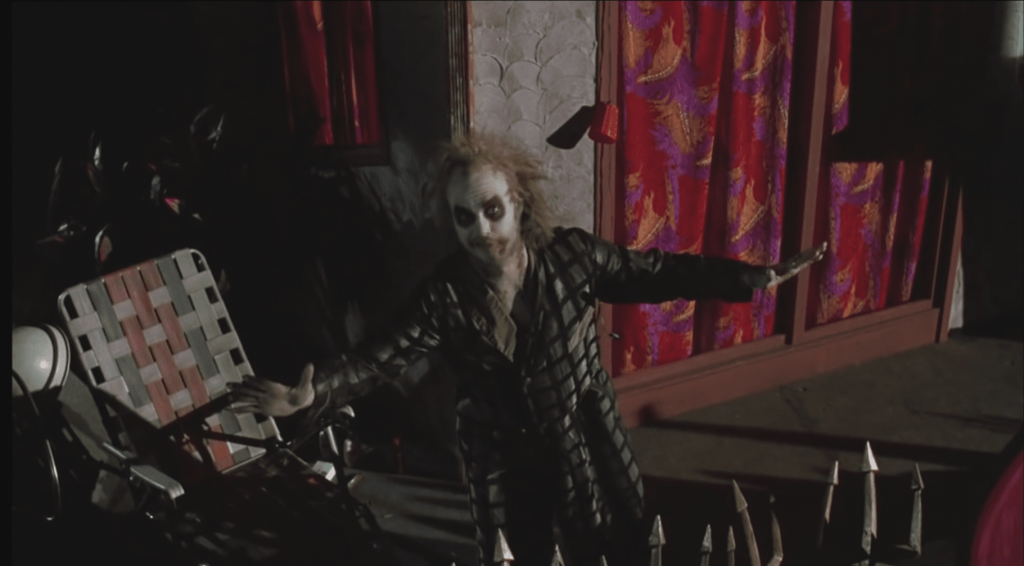 Image via Warner Bros. Pictures
How Michael Keaton Made the Beetlejuice Look
When Michael Keaton was first getting a sense for Betelgeuse as a character, he didn't get it. Maybe it didn't help that the movie name was spelled differently than the character's name, or maybe that's just how it is when you interact with Tim Burton. Either way, in an interview, Keaton said he didn't understand the role, but he also talked about his method for getting to know the story and how his character would fit into it. To do that, naturally he started throwing together a wardrobe. Reportedly, Keaton "called the wardrobe department at the studio and said, 'Send me a bunch of wardrobes from different time periods, randomly" which is honestly how we should all be dressing ourselves and the first of many lessons we can learn from Betelgeuse. 
Image via Warner Bros. Pictures
After that, Keaton said he had "an idea of teeth and an idea of a walk." He wanted mold in the teeth because Betelgeuse lived under a rock. Tim Burton was living his life, having just had two ambiguously useful meetings with Mr. Mom himself Michael Keaton, and then the only news he heard after that was to come see something. Then Keaton walked on stage and showed Burton what he'd done. Whether or not this calls to mind the image of a proud and aesthetically gifted child showing their parent the outfit they picked for their first day of kindergarten is up to you, but you'd be wrong not to imagine that. Naturally, Tim Burton loved the look and he had his Beetlejuice. From a shelf of anachronistic threads and a sweet wig, a star named after a star was born. 
If you want more of that good semi-goofy horror news, check out our post about the Addams Family Netflix Series casting news! Otherwise tell us your favorite movie trivia in the comments below! Double points if it's about Michael Keaton. 
Featured image via Warner Bros. Pictures
Jessica Kanzler is a freelance writer and editor who lives with her wife and cats. Jessica has bad taste in tv and an MA in Rhetoric, Writing, and Digital Media studies. Talk to her about Frasier on Twitter @Jessicaakanzler
Leave a comment