M3GAN Is An Horror Movie For The New Generation
It might seem like movies with dolls are nothing new, and you could be right. We have the case of Chucky, the diabolical doll that sought to possess children's souls. Of course, we also have Annabelle, who appeared in the various productions of The Conjuring saga. But the new production M3GAN, has something different.
This doll will scare the new generation, considering that it is adapted to the tastes and daily activities of the new generations, the internet, and applications, among others. That's right, this time the doll is not possessed. She went crazy for technology.
This movie has a PG-13 rating, meaning that teenagers addicted to Tik Tok applications and other social media will be able to watch it. The film might scare these kids and cause them to think twice about getting on Tik Tok or watching new content.
According to the production team, this movie is made to scare young people of today's age. They commented that just as Frankenstein scared many in the 80's and 90's, so will M3GAN in 2023.
M3GAN Is a High-Tech Horror Doll
Image: Universal Pictures
M3GAN is a new horror and suspense movie, where the villain or horror element is a doll. However, this one is not possessed, but overloaded with information on the internet. As you can imagine, this is an automaton created to protect a little girl, who began to update herself through the internet to fulfill her job better.
However, as expected, when receiving such a load of information, the doll went crazy and exaggerated everything. So it began to attack and even kill anyone it considered a minimal threat to the girl. The detail is that the more she is updated, the more dangerous and more intelligent she is.
In the plot the creator of M3GAN or scientifically known, Android Model 3 Generation, seeks to protect her 7-year-old orphaned niece. After the death of the child's parents, she is left as the only available family member. For this reason, she decides to find a way to forge a family bond with her, although it costs her a lot.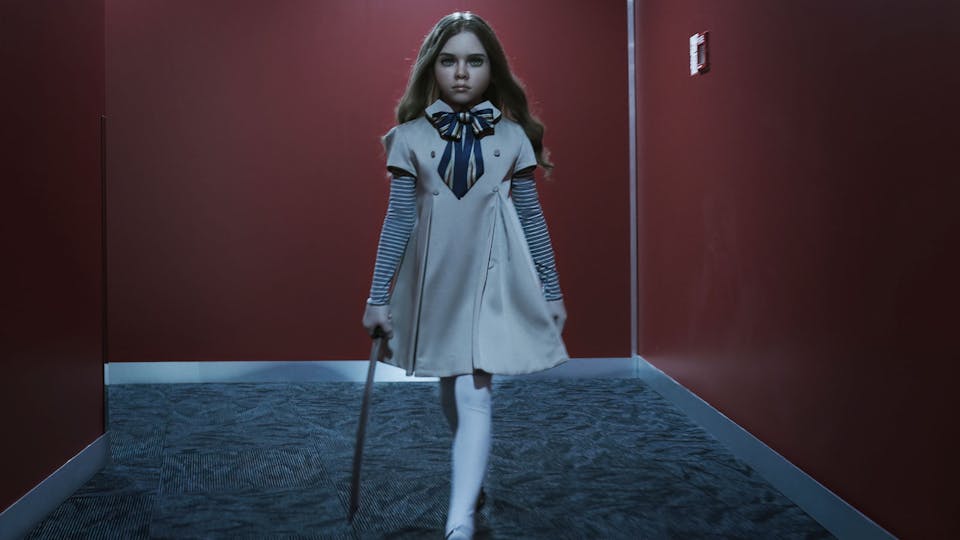 Image: Universal Pictures
To do so, she leaves her job as a scientist, although she decides to resume the Android Model 3 Generation or M3GAN project. This so that she can take care of the girl, when she is not there and can take care of her health and that nothing happens to her. She fulfills her role, although too well becoming quite violent.
The director of this production Gerard Johnstone said that this film does not revolutionize the horror genre with the introduction of a violent doll. As we said earlier, it is not the first time it has been seen. However, it does update the genre with elements that are current and in everyday use by young people.
What do we know About the Film so Far?
As you can imagine, M3GAN is a film of the horror and suspense genre. Its plot as we mentioned before is a doll constantly absorbing information from the internet. This makes it more paranoid and seeks to protect the girl from almost everything. 
This causes her to start attacking people, even killing them. The rating of this production is PG-13, which is key for marketing now. Since it is suitable for teenagers, their campaign is aimed exclusively at them. 
It's not that adults can't see this type of movie. However, they are the ones who see it the least. So to get a good collection in theaters, they must attract as many young people as possible. This guarantees a full house in the first weeks of the film's release.   
M3GAN has an advantage: the reviews given to it on different types of websites are positive. For example, Rotten Tomatoes scored 94%, which says that most critics liked it. This fact may make young people go to see it, considering that many check the reviews on that site.
As for the release date of M3GAN, it was in January 6, 2023 in movie theaters, and it had a nice opening. 
Featured Image Via Universal Pictures 
I am a circus aerialist influenced by Dick Grayson and Spider-Man. Fortunate to write about the characters that inspired me. I also have a Bachelor's degree in Political Science and a Master's degree in International Trade.
Leave a comment