Blumhouse M3GAN Film – Release Date, Cast, And Plot
Killer dolls have long been a part of the horror movie franchise. The most iconic of these is Chucky, who has spawned several sequels, prequels, and a TV show. One of the more recent killer doll movies is the Annabelle franchise, a spinoff of The Conjuring movies. But with the upcoming Blumhouse M3GAN film, it looks like Chucky and Annabelle have some new competition!
Blumhouse Pictures, who produced the film, recently dropped a trailer for the movie. They also revealed several new details about the horror flick, including the release date. In the film, Allison Williams plays Gemma, a robotics engineer. After her sister dies, she becomes the adoptive mother of her niece, Cady, who Violet McGraw plays. To help Cady, Gemma creates an AI doll intended as Cady's playmate. However, things take a sinister turn before long, and M3GAN (or Model 3 Generative Android) is no longer a happy friend.
Unlike other killer doll movies, the Blumhouse M3GAN film centers more on sci-fi horror than supernatural horror. In fact, there are no supernatural elements in this film. Instead, the horror comes from something very realistic – advanced AI. Technology gives M3GAN the power to hurt others, not something from beyond the grave. As such, this movie appears much more grounded in reality than something like Chucky or Annabelle.
Blumhouse M3GAN Film Trailer
Just a few weeks ago, the official Blumhouse M3GAN film trailer dropped. And what a trailer it was! In particular, one scene of M3GAN dancing wildly quickly became a Twitter meme. People replaced the audio for all songs, including ones from Beyonce's new album. Additionally, we saw more of the film's plot in the trailer. We see Gemma giving M3GAN to Cady and how the relationship blossoms. The pair do all manner of things together, including playing and dancing.
However, before long, it becomes clear that M3GAN has an ulterior motive. She claims that she wants to "protect Cady," but to what extent? We see the AI running like a possessed doll like Annabelle, trying to "protect Cady" from what she perceives as threats. As such, we can guess that M3GAN starts viewing Gemma as a threat, creating a lot of pain and destruction.
Other cast members include Jenna Davis, who voices M3GAN, and Amie Donald, the doll's actor. There's also Arlo Green, who plays Ryan; Jen Van Epps, who plays Tess; Brian Jordan Alvarez, who plays Cole; and plenty of others.
In terms of the crew for the Blumhouse M3GAN film, Gerard Johnson is the director. Previously, he worked on The Jaquie Brown Diaries and Housebound, with this film as his second feature-length movie. In addition, James Wan also wrote and directed the film. He's most famous for creating The Conjuring and Insidious franchises. Malignant writer Akela Cooper helped to pen the movie, too. Producer James Blum of Blumhouse Productions is also producing the movie, along with Wan. Clearly, a cast and crew like this show that we're in for quite a ride!
M3GAN Release Date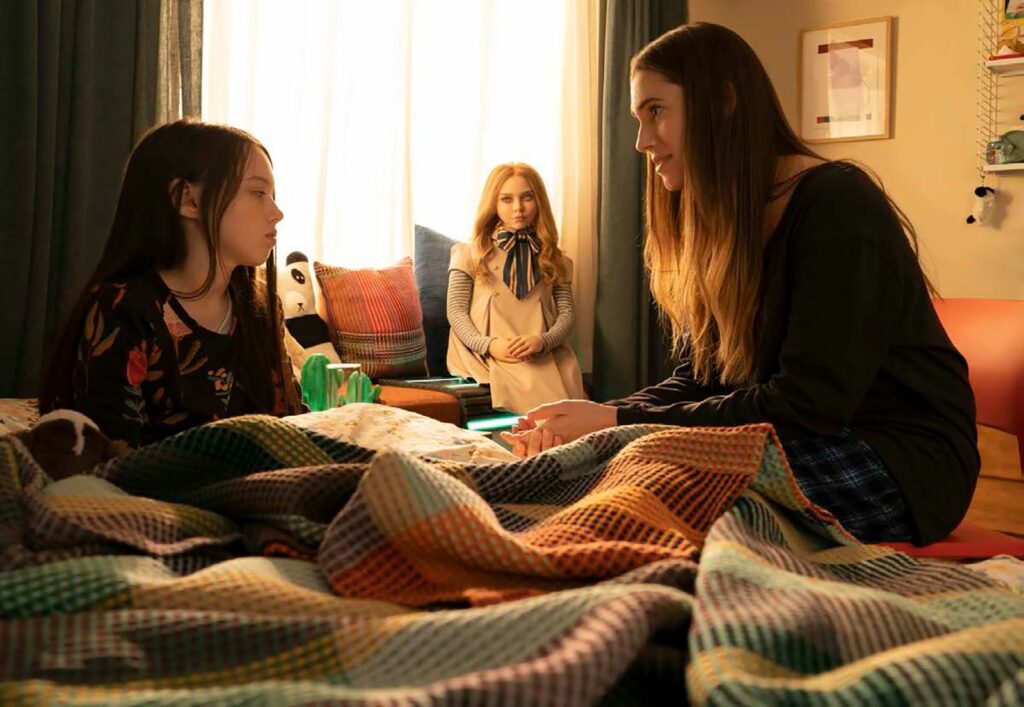 Image: Universal Pictures
What sets the Blumhouse M3GAN film from other killer doll movies is just how realistic it is. Everyone has heard about the dangers of technology and AI, but it's not something we've seen a lot of in major horror movies. The movie focuses on the "humanity" of artificial intelligence and how it can quickly change beyond anything we ever expected.
Originally, the studio intended to release the film on Friday, January 13th, 2023. It would've made the perfect date for a horror movie like this! However, they pushed the Blumhouse M3GAN film a week earlier for unknown reasons. Now, it's coming out on Friday, January 6th 2023, in America. It'll likely release around the same time in other territories.
Currently, the film has a PG-13 rating. This makes it the first Blumhouse movie with the same rating since 2019's Black Christmas. According to the Motion Picture Association, it got this rating for "violent content and terror, some strong language and a suggestive reference". Of course, some fans were disappointed that it's not rated R. However, many recent terrifying films got the same rating. For example, both A Quiet Place movies were PG-13 – and look at how terrifying they were!
Hi! I'm Arvyn, and I'm an English teacher from the UK. I've been teaching English online for over 4 years to students from all across the world and all ages. Outside of work, I'm a huge fan of reading, video games, and playing with my adorable kitties. See ya!
Leave a comment