Knives Out Review – A Typical Mystery With Atypical Fun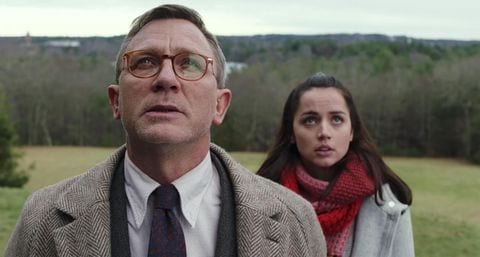 It seems as if cinema fans have gotten so tied up in talking about genres being overdone. There are complaints about superhero fatigue and sequel boredom. But we never really talk about the genres that we should see more of. One of the more lacking genres in the film industry has quietly become the classic 'whodunit' style of mystery. Fortunately, Rian Johnson agrees, and we've got Knives Out to review. Knives Out takes the typical expectations of a whodunit mystery and twists the knife until you aren't even sure what you're trying to figure out, and for that, it is the perfect modern mystery. Don't worry, this post isn't going to tell you whodunit.
Review Of Knives Out & Its Fun-Filled Plot
Reviewing a mystery is tricky. Some people are convinced that even the slightest bit of plot information will spoil the whole film, and take away the mystery of who is beyond whatever mystery needs solving. So, I'll be careful. Nothing in this review will point towards any plot points. Knives Out follows a simple enough plot of trying to find out who is responsible for the death of Harlan Thrombey (Christopher Plummer), a rich murder-mystery novelist with enough children and grandchildren to make everybody a suspect.
A story about a big family dealing with the aftermath of death doesn't sound very fun. However, Knives Out uses subtle side-jokes and features topical family arguments that are enough to make you think that you're arguing with your own family. There are times where you forget that you're trying to solve Harlan's death, as the family relationships feel more like a dramatic comedy than anything else. But those moments between the jokes are good enough to make you want to become a private investigator, because who wouldn't want to look as cool as Daniel Craig's Detective Benoit Blanc?
Image via Lionsgate.
Knives Out Is An Ensemble Worth Watching
It's tough to pick a standout actor or actress from this film because each one portrays their character in a way that is true to the story and wickedly suited towards their abilities. Chris Evans's Ransom shows a funny side of Evans that we forgot about. Toni Collette's Joni reminds us of how cool she can be. Michael Shannon's Walter is proof that the man can be anybody and still be both intimidating and hilarious. Even the lesser featured actors (but remember, I can't tell you anything) work the screen in every scene.
It's tough to flesh out characters when there are so many. From Ana de Armas to Katherine Langford, this ensemble cast is obviously filled with top-notch acting. But the film's ability to shine a light on each character and their relationship to the plot is impressive. Not one person shown on screen during the entire runtime feels like they're there for no reason. Yet, at the same time, Johnson doesn't try to confuse you and make you feel like you can't keep up.
Rian Johnson Knows Whodunit Star Wars: Rise of Skywalker Box Office Prediction
Rian Johnson is not a director who gives off the vibe that he knows how to pull together a murder mystery. His directing credits includes Star Wars: The Last Jedi (which even beat Rise of Skywalker at the box office) and Ozymandias, arguably the greatest Breaking Bad episode shy of the finale, among others. While his writing skills are equally as developed, its Knives Out that really sets up apart as someone worth watching. If you can write and direct something as complicated as Looper, we should have trusted that someday he'd make an instant classic like this one.
If you like to watch mysteries just to predict who is responsible, go see Knives Out. If you like a good character-driven story regardless of the plot? See Knives Out. Or maybe you just like to look at Chris Evans? You guessed it, this review is telling you to see Knives Out.
So, readers who have watched the movie already – what did you think? Did you guess whodunit? Just remember not to spoil others in the comments!
Featured image via Lionsgate.
Meghan Hale is the kind of movie lover that has a "must watch" that is a mile long... and growing. When she isn't talking about the latest film and television news she is writing one of her many in-process novels, screaming film trivia at anybody who will listen, and working as a mental health care professional. Follow her on Twitter @meghanrhale for some fun theories and live reactions to all things entertainment.
Leave a comment