John Boyega Is Calling Out Racism In Star Wars, Disney, And The Entire Movie Industry
Way back in 2015, when we first saw John Boyega's Finn wield a lightsaber, there was indeed a spark. For a small but loud group of trolls, that spark was outrage at seeing a Black Jedi as the hero of the movie. For many, however, it was an amazing thing to see. It was Disney making good on a promise to deliver a more diverse field of heroes. And after seeing Black Panther in Captain America: Civil War, moviegoers were ready for more non-white heroes. So, in Last Jedi, Finn needed a bigger role. For most of Star Wars: The Force Awakens, Finn was the hero. But in the end, it switched to Rey's story, and Disney literally pushed Finn aside. Well, John Boyega standing is standing up to racism in Disney, Star Wars, and the movie industry as a whole.
How John Boyega is Standing Up to Racism in Disney and Star Wars—Enter British GQ
(Image: British GQ)
In a recent profile with British GQ, John Boyega opened up a lot, talking about much more than just racism in Star Wars, but standing up for Black Lives Matter too. And more. It's a long, nuanced, and incredible article. Obviously, we're going to focus on his Star Wars experience—specifically about Disney sidelining his character in Last Jedi and Rise of Skywalker. As he states:
"Like, you guys knew what to do with Daisy Ridley, you knew what to do with Adam Driver. You knew what to do with these other people, but when it came to Kelly Marie Tran, when it came to John Boyega, you know f**k all. So what do you want me to say? What they want you to say is, 'I enjoyed being a part of it. It was a great experience…' Nah, nah, nah. I'll take that deal when it's a great experience. They gave all the nuance to Adam Driver, all the nuance to Daisy Ridley. Let's be honest. Daisy knows this. Adam knows this. Everybody knows. I'm not exposing anything."
Yikes. Of course, there's a lot of bitterness there, and a lot of anger. In fact, writer Jimi Famurewa says that at this point in the interview, Boyega went on a "breathless roll."
Boyega Isn't Wrong About the Racism Issues in the New Star Wars Movies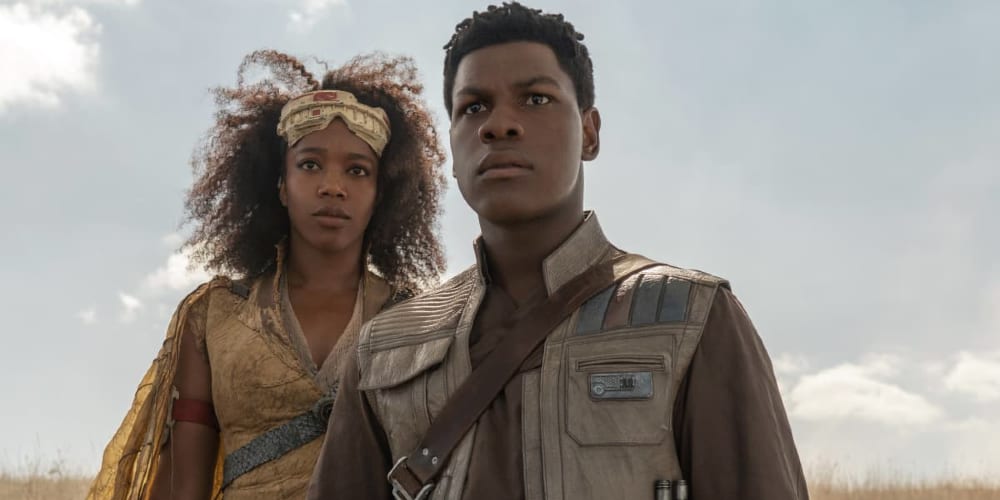 Every former Stormtrooper in Rise of Skywalker should have been Jedis. (Image: Star Wars: The Rise of Skywalker, Disney Pictures))
Finn was supposed to be a Jedi. That's not speculation; that's straight from JJ Abrams. What he wanted to tell Rey throughout The Rise of Skywalker was that he could feel the Force. We were supposed to see him use it in the final battle. In other words, the plot narrative Abrams set up in The Force Awakens would have finally had significant payoff in The Rise of Skywalker. He doesn't blame Abrams for that, though. As he said, "Everybody needs to leave my boy alone. He wasn't even supposed to come back and try to save your shit."
And it's not as if Disney wasn't capable of giving Finn, Poe, and Rose excellent character development. Their other major franchise, the Avengers, managed to provide nuance to every single character in those films. Even in Avengers: Infinity War, every hero had importance, even if it was ultimately Thanos's story. So, they have the ability to develop a large cast. So what happened with Star Wars? How did Finn go from rising to the occasion in Force Awakens to going coward in the beginning of The Last Jedi? And then to doing not much of anything in The Rise of Skywalker?
That's why it's important that John Boyega is standing up to the racism in the Star Wars franchise. It's not just that he deserved better as an actor, or that Finn deserved better as a character—it's that we all deserve to see an incredible tapestry of heroes especially when those heroes are from an entire galaxy.
Featured image by Gage Skidmore via Flickr
Roman Colombo finished his MFA in 2010 and now teaches writing and graphic novel literature at various Philadelphia colleges. His first novel, Trading Saints for Sinners, was published in 2014. He's currently working on his next novel and hoping to find an agent soon.
Leave a comment