Dark Nights: Death Metal September Checklist (And How We Got Here)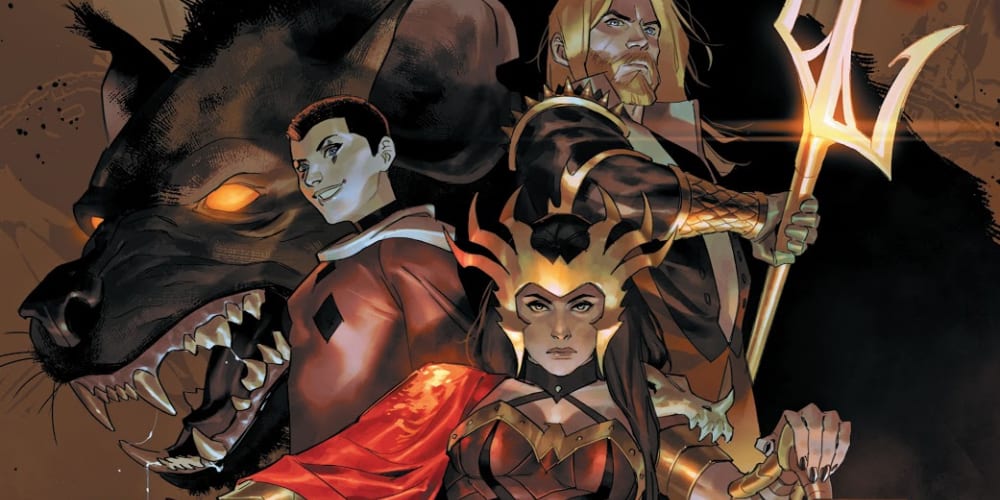 For the past three months, DC Comics' Dark Nights: Death Metal didn't even warrant a checklist, but that changes this September. We're getting three one-shots and a tie-in. Surprisingly, the only thing we're not going to see in September is the fourth issue of the main series. So, why are we just now seeing a sudden increase in Death Metal material? It's a little complicated. There was quite a significant shakeup at DC Comics right before the lockdown in mid-March. So, let's take a brief look at the history of DC's new history.
RIP DC's 5G, Dark Nights: Death Metal Is Our New September Checklist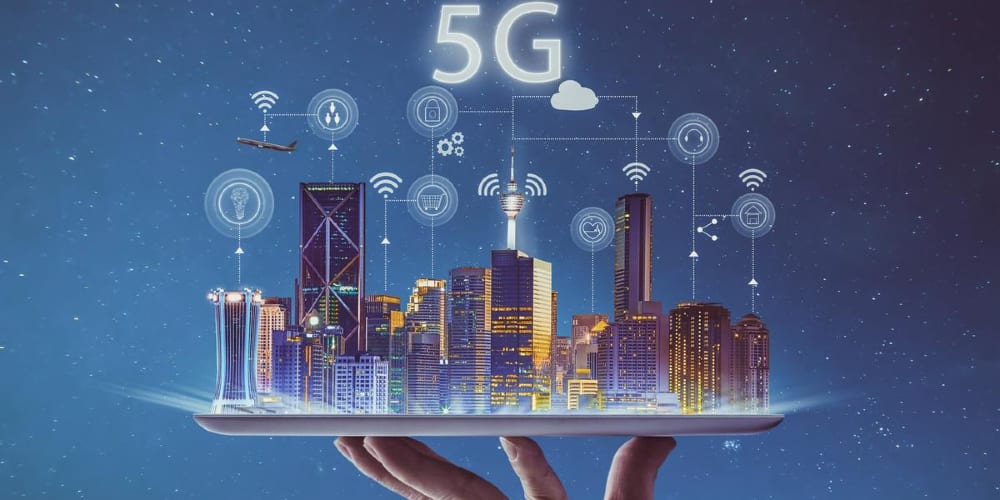 Wait? Isn't that the new cell phone speed?—Yes. That is what everyone asked when they saw 5G. (Image: The Business Journals)
If you haven't noticed until now, over the past ten years, DC Comics loved hitting the reboot button. In fact, they hit it three times: The New 52, Convergence, and DC Rebirth. In general, DC attempted to reboot the line every two to four years. Convergence didn't go over well, but The New 52 and DC Rebirth were both hits. And Rebirth is going four years strong now. So, what was the plan? 5G, or Generation 5. We were going to get five one-shots, all called Generation, with 1-5 to follow accordingly. Each Generation issue would redefine the DC timeline, slowly altering it to a new era. One major change already took place: Wonder Woman, not Batman or Superman, is now the "first superhero." Fans got ready for another round of confusing new timelines.
Indeed, this is probably why Warner Bros. fired co-publisher and reboot renegade Dan Didio. And as far as people can tell, DC canceled the Generation event. But how did Dark Nights: Death Metal become a massive event worthy of a September Checklist?
The Quarantine and the Death Metal Creators: Taking a Moment to Breathe
This is essentially what Snyder did to Dark Nights: Death Metal. (Image: Dark Nights: Death Metal Guidebook, DC Comics)
It's weird to say that the quarantine amidst a global, deadly pandemic was a blessing, but for DC Comics, that's what it was. Given that the entire comic industry came to a screeching halt, publishers made significant changes. Marvel Comics used that time to scale back on Empyre and turn X of Swords, a 14-part crossover, into a more massive 22-part epic. Comparatively, DC did that to the extreme. They ditched the 5G and turned to the mini-series Dark Nights: Death Metal instead. Originally, Death Metal was just a sequel to Metal. It would have repercussions on the DC Universe, but the focus was still on 5G.
But Death Metal is a much better event. For one, it has an actual story. It's familiar ground, expanding on the ideas of Hell Arisen and Dark Nights: Metal. Scott Snyder isn't rebooting the DC Universe but bringing the various threads all to one place. Therefore, DC made the wise decision to turn Snyder and Cappulo's sequel event into the big summer event. It was a smart choice. So now, let's take a look at the September checklist for Dark Nights: Death Metal.
Dark Nights: Death Metal September Checklist
Dark Nights: Death Metal Trinity Crisis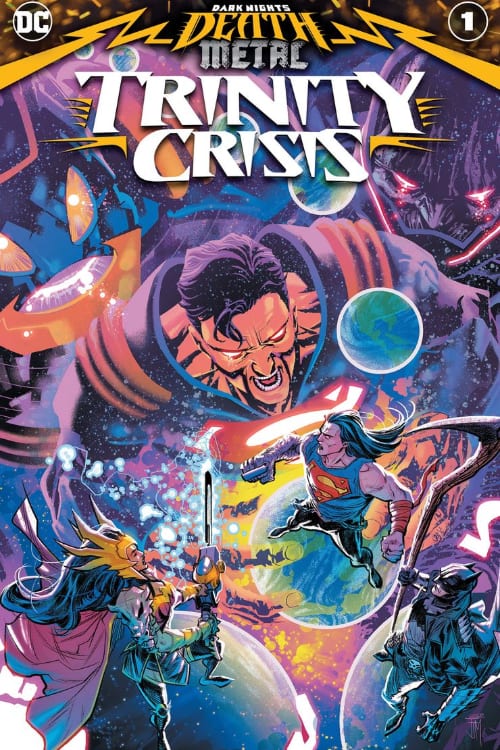 (DC Comics)
Writer: SCOTT SNYDER
Artist: FRANCIS MANAPUL
Release Date: September 8th
Official Solicitation:
With Superman freed from his New Apokolips prison, the classic Trinity lineup is reunited and ready to rock! Wonder Woman, Batman, and Superman amp up their power to launch an assault on Castle Bat, and that's just the warm-up act! Three walking nightmares are hidden deep inside the fortress—but these Dark Multiverse versions of the Anti-Monitor, Superboy Prime, and Darkseid hold the key to humanity's survival. The Justice League have to face down their old nemeses, but will round two be the end for our heroes?
Dark Nights: Death Metal Speed Metal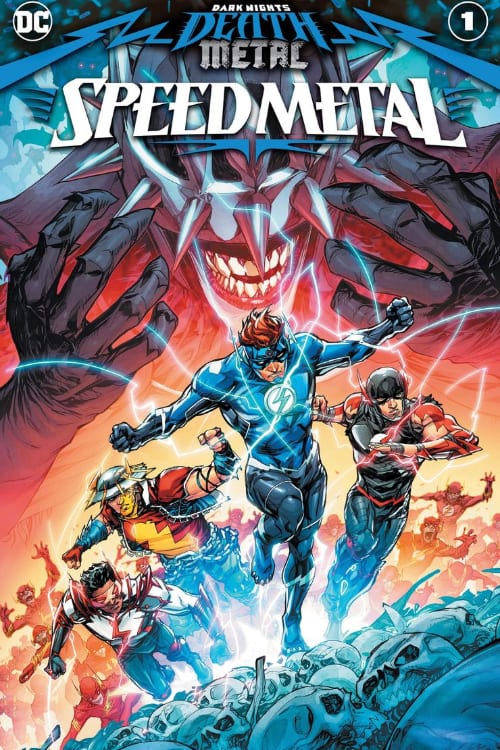 (DC Comics)
Writer: JOSHUA WILLIAMSON
Artists: EDDY BARROWS and EBER FERREIRA
Release Date: September 22nd
Official Solicitation:
It's the drag race from hell in this one-shot tie-in to Dark Nights: Death Metal! Taking place after the events of Dark Nights: Death Metal #3, the Darkest Knight is after Wally West and his Dr. Manhattan powers. Thankfully, Wally has backup in the form of Barry Allen, Jay Garrick, and Wallace West! It's a knockdown, drag-out race through the Wastelands as the Flash Family tries to stay steps ahead of the Darkest Knight and his Lightning Knights!
Dark Nights: Death Metal Multiverse's End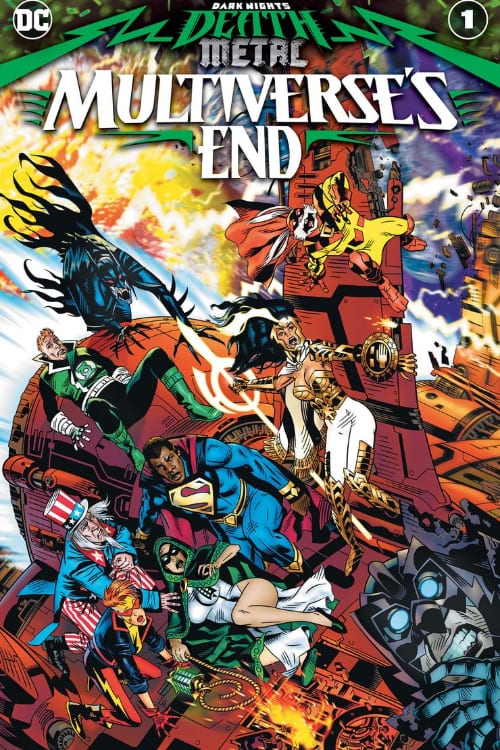 (DC Comics)
Writer: JAMES TYNION IV
Artist: JUAN GEDEON
Release Date: September 29th
Official Solicitation:
Perpetua, mother of all existence, has culled all life and creation in the Multiverse, condensing all beings to one planet: Earth-Prime. In her quest for power and dominance, she rules absolutely and in totality, using her children—the Monitors and Anti-Monitors—as her heralds and destructors. But a group of heroes has banded together across multiple worlds in a last-ditch effort to stop her from destroying all of existence: Owlman, President Superman, Iris West, Captain Carrot, Guy Gardner, and others have chosen to make their final stand in a battle they're destined to lose!
Justice League #53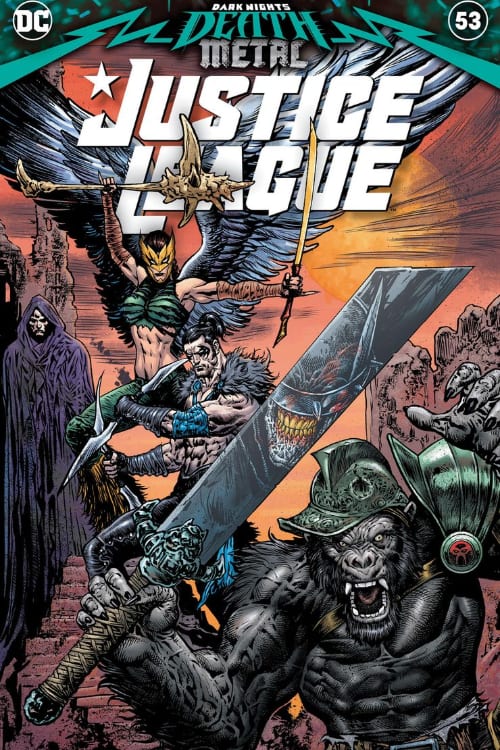 (DC Comics)
Writer: JOSHUA WILLIAMSON
Artist: XERMANICO
Release Date: September 15th
Official Solicitation:
"Doom Metal" part one of five—the Dark Nights: Death Metal tie-in that will directly impact the finale of that event! Nightwing's on a mission to free the Legion of Doom from Perpetua's clutches. But to do so, he'll need the help of none other than…Lex Luthor?! The surprises are only just beginning, as Nightwing, Lex, and a new Justice League must fight their way through an Earth twisted by the Dark Multiverse. Titans will be tested, hearts will be broken, and blood will be spilled!
And if you're excited for the expansion of Dark Nights: Death Metal, we'll be back next month with the October checklist; and if you want a hint on what's to come, check out Penquin's solicitation for an upcoming collection.
(Featured Image: Dark Nights: Death Metal Guidebook, DC Comics)
Roman Colombo finished his MFA in 2010 and now teaches writing and graphic novel literature at various Philadelphia colleges. His first novel, Trading Saints for Sinners, was published in 2014. He's currently working on his next novel and hoping to find an agent soon.
Leave a comment