What DC Graphic Novels You Should Read This September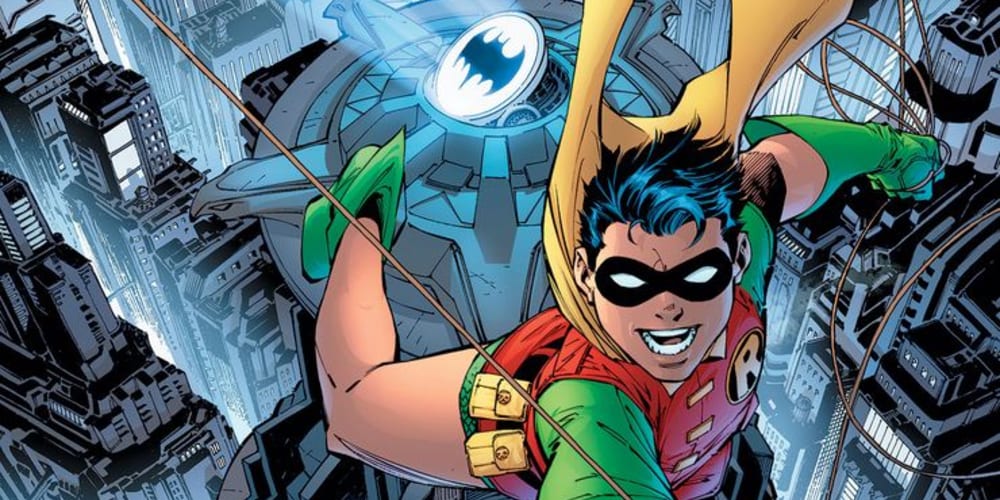 This month, we're all about finding ways to cheat a little bit, it seems. Such as we did with what Marvel graphic novels you should read this September, we're doing with DC. Accordingly, a lot comes out, including an omnibus for one of the greatest DC stories ever told. Yet there is also a collection of fantastic graphic novels coming out too. So, it's going to be a hard month on the wallet. So, let's begin.
Batman: The Demon Trilogy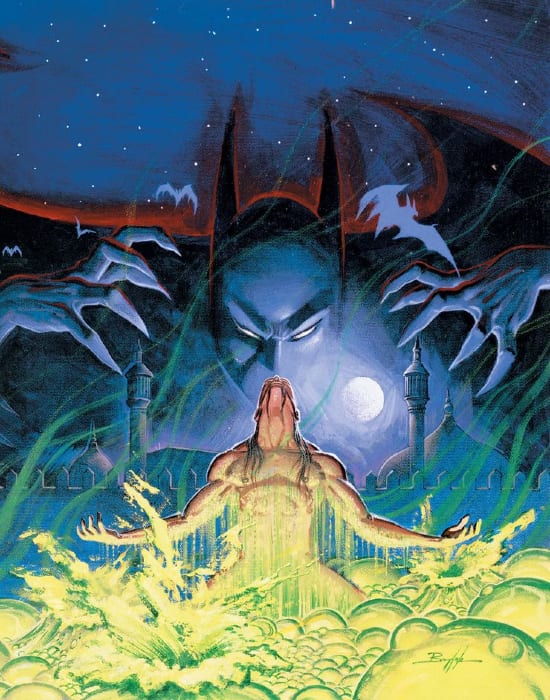 But who is the demon? (DC Comics)
While not called an omnibus (just like Ditko is…Strange), The Demon Trilogy is basically an Omnibus. It's also another collection featuring some of the best work of the late Denny O'Neil. If you want to understand the relationship between Batman and Ras al Ghul, then you should read these DC graphic novels this September. And, what do you know, here they are in one beautiful printed volume!
Writers: DENNIS O'NEIL and MIKE W. BARR
Artists: NORM BREYFOGLE, TOM GRINDBERG, and JERRY BINGHAM
Release Date: September 22nd
Official Solicitation:
What connects Batman and the villainous Ra's al Ghul? Find out in this collection of three 1980s graphic novels! How did Ra's al Ghul become the villain that he is? How would a union between his daughter Talia and the Dark Knight benefit him? Why would he want to father an heir? Follow along as Batman lives through and tries to unravel the mystery behind the mind of Ra's al Ghul!

Collects Batman: Birth of the Demon #1, Batman: Bride of the Demon #1, and Batman: Son of the Demon #1 at their original published dimensions of 8.5" x 10.875"
Legion of Super-Heroes: Five Years Later Omnibus Vol 1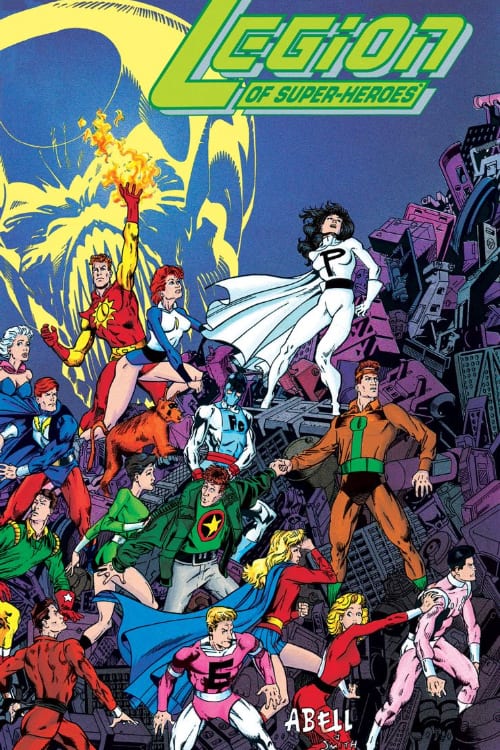 Note: Thanos had nothing to do with this. That we know of… (DC Comics)
However, this is the omnibus indicated in the opening. When "five years later" popped up in Avengers: Endgame hardcore Legion of Super-Heroes got the reference. Or, if it wasn't on purpose, it was impossible not to think of this incredible storyline that ran for years throughout the Legion of Super-Heroes comics in the 1980s. Now, finally, DC is releasing this as an omnibus graphic novel that you should not just read this September, but through the rest of the year too.
Writers: KEITH GIFFEN, TOM BIERBAUM, MARY BIERBAUM, DAN JURGENS, and AL GORDON
Artists: KEITH GIFFEN, JASON PEARSON, COLLEEN DORAN, CURT SWAN, STUART IMMONEN, DAN JURGENS, and More
Release Date: September 22nd
Official Solicitation:
It's the Legion of Super-Heroes like you've never seen them before, as the United Planets becomes a darker place, with familiar characters changed and the Earth overtaken by alien invaders—prompting the Legion to take on these dangerous new threats. Now this bold era of DC history is collected in an omnibus edition! Collects Legion of Super-Heroes #1-39, Timber Wolf #1-5, Legion of Super-Heroes Annual #1-3, and Adventures of Superman #478.
The Hill House Collection
And here's where we are really cheating. The Hill House Collection, which DC is starting to print in September, contains several graphic novels that you should read. Writer Joe Hill curated several horror series under DC's Black Label imprint, reminiscent of the horror comics before the Comics Code Authority era, but also very much new and exciting. And yes, at times, terrifying. There isn't one bad series among them, so with that said, here are the first two volumes coming out in September.
Basketful of Heads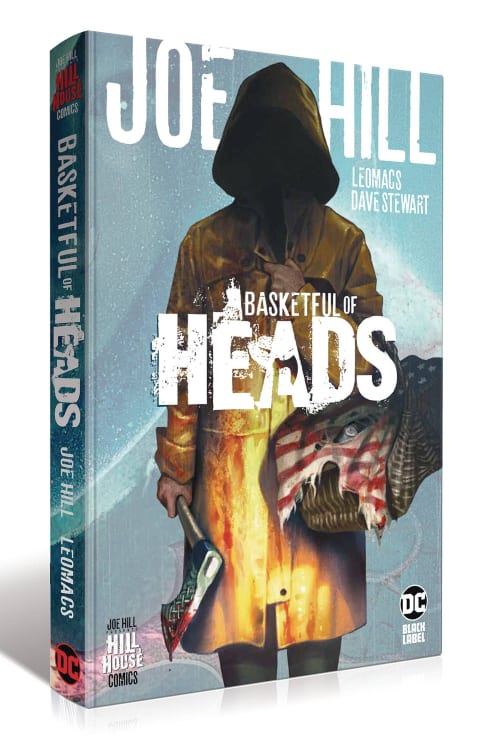 Beautifully designed hardcovers always make it more enticing to buy. (DC Comics)
Writer: JOE HILL
Artist: LEOMACS
Release Date: September 8th
Official Solicitation:
Joe Hill, the horror mastermind behind NOS4A2 and Locke & Key, arrives at DC with the twisted tale of June Branch-trapped with four cunning criminals who have snatched her boyfriend for deranged reasons of their own. Now she must fight for her life with the help of an impossible 8th-century Viking axe that can pass through a man's neck in a single swipe-and leave the severed head still conscious and capable of supernatural speech.

Each disembodied head has a malevolent story of its own to tell, and it isn't long before June finds herself in a desperate struggle to hack through their lies and manipulations…racing to save the man she loves before time runs out. But is June Branch a woman fighting for her life-or a deranged axe murderer with a basketful of paranoid fantasies? The truth is even more horrifying than a basketful of heads. Collects Basketful of Heads #1-7.
The Low, Low Woods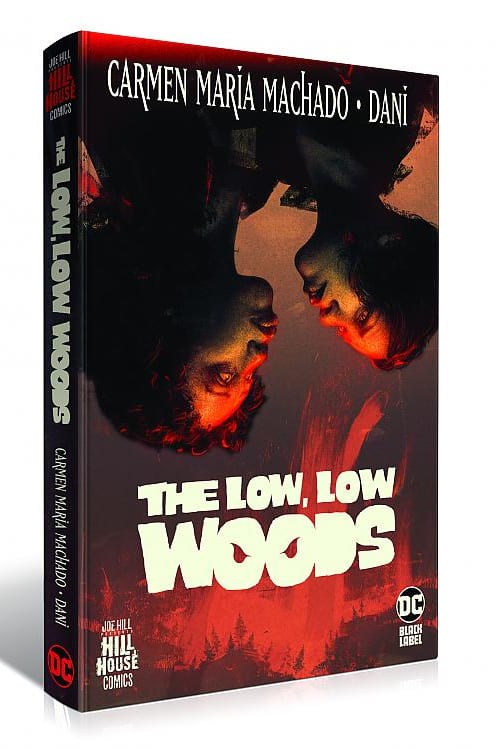 One freaky series you should read. (DC Comics)
Writer: CARMEN MARIA MACHADO
Artist: DANI
Release Date: September 28th
Official Solicitation:
From New York Times bestselling author Carmen Maria Machado (Her Body And Other Parties, In The Dream House) comes a story so horrifying you won't dare to forget!

When your memories are stolen, what would you give to remember? Follow El and Vee as they search for answers to the questions everyone else forgot. Shudder-to-Think, Pennsylvania, is plagued by a mysterious illness that eats away at the memories of those affected by it. El and Octavia are two best friends who find themselves the newest victims of this disease after waking up in a movie theater with no memory of the past few hours. As El and Vee dive deeper into the mystery behind their lost memories, they realize the stories of their town hold more dark truth than they could've imagined. It's up to El and Vee to keep their town from falling apart…to keep the world safe from Shudder-to-Think's monsters. Collects issues # 1-6.
What DC Graphic Novels do you think we should spend more money on to read this September?
(Featured Image: Robin: 80 Years of the Boy Wonder)
Roman Colombo finished his MFA in 2010 and now teaches writing and graphic novel literature at various Philadelphia colleges. His first novel, Trading Saints for Sinners, was published in 2014. He's currently working on his next novel and hoping to find an agent soon.
Leave a comment