A Guide To The Ghostbusters – Who Are We Gonna Call?
The popularity of any given franchise will increase and decrease over time. Some are popular for a decade and fade out, only to be forgotten about by the time the next generation rolls around. Others are meant to stay. One of them is Ghostbusters. The 1984 film is filled with just enough humor, spookiness, and memorable action that we don't think it's going anywhere any time soon. While we all know who the ghost-busting folks are, it's a franchise with a surprising amount of content! In this Ghostbusters Guide, we'll look at how the franchise developed, and what the future looks like.
Ghostbusters Guide: Learning Who We Gonna Call With Ghostbusters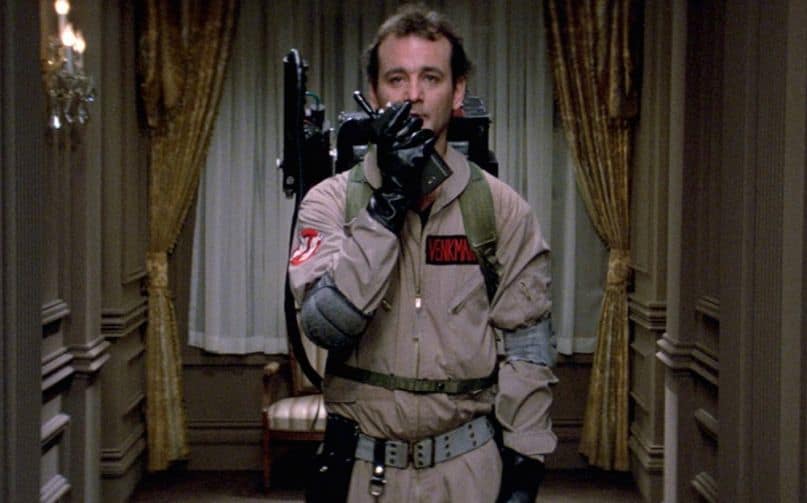 Image via Columbia Pictures.
The franchise begins with Ghostbusters, the Bill Murray-led supernatural comedy. Peter Venkman, Ray Stantz, and Egon Spengler are a trio of passionate scientists. When they're fired from Columbia University, they decide to take their love for spookiness elsewhere, creating the Ghostbusters, a team built to get rid of pesky ghosts. They find work investigating and eliminating ghosts, from basic ghouls who haunt hotels to the bigger fish that need to be fried.
Ghostbusters' could have ended up being a simple comedy with re-watch appeal and nothing more. However, a hilariously dry performance by Bill Murray, assisted by the fantastic chemistry of costars Dan Aykroyd, Sigourney Weaver, and Harold Ramis makes it worth sticking around for. Despite the relatively simple ghost plot, we're constantly having our assumptions proven wrong, and we end up in a situation that's more supernatural and terrifying than we thought! It goes from simple ghosts to dimension-traveling beings, and in the end, we're left hoping that we see more ghosts busted.
In addition to a financially and critically successful film, Ghostbusters brought Ray Parker, Jr.'s Ghostbusters to the top of the Billboard Hot 100 charts for weeks. And, decades later, it's still playing in our heads as background music.
A Television Interruption Of Ghouly Proportions – The Real Ghostbusters
Reeling off the success of Ghostbusters, Columbia Pictures Television and DIC Entertainment decided to create a ghost-hunting TV series in 1986. From 1986 to 1991, the animated series kept the same characters that we know and love from the films (with different voice actors) as they stick to ghost hunting in the streets of New York City.
The short-lived series inspired a spin-off, Extreme Ghostbusters, in 1997. The premise follows the gang years after their heyday when ghosts just aren't as popular anymore. Egon is left to work alone after his pals branch off and winds up facing off against new ghosts. He collects some of his university students and they band together to create a new group of Ghostbusters. The series lasted for 40 episodes.
The Ghosts Move Into The Comic Book World
A comic book spinoff is arguably the best thing to happen from The Real Ghostbusters. The comics took the same name as the animated series and lasted until 1992 with dozens of issues published by both Marvel UK and NOW Comics. The story of The Real Ghostbusters follows that of the series and draws inspiration from the original film, too. Another spinoff comic book series, Slimer, ran from 1989 to 1990. It followed Slimer, a popular character that you may remember from the first film.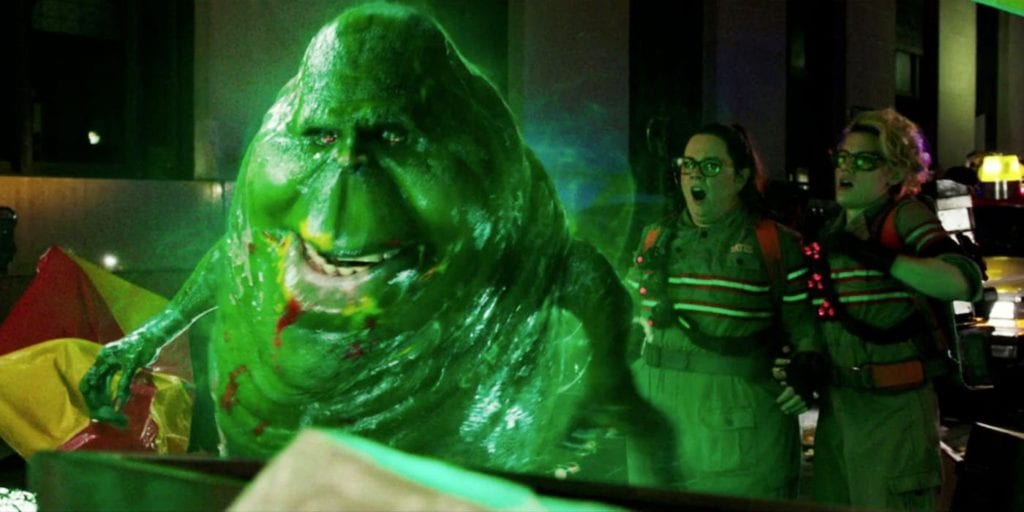 Image via Sony Pictures Releasing.
An Immediate Video Game Fandom
The entire premise of Ghostbusters involves the elimination of ghosts. Not only does that sound like a neat idea for a film, but it's also a kick-ass plot for a video game! The concept translates perfectly into games, and the franchise found success through it. Starting in 1984 with Ghostbusters, an Activision game for consoles including the Atari 800, we've seen plenty of games. The latest, Ghostbusters World in 2018, is a NextAge game for Android and iOS.
A Ghostbusters Guide isn't' complete without being able to bust them yourself! If you're ever in need of a ghostbusting fix, there are games available for nearly every console, including PlayStation 4, Xbox One, Windows, and more.
Ghostbusters II: More Ghosts More Busting
By this point, the Ghostbusters were a household name. Some of the stars of the first film, including Ramis and Aykroyd, were initially against a sequel, believing that the first film was all that the story needed. However, the box office demands and fans disagreed. Merchandise continued to sell, and kids continued to dress up as Ghostbusters every year for Halloween. Why not make another film?
The plot of the second film follows the same old team of ghostbusters. Only, their local fame has worn off. Their services cause plenty of property damage, and the city would rather deal with the ghosts. Though, when a new threat shows up, they're needed more than before. While fans were delighted to see the same old campy supernatural stuff as with the first film, critics weren't as eager. So, we won't hold it against you if you don't rewatch this one as much as the first.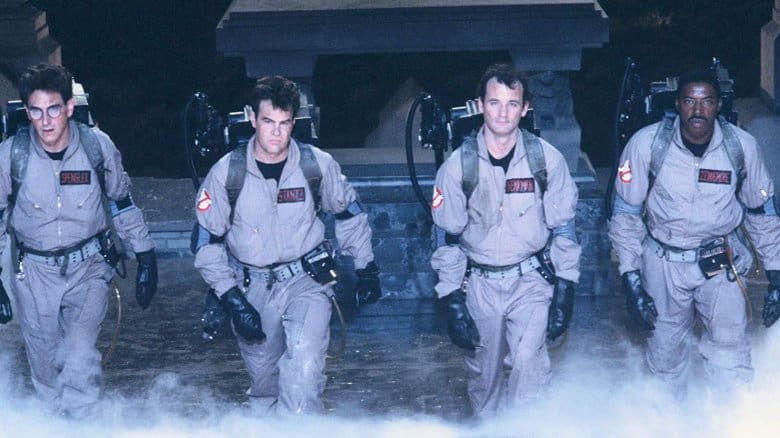 Image via Columbia Pictures
A Never-Created Third Film
As with most franchises, the creators of Ghostbusters debated whether or not to overstay their welcome. A third film, Ghostbusters: III: Hellbent, was almost created. A script was written, which included characters transporting themselves into an alternate Manhattan. Unfortunately for fans, the stars were less eager to continue the franchise, and Bill Murray himself was also not up for the task.
Talks of creating the third film went on for years. They debated new stars, less special effects, and plenty of changes to the original idea. Later, after multiple changes in the writing and directing team, as well as the death of Harold Ramis, Sony let the project disappear around 2014.
The Ghostbusters Guide Features Books, Too
While we mostly think of the video games and iconic first film when we think of the Ghostbusters franchise, fans may be surprised to hear that there are books, too! Sholly Fisch wrote Ghostbusters: The Return in 2004. It was created in celebration of the film's 20th anniversary. The story follows Venkman as he runs for New York City's mayor, while also dealing with some, you guessed it, ghosts.
The franchise has two more books. Tobin's Spirit Guide, a 2016 fiction novel by Erik Burnham, ties into the Ghostbusters' reboot. Ghosts from Our Past: Both Literally and Figuratively: The Study of the Paranormal by Andrew Shaffer was also written for the reboot. It's designed as an in-universe guide to the ghost world.
A Not-So-Loved Reboot In The Ghostbusters Guide
Ghostbusters: Answer the Call, a 2016 reboot of the franchise, released to plenty of criticism from fans. It follows a similar plot to the original film, with four women and their male assistant as they discover plenty of ghosts in New York City. It's considered to be a box office bomb, losing millions for Sony.
So, why the bad luck? Many believe that it's due to its unnecessary existence. It's the same story, just with a new cast. How can you re-create the magic of such an iconic film?
While female-led films are great, we think that we deserve new stories told by females, and for females. We don't need reboots- we need new stories!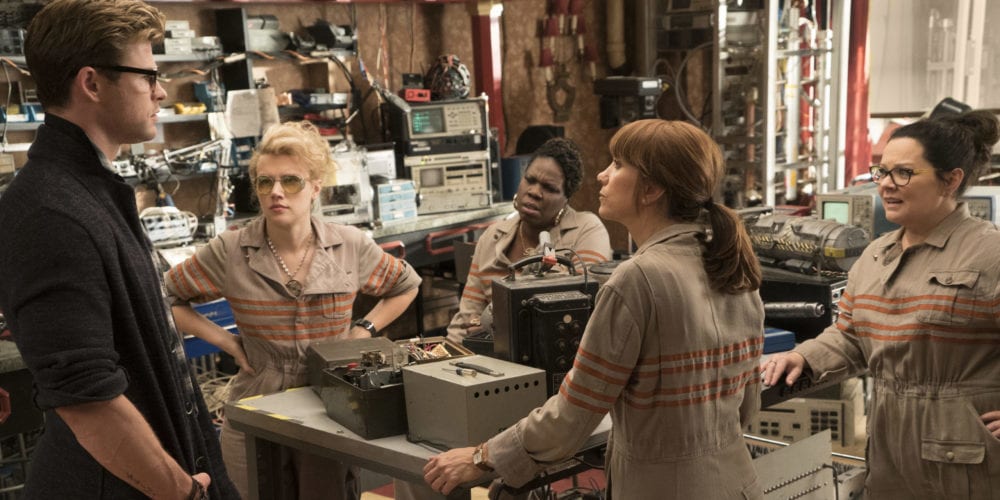 Image via Sony Pictures Releasing.
The Future of the Ghostbusters
The next time we see any ghosts being busted will be with Ghostbusters: Afterlife. It will follow a family who finds old equipment of the original Ghostbusters' team, just as some new ghosts appear. The film was initially planned for a July 2020 release date, but the coronavirus pandemic has pushed it back to 2021. Finn Wolfhard, Mckenna Grace, Carrie Coon, and Paul Rudd star. Check out the trailer for Ghostbusters: Afterlife trailer below.
Word is that Ghostbusters: Afterlife will lead to another prequel and at least two follow-up projects. We may even see the prequel as a television series, though nothing has been confirmed.
Another upcoming project in the Ghostbusters franchise includes an animated movie. Sony Pictures Animation, Fletcher Moules, Aykroyd, and Reitman are all behind the project. While little details have been announced, reports have said that it will take place from the perspective of ghosts. Hey, the ghosts deserve to have their side of the story told, too!
A Franchise We'll Always Love
Image via Sony Pictures
It took me far too long to watch anything belonging to the gigantic guide which is the Ghostbusters franchise. Through cultural osmosis, I assumed that I knew enough about the plot (and had heard the song one too many times.) Though, I was delighted to watch the 1984 film earlier this year. The dryness of Murray's delivery, the hilarity of the ghosts, and the perfect chemistry between leads make it a film that will always be worth returning to.
Did you learn anything from this Ghostbusters Guide? What would you like to see in the future of the franchise? Let us know your thoughts on any Ghostbusters properties or the franchise as a whole in the comments!
Featured image via Sony.
Meghan Hale is the kind of movie lover that has a "must watch" that is a mile long... and growing. When she isn't talking about the latest film and television news she is writing one of her many in-process novels, screaming film trivia at anybody who will listen, and working as a mental health care professional. Follow her on Twitter @meghanrhale for some fun theories and live reactions to all things entertainment.
Leave a comment