New Persona Game Release Date and Speculation
If you're a fan of the incredible Persona series, then we've got some great news for you! There's plenty of juicy gossip to unravel about the new Persona game lineup! The reliable YouTuber, NateDrake, has given us a tantalizing glimpse of what's in the pipeline. Buckle up as we dive into these exciting revelations!
Kicking things off, let's talk about the much-anticipated Persona 6. Word on the street is that it's likely a PS5 exclusive, aiming for a grand entry in late 2024. So, for those PS5 owners, this one's a biggie! And Xbox enthusiasts, don't fret just yet. The winds might change, and we might see it landing on your platform too. Thankfully, NateDrake didn't rule out an Xbox port for the new Persona game – just that it appears unlikely at the moment. But things could still change! 
Next up in the mix is the Persona 3 remake. If the grapevine is to be believed, we could be witnessing its arrival as soon as 2023. What's even more thrilling is the whisper that it might be a multi-platform release. So, mark your calendars for the Xbox Showcase. You might be in for a surprise, experiencing Persona 3 across different platforms!
Lastly, we can't forget about another enticing bit about a new Persona game – the Persona 5 spin-off. It's looking like we're going to see it adding sparkle to the year 2024. Indeed, there seems to be no shortage of excitement in the world of Persona for the next couple of years!
New Persona Game Rumors and Speculation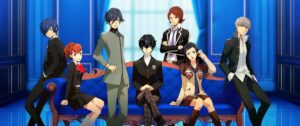 Image: Atlus
Now, it's speculation time! For Persona 6, could it really be a PS5-exclusive? Or will we see it sneaking over to Xbox, too? While we'd love to have a definite answer, it seems we'll need to hold our horses till there's more official news. It'd be great to see a wider audience experience this game for themselves, instead of only PlayStation users.
With the Persona 3 remake, being potentially multi-platform could be a big game-changer. This could open up an opportunity for Xbox users to dive headfirst into the Persona realm. And who knows, we might see a surge of new Persona fans. The more, the merrier!
Then there's the Persona 5 spin-off. Will it follow the precedent set by 'Persona 5 Scramble'? Or could they throw us a curveball with an entirely fresh spin? With the new Persona game speculation, we can only hope for a pleasant surprise, something that lives up to the original Persona 5.
Whatever happens, it's clear there's so much to anticipate if you're a Persona fan. But let's not forget, these new Persona game revelations are just that – unconfirmed whispers. So, while we're allowed a healthy dose of excitement, let's also remember to take it with a pinch of salt.
So, my fellow gamers, while we await more solid news, let's keep speculating, theorizing, and dreaming. Because, at the end of the day, isn't that what being a gamer is all about?
Stay tuned for more updates as we continue to hunt for more information on this exciting new Persona game news. Here's to hitting the information jackpot soon! Game on, everyone!
Hi! I'm Arvyn, and I'm an English teacher from the UK. I've been teaching English online for over 4 years to students from all across the world and all ages. Outside of work, I'm a huge fan of reading, video games, and playing with my adorable kitties. See ya!
Leave a comment