History Of Mario Kart – Console And Handheld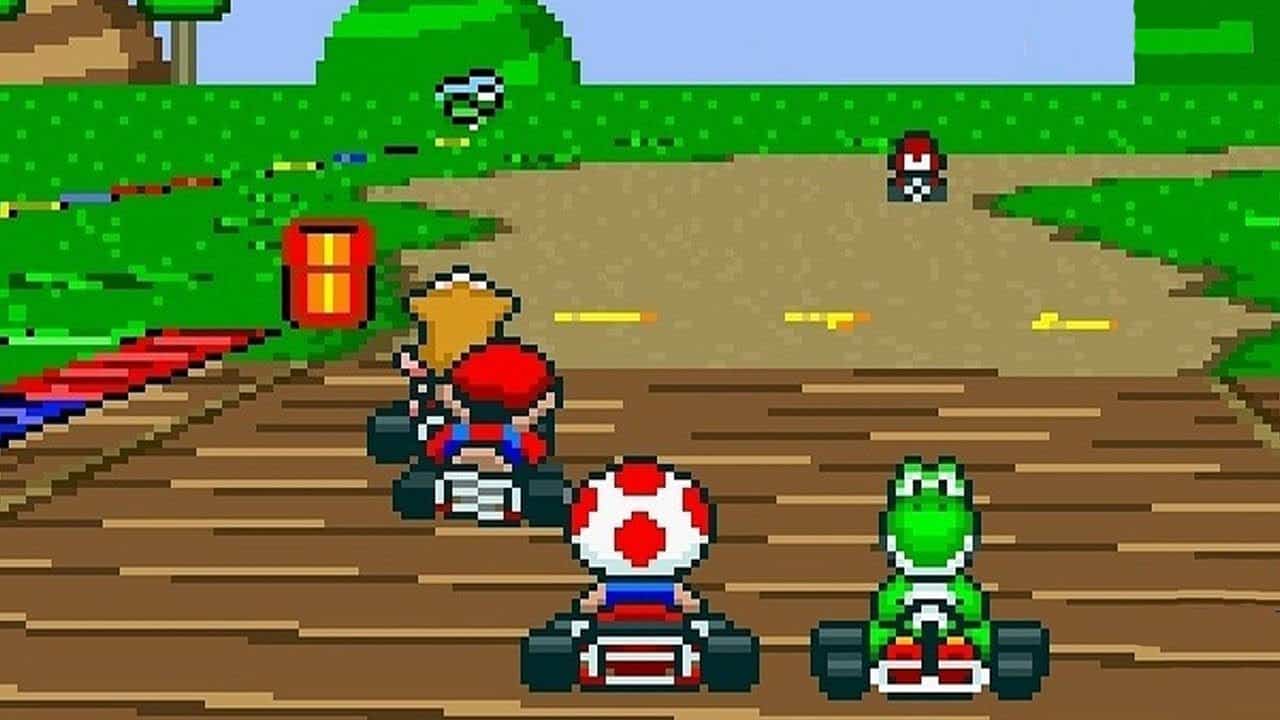 It's tough to think of racing games without Mario Kart coming to mind. The popular kart racer is the cornerstone of casual racing titles, as well as easy to pick up and play party games. The cultural adoration for Mario Kart extends well beyond the United States and Japan, with over 100 million copies sold worldwide over the course of the series. You probably have a favorite Mario Kart title, and maybe even consider yourself an expert racer. However, do you know the history of how Mario Kart came to be? If you're curious, then you are in the right place. The history of Mario Kart tells the story of an idea for a game turned pop culture phenomenon. To begin, let's start with the origins of how Mario Kart came to be. 
Origins
Shigeru Miyamoto is the mind behind the Mario Kart series. If you read the History of Super Mario piece we recently published, you'll know the name well. Miyamoto developed Super Mario from the beginning, so the idea of a kart racer starring his beloved character seemed too good an opportunity to pass up. Nintendo and Miyamoto were no strangers to racing games. At this point, the Super Nintendo had been on shelves for a year. One of the SNES' launch titles was F-Zero, a futuristic racer for single player. The SNES benefited from F-Zero in the early years. Miyamoto, however, wanted a multiplayer experience. It's an important note for the history of Mario Kart.
F-Zero Influence
If you've ever played F-Zero, you know two things stand out. One, the courses are elaborate and not necessarily inviting to the idea of more than one racer. Two, F-Zero looks much like other early racing video games, including high speeds, speedy environments, and a bit of a learning curve to be successful. F-Zero influenced the history of Mario Kart quite a bit. Well, Miyamoto wanted to turn these two key elements of F-Zero on their head for his new kart racer.
The two player experience would be central to Mario Kart's design. Using a horizontal split-screen, two players could see the same course with the clarity and visual prowess of a single player racer like F-Zero. Of course, the SNES was not a powerhouse when it came to graphics, meaning courses in Mario Kart would not be as intricate as F-Zero, since two players would be racing on a rendered map at the same time.
Mario Kart Before Mario 
If you hadn't put it together yet, Miyamoto developed Mario Kart without intending it to be a Mario title. The game from the very beginning featured a generic man in overalls, which is funny and might sound a little like Mario. Miyamoto decided the characters ought to be somewhat shorter to fit the size of a go-kart vehicle. About three months into development, Mario found his way to the series. Driving by karts posed a visual and graphical dilemma of what it would look like zooming past fellow racers. For reference, the art team included Mario in the kart, and soon enough, the idea of a Mario themed kart racer was in motion. 
Games from SNES through Gamecube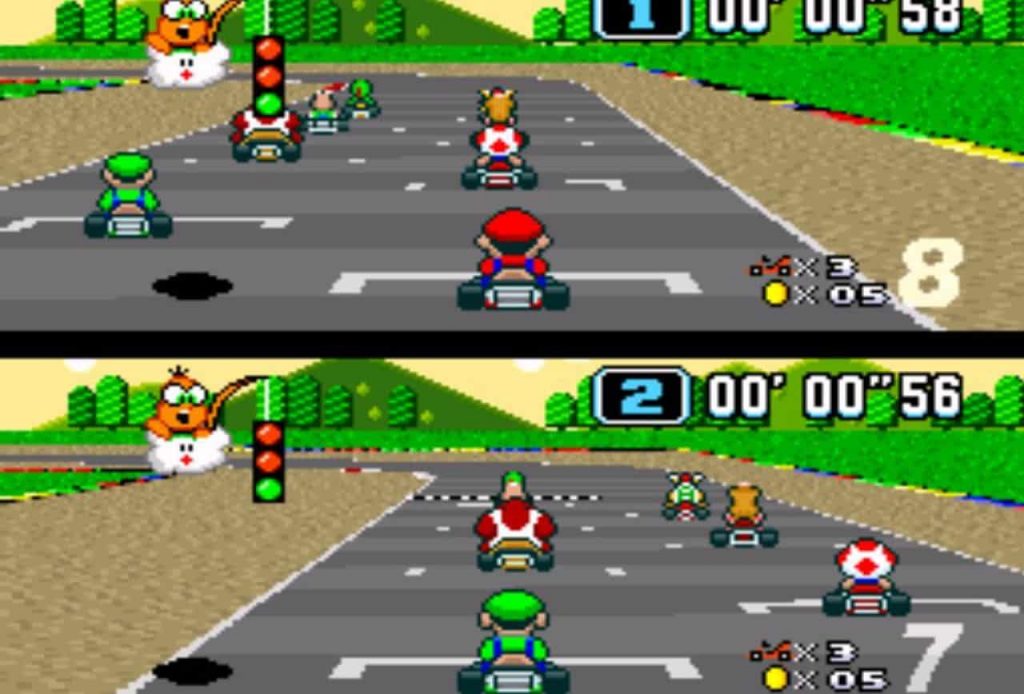 9 different Nintendo consoles have a Mario Kart game. The start of the series, of course, came on the Super Nintendo. Let's walk down the historic timeline of Mario Kart titles starting from the beginning. 
Super Mario Kart (SNES)
Super Mario Kart released for the SNES in 1992, and serves as the first game in the series. The game is the fourth best selling title in the console's history. The game began with 8 playable characters: 
Mario
Luigi
Princess Peach
Yoshi, Bowser
Donkey Kong Jr,
Koopa Troopa
Toad
Each character has a special item they can use to attack others. An example is Donkey Kong's ability to throw bananas. Items are key to racing in Super Mario Kart, as well as the other subsequent titles. Grand Prix and Time Trial game modes were focused on the single player experience. Players could race in multiplayer as well against a friend in split-screen action. 20 unique tracks are available for standard racing. Additionally, four Battle Mode maps allowed players to take each other on in item-centric objectives to eliminate other players by striking them. 
Mario Kart 64 (Nintendo 64)
Mario Kart 64 followed Super Mario Kart in 1996. This is often regarded as a favorite among diehard Mario Kart and Nintendo fans. The game was intended to be a launch title for the Nintendo 64, but Nintendo never pushes products they don't feel are complete. At the last minute, the game was slightly delayed to work out the 3D graphics more efficiently. The move from 32-bit graphics to 3D took a lot of work, but it paid off. The game is truly remarkable, even today. 
Grand Prix brought the option to race multiplayer, as well as single player, with Battle Mode and Versus existing for further multiplayer action. Time trials also returned for time-based single player racing. In terms of players, 8 characters were available, with Wario and Donkey Kong replacing Koopa Troopa and Donkey Kong Jr. The soundtrack is also noted for being particularly great, and was composed by Kenta Nagata. This was Nagata's first Nintendo game, and he would go on to work on scores for Star Fox 64 and Mario 64. 
Mario Kart: Super Circuit (Gameboy Advance)
In 2001, the first handheld title released in the Mario Kart series. Super Circuit drew concerns of the experience translating over to handheld might dilute the fun. Nevertheless, the game runs beautifully. The same characters from Mario Kart 64 are featured in Super Circuit. Battle Mode, Versus, and Time Trials return as well, with two tweaks to other game modes. First, Grand Prix is renamed Mario GP, and features the standard 20 tracks across 5 Cups. Quick Run mode is also introduced, and serves as a single player way to play one single race, instead of an entire Cup. 
The game sold nearly 2.5 million copies, and ended up resulting in $63 million in sales. The game is the fourth best selling handheld game of the 2000s, which included titles on the Gameboy Advance, Nintendo DS, and PlayStation Portable. With the wild success of the handheld Mario Kart experience, more mobile Mario Kart action would be certain to come. 
Mario Kart: Double Dash (Nintendo Gamecube)
Double Dash released in 2003 for the Gamecube; a severely underrated console. The entry made a huge change to the character selection process. In short, you now chose two characters to race together in tandem. Each brings their own set of special item. The character list includes the following pairs, although you can mix them together for unique combos:
Mario and Luigi
Donkey Kong and Diddy Kong
Bowser and Bowser Jr.
Yoshi and Birdo
Peach and Daisy 
Wario and Waluigi 
Koopa Troopa and Paratroopa 
Toad and Toadette 
Baby Mario and Baby Luigi
Petey Piranha and King Boo
Double Dash features the same four core Game Modes, including LAN Mode, which allowed for 8 Gamecubes to connect for 16 kart races, which each player controlling one of two racers on each kart. Being the first return to home console since the Nintendo 64, the 3D graphics and visuals amazed fans and critics alike. The game looks fantastic, and plays incredibly well. 
History of Mario Kart – Nintendo DS through Nintendo Switch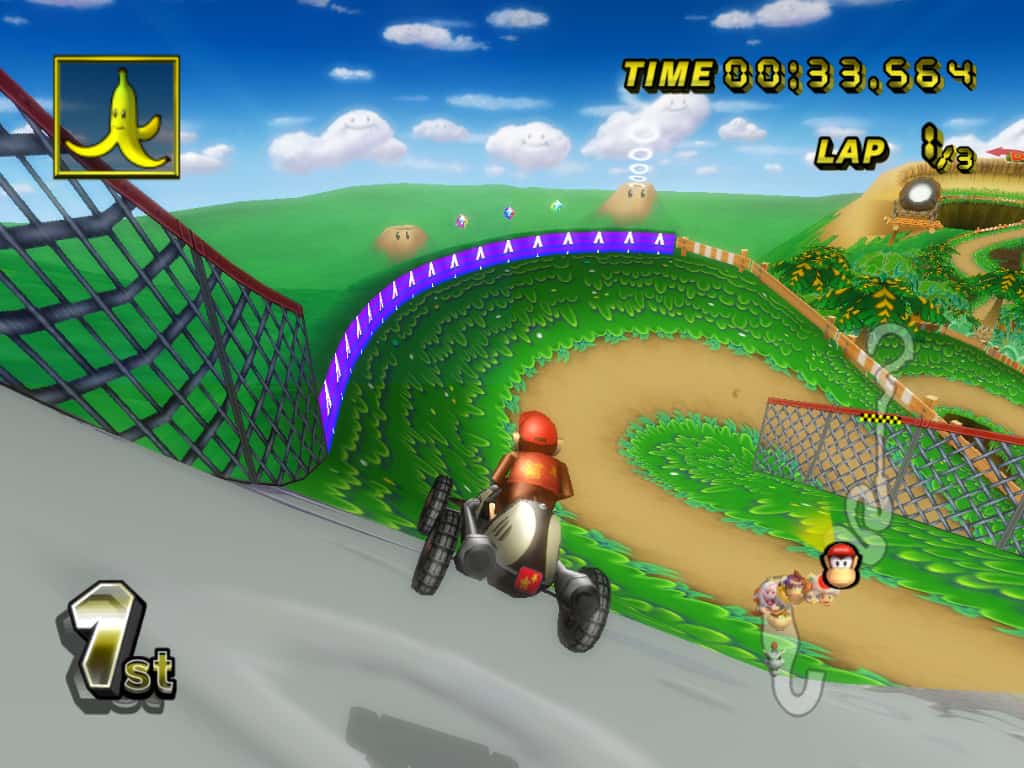 Mario Kart DS
The history of Mario Kart moves now to the DS/Wii era! Mario Kart DS arrived in 2005, and built on the popularity of Super Circuit 4 years before it. Characters available in this entry include Mario, Luigi, Peach, Toad, Yoshi, Donkey Kong, Wario, Bowser, Daisy, Dry Bones, Waluigi and R.O.B. The main Game Modes return, with the addition of Mission Mode. In this mode, players complete missions to take out other enemies or gaining a certain number of coins. It came as a response to Double Dash's limited game modes, but didn't quite add much. Thanks to the double screen experience of the DS, the top screen served as the typical view while the bottom worked as a map and showed placement and items held. At 91% on Metacritic, it's one of the most well received Mario Kart games on mobile. 
Mario Kart Wii (Nintendo Wii)
Given the wild popularity of the Nintendo Wii, 2008's Mario Kart game for the console is equally popular. The game is the 9th best selling game of all time, and built the groundwork for modern console Mario Kart titles. With the addition of WiFi multiplayer, the game also helped launch online competitive arenas for the series. The game featured the old host of characters, as well as new additions Rosalina and Dry Bowser. You could also race as your Mii avatar, which made the game feel diverse and personal. While the game sits below the review scores of Mario Kart DS, the attachment rate of the game to the Nintendo Wii was impressive. Attachment rate is the number of console owners who also have the game. The closer to 1.0, the better, and Mario Kart Wii was well above .85. 
Mario Kart 7 (Nintendo 3DS) 
At the point of Mario Kart 7's release in the 3DS' life, only one game had sold over 5 million copies. When Mario Kart 7 released in 2011, it blew past that quite quickly. The game is the best selling title for the Nintendo 3DS by a lot. The game's use of the 3D mechanics of the handheld console really gave it a new dimension. The console's gyroscope was also available for first person driving. While it wasn't necessarily the best way to play, it was pretty cool to play around with. 
The game used the same base set of characters as past games, with the additions of Wiggler, Honey Queen, Lakitu, and Metal Mario. You could also race as a Mii avatar again, like Mario Kart Wii. 32 tracks make up the game's rotation, including 16 older tracks from past games. In Japan particularly, the game was a huge mainstream hit. The 3DS is a very popular console, and Mario Kart 7 was a must own for handheld lovers and series fans. 
Mario Kart 8 (Nintendo Wii U)
The Wii U is worth an entire article itself, but in short, it was a massive failure. Yet, it led the way for the Nintendo Switch, which is a huge hit. Mario Kart 8 is one of those games released on the Wii U that found its way to a Switch port, and is a really great game. The game was released in 2014, and featured some new, impressive additions. For starters, DLC packs released non-Mario related characters for purchase. In DLC, Zelda, Splatoon, and Animal Crossing characters were made available. The IPs also brought their own courses as well, themed around Hyrule, New Leaf, etc. 
The game included amiibo capabilities, which gave Mii racers the ability to change costumes. There were also collaborations with Mercedes to release real life cars for in-game use. The game really pushed the envelope of what Mario Kart could offer. 
Mario Kart 8 Deluxe (Nintendo Switch)
The Switch port of Mario Kart 8, Mario Kart 8 Deluxe, released in 2017. The game included all DLC from Mario Kart 8, and Battle Mode included new maps and game modes. The game featured the same massive character list, including  Bowser Jr., Dry Bones, King Boo, Inkling Boys and Girls from Splatoon, and an unlockable Gold Mario costume for Metal Mario. Thanks to the Switch's popularity, the game became the series' best selling entry of all time. How well did it sell? It sold over one million copies in the first three days it was out. Yeah; that's no joke. 
Future Plans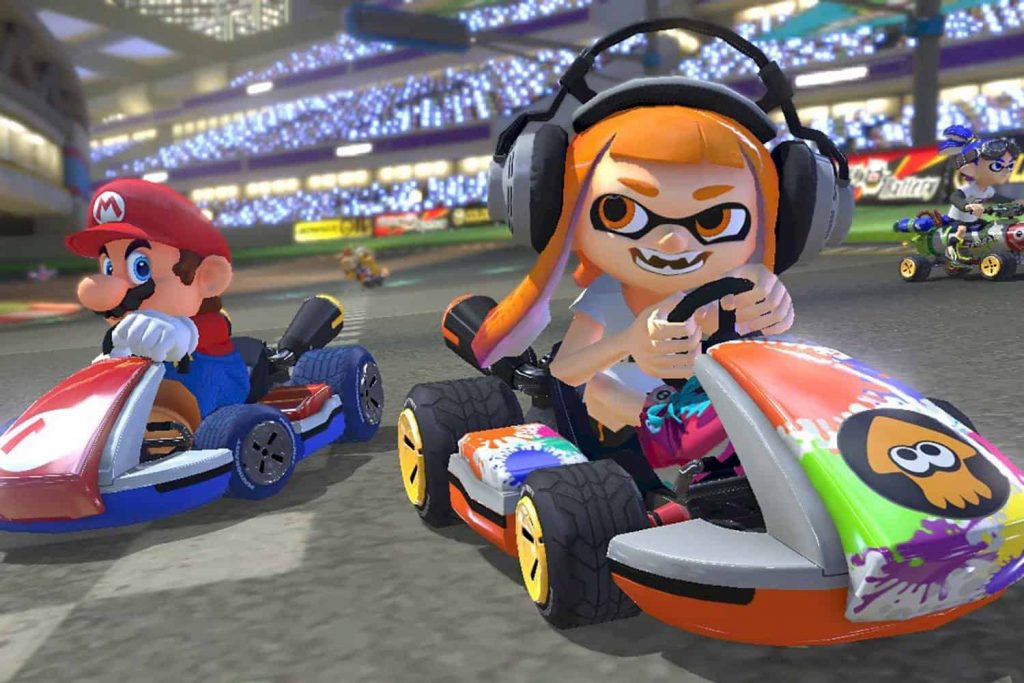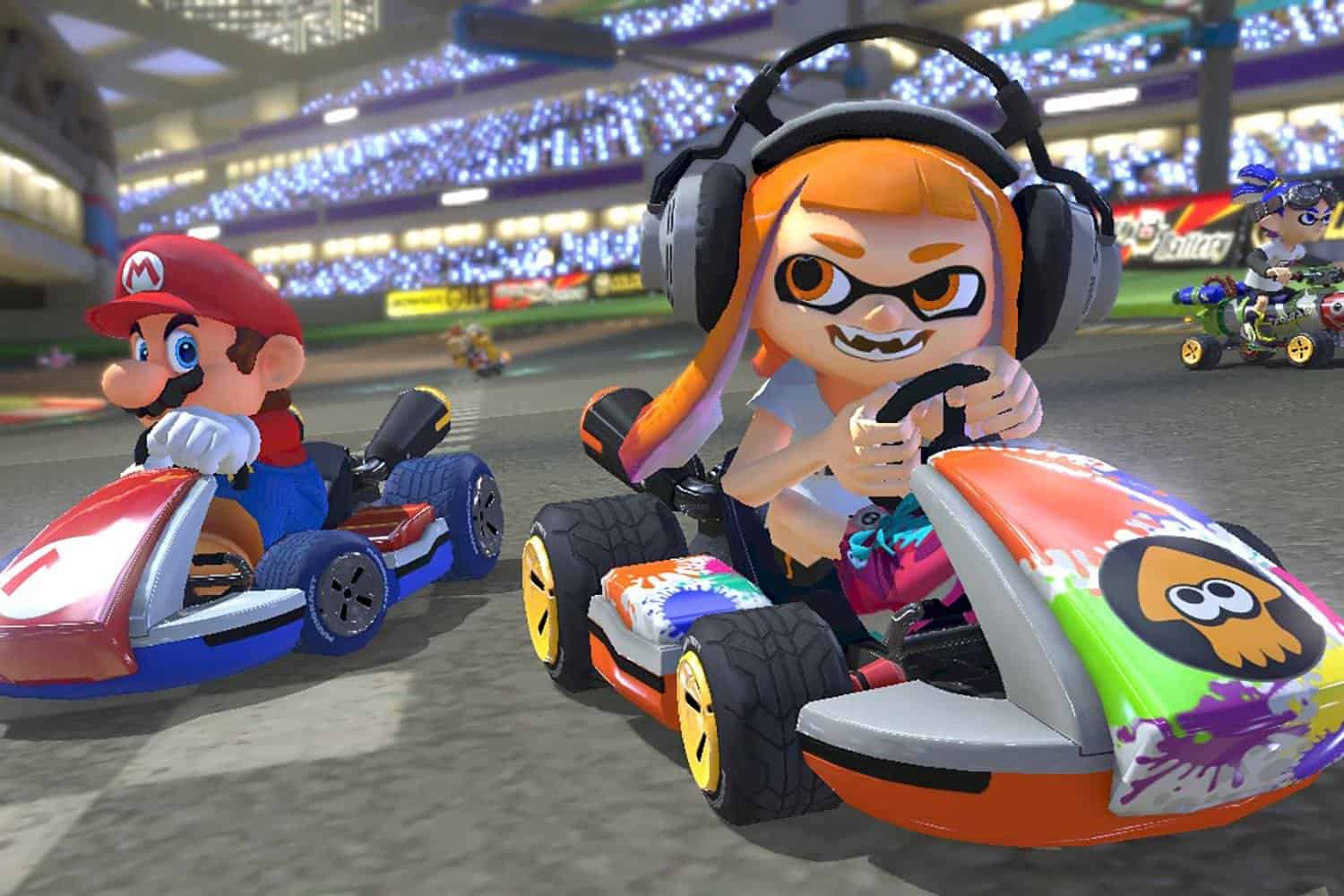 There is a lot of speculation about what happens with the series now. We know that a mobile version of the game is on the way, but it's unclear what it will play like. It will be free to start, with micro transactions included as an option. The inclusion of people like Link and Isabelle from various Nintendo IPs have some speculating the next Mario Kart title might be rebranded as Nintendo Kart, but it'd be a stretch for them to abandon the name. With the popularity of the Switch and Mario Kart 8 Deluxe, we likely won't see a new Mario Kart for some time. Given how well they did with the newest entry, however, there isn't much to be desired from a new title.
Mario Kart is a staple of gaming, and along with Fire Emblem (click here to learn all about Fire Emblem history) and Pokémon, sits as one of Nintendo's longest running series. Hopefully you had fun reviewing the history of Mario Kart! Let us know what your favorite Mario Kart title is in the comments! And as always, keep reading Comic Years for the latest in gaming, comics, and pop culture!
Taylor is the Gaming Editor of Comic Years and a lifelong fan of video games. He holds two degrees in Political Communication and wrote a Master's Thesis on resistance movements, race, and the exploitation of college athletes. His wife and two Toy Australian Sheppards keep him sane.
Leave a comment