Harpies Origins: Aradia is Magical and Sexy (Interview with writer Elisa Bisignano)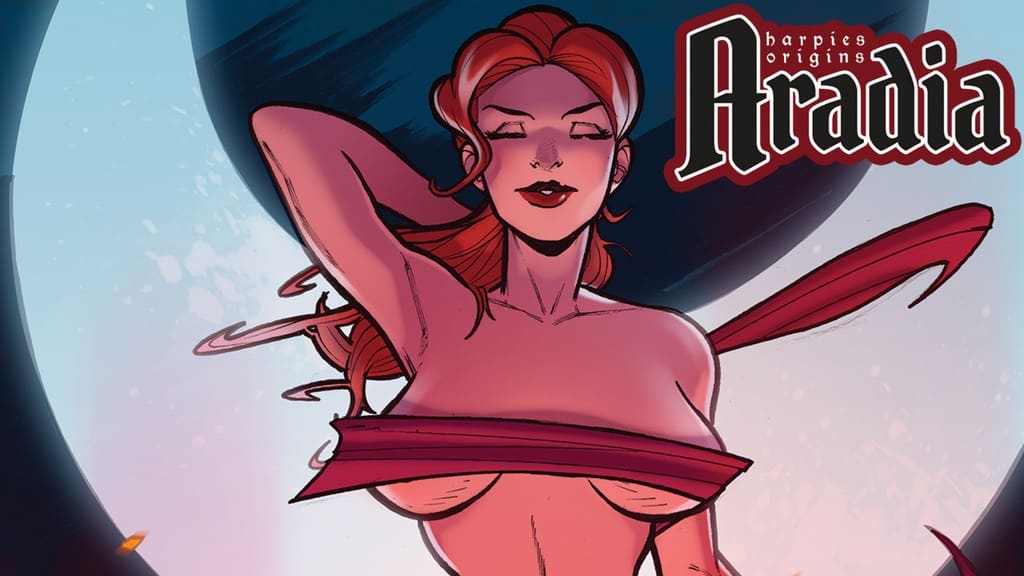 Harpies Origins: Aradia is the newest Kickstarter venture from Evoluzione Publishing, a rising indie comics imprint. Written by Elisa Bisignano, and with art from Matteo Illuminati and Loris Ravina (the same art team from Mine to Avenge). Aradia is not just a very different book from many of their other titles, but it's also a love letter to Italian folklore. She's a character Elisa was very passionate to write about—and even the preview pages show how much she loves this Italian folk hero.
As an Italian-American, I'm excited to read Harpies Origins: Aradia and see an old myth come to life. But even better? Talking the writer, Elisa Bisignano, about the comic and her career.
We like to start with the basics. How did Harpies Origins: Aradia develop?
I was already working on a couple of projects with Evoluzione and Marcel asked me if I was interested in doing a one-shot about Aradia, a character who was going to appear in the main series of Harpies. Aradia di Toscano is an actual character from Italian folklore and since I'm such a big fan of those stories, I really couldn't say no.
Matteo Illuminati and Loris Ravina's art isn't just beautiful, but very sexy as well. How does this style fit the character Aradia and her story?
I was very lucky that my first more mature story was about Aradia, 'cause even in the original tales there is a big part of her lore that is about sex, sexuality and the pleasure of the flesh, so Matteo and Loris' style was just the cherry on top. They did an amazing job!
Before Harpies Origins: Aradia, you've worked with Evoluzione Publishing before, what makes the publisher special?
The freedom. At this time in my career, in Italy, I wouldn't be able to tell stories like 'Willowisp' or 'Ma'ari' – where most of the characters are queer, and the story is not about their queerness – 'cause some topics are still considered 'too controversial'.
(Here too!)
With Evoluzione, I was given absolute freedom about genre, topics, and characterization. Whatever I'm gonna do in the future, I will always be grateful for this chance and experience. It's not something I'll ever take for granted. Plus: I am being paid a decent wage. This is also something that, I'm sad to admit, is not a given in Italy. Some publishers (not indie ones) offer very little per page when you are a young emerging artist, like me. This didn't seem fair to me, so I looked elsewhere.
You also attended the "Scuola del Fumetto" (School of Comics) in Palermo, Italy. As someone who teaches comic book literature and writing, I'm very curious to know more about that experience.
What was it like attending a school focused on comics and cartoons? What did you gain the most from that experience (that I can steal and use for my students)?
It was amazing. Stressful and scary, but amazing. It was incredible to work side by side with professionals who shared their experience with us. They literally opened up a new world for me. 
The most important thing I learned from those three years is discipline; doing comics is a job, a job that is gonna take a lot of time and energy. They didn't treat us like students; we were all colleagues already, not because we were good (we really weren't ahah), but because you never stop learning in this field. They didn't see us as something less than professionals. We were just lacking the experience and the hours of work, so they made sure we started gaining both: no shortcuts, just hard work.
Another thing: I fell on my face a hundred times, but they taught me that failure is part of this job. I was terrified of not being good enough (and still am sometimes), but they tried to make me not so scared of failing, so that I wouldn't be scared to at least try.
Your author bio says you are part of a group called "Ehm Autoproduzioni." Can you tell me more about this collective?
Right after we came out of our last year at the School of Comics, we (the first members of Ehm) decided we didn't want to risk getting rusty. We started working together just for this reason at first, but then we realized we worked pretty well as a team and decided to dive into the Italian Indie market (which is amazing and full of incredible artists). Some of the original members left the group because they had other projects and plans, and some others we picked up along the way.
Working together is an adventure full of fun, goofiness, stress, and excitement.
Along with Harpies Origins: Aradia, you've written a few other comics about magic and witchcraft. What draws you to these stories?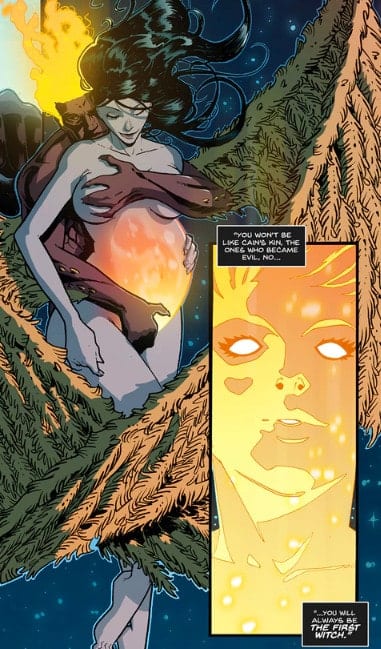 I've always been in love with magic. With time, though, the meaning of 'magic' changed for me. When I was little, it was about wanting to make things float (which would be totally cool, I'm not even a little bit ashamed of admitting it). Now it's about making things change. What else is magic if not change? And today, change is what we need the most.
So I try to put a little magic in my stories: a bit from my childhood and a bit from my adulthood, the first because it's fun and the second because it's necessary.
We definitely need that kind of magic, and it looks like we're all going to enjoy reading Harpies Origins: Aradia soon. As of this morning, the Kickstarter campaign is fully funded—and it only took about a week to reach its goal! How does it feel that people were so excited to read this comic? And congratulations, of course.
It feels really good! I know that most of the merit goes to the authors of Harpies, a series that is very successful, but it felt good nonetheless that people supported our hard work. Plus, promoting is not my forte, so it was nice to not have to struggle that much this time ahah.
And thank you!
Harpies Origins: Aradia is a one-shot story, but if there were an opportunity, would you want to continue writing Aradia stories?
Totally! Who knows, never say never.
And lastly, what's next for you?
I'm currently working on Willowisp #2, launching on Kickstarter August 14th, and on a few projects for Ehm Autoproduzioni. A couple of things are also being discussed with a few writers, but we are still in the "embryo" phase.
All in all, I'm excited!
Harpies Origins: Aradia is still in funding mode, and the rewards are stellar—just a little bit gets you a bunch of Evoluzione comics such as Elisa's other works, Willowisp and Ma'Ari, along with Mine to Avenge and Harpies.
(Featured Image from Harpies Origins: Aradia. Evoluzione Publishing.)
Roman Colombo finished his MFA in 2010 and now teaches writing and graphic novel literature at various Philadelphia colleges. His first novel, Trading Saints for Sinners, was published in 2014. He's currently working on his next novel and hoping to find an agent soon.
Leave a comment