Golf With Your Friends Review: A Hole In One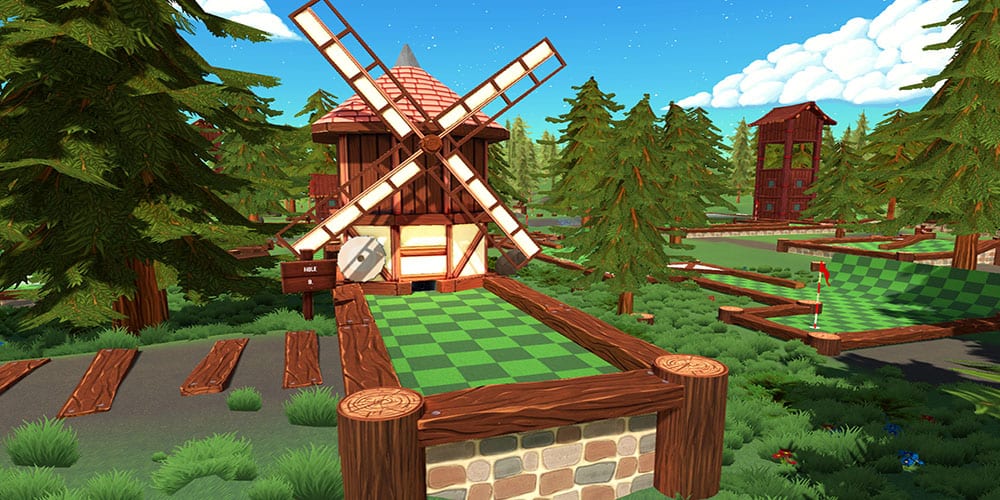 I'm a huge fan of casual gaming experiences. As much as I love hopping into a multiplayer shooter or an immersive RPG, nothing beats relaxing with something fun and lighthearted. It's sort of the same approach I have to make plans with my friends. I don't want to put a ton of effort into finding something to do or a place to go. That's why I ended up mini-golfing a ton as a kid. A giant fun-center complex was literally less than a mile from my home growing up. My family, and me and my friends as I got older, visited often. As you can imagine, I'm longing for those sorts of days today with the COVID-19 quarantine precautions in place. So, what better way to have good old fashion fun than a Golf With Your Friends review for Xbox One?
Golf With Your Friends – A Charming Mini-Golf Simulation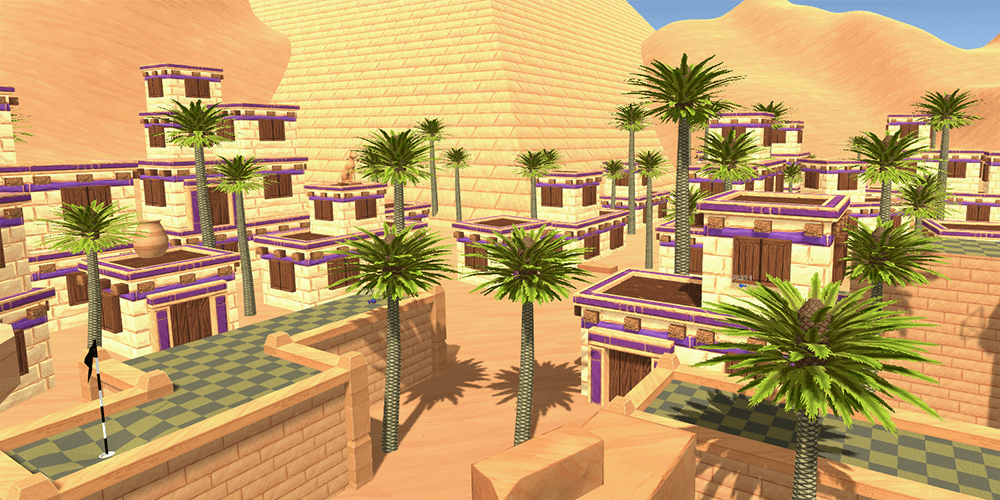 Image Credit: Team17
The concept of Golf With Your Friends is simple. An immersive 3D mini-golf course is the perfect place for you and some buddies to have a good time. Of course, you don't just want to play; you want to win. I don't know about you, but my friends and I are incredibly competitive. That's why party games like this one are a huge hit with my circle. You're not just playing mini-golf in Golf With Your Friends, you're sabotaging the ones you hold dear. Everything you can do to mess up your opponent's shot is on the table. Are they making a great run for the hole? Honey should do the trick. Think a buddy is going to take the lead? Literally, turn their ball into ice, or better yet, a cube.
The games are also very simple. Aiming is done with the right stick, while you choose the power level of your shot with the left. I messed with the sensitivity to get it just right, but after finding my sweet spot, I was happy. The game's physics are a bit off, and honestly, I can't predict where my shot is going most of the time. I guess that's part of the fun, the unpredictability, and chaos that ensues. Still, I don't feel better at the game than when I started playing. It's a tiny annoyance, but let's be honest, this isn't a game you look to master. You're just here to have a fun time.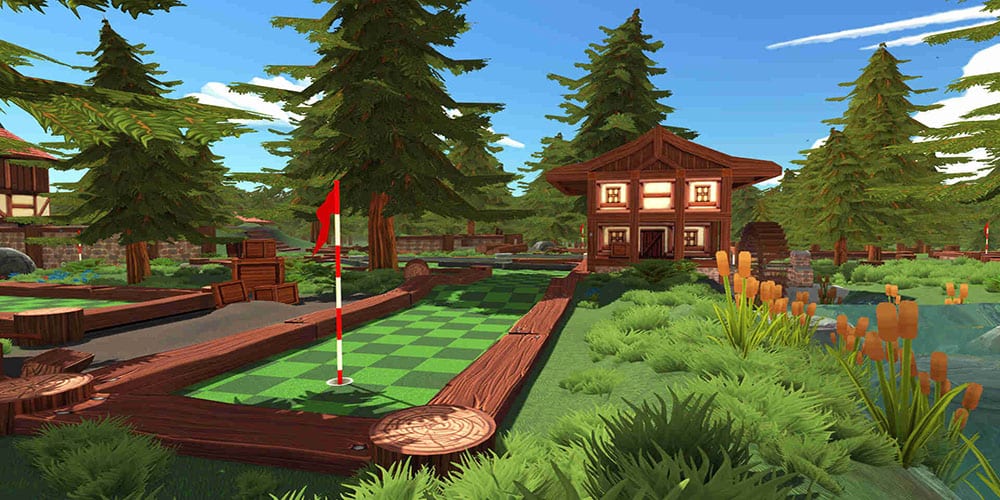 Image Credit: Team17
These fun party elements make the game a ton of fun with the right group. If you don't think you and your friends can handle that level of sabotage, classic golf options are available as well. Better yet, you can play on a number of themed courses.
Course Options, Mega Multiplayer, and Music Woes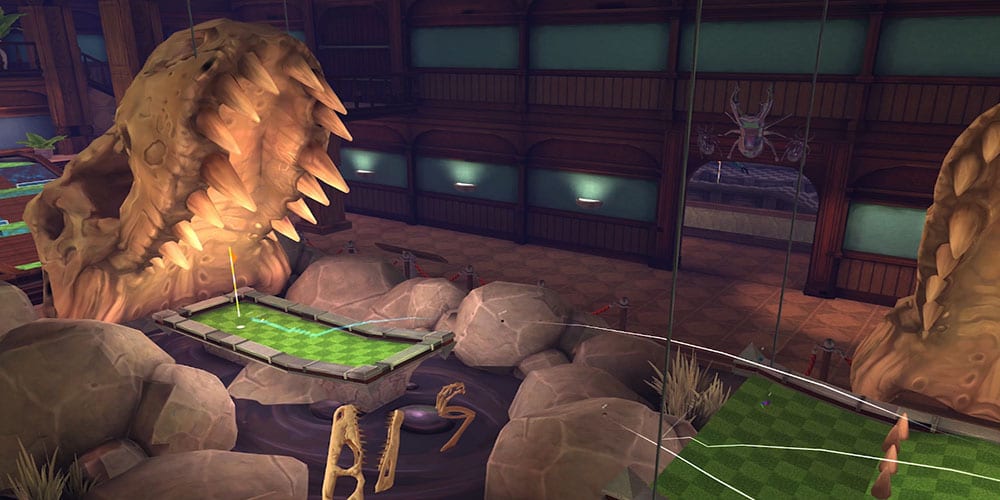 Image Credit: Team17
Firstly, one thing I love about the different courses in Golf With Your Friends is the creative ways the theme plays into the holes. For example, you have to avoid ghosts in the Haunted course. It's a fun touch. Here's what I don't love: you listen to the same song over and over throughout all 18 holes. That gets old very quickly. Luckily, you can just mute the TV, but I love sound effects in games like these. I don't want to have to work around the same 90-second song. Some variety in the music would have been great. I'm happy to have 9 well-thought-out courses though!
That said, courses are wonderful. It can be a little wild having to wait for your friends if you play with a large group. The option to play with this many people can be fun if you have a lot of friends who like the game. I don't see myself ever playing with more than 3 or 4 friends personally, but it's nice to have the option for huge games with friends.
My Golf With Your Friends Review Rating
Image Credit: Team17
I rate my games on a scale of 1-10; Golf With Your Friends earns a strong 8 for me. Some things in this game are a tad annoying. In short, the occasional camera issues when you're near ledges or boundary markers is probably the largest issue I have. There is also the fairly unreliable physics element that I still have trouble nailing after hours of gameplay. Still, this title isn't about some out of this world real-life golf simulator. This is about having fun with your friends and unwinding.
Overall, I think even without the backdrop of COVID-19, I'd enjoy playing this with friends and family a lot. Given everything we've gone through these last few months, I enjoy this experience even more. Team 17 is supplying all the fun this spring as we await release back into society. My Moving Out review and this one for Golf With Your Friends make me excited for everything else they have coming up this year and beyond.
Golf With Your Friends launches today, May 19, for Xbox One, PS4, Nintendo Switch, and Steam.
A digital Xbox One review copy was provided by Team17 for the purposes of this review.
Thanks for reading Comic Years for all things gaming, comics, and pop culture.
Taylor is the Gaming Editor of Comic Years and a lifelong fan of video games. He holds two degrees in Political Communication and wrote a Master's Thesis on resistance movements, race, and the exploitation of college athletes. His wife and two Toy Australian Sheppards keep him sane.
Leave a comment