Duncan Jones Will Conclude His "Moon Trilogy" as a Graphic Novel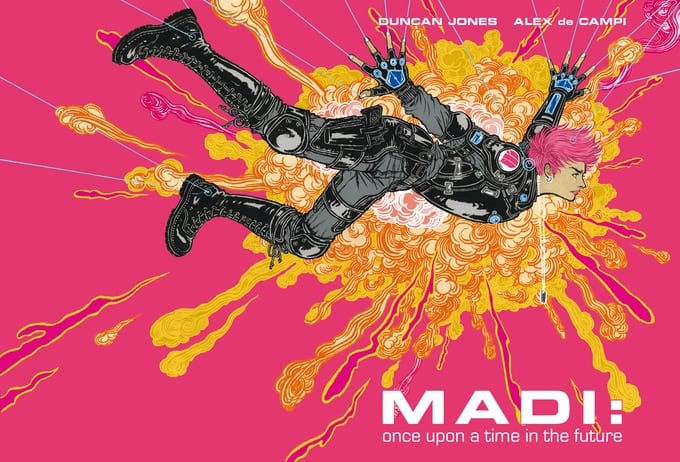 In 2009, Duncan Jones made his directorial debut with the indie sci-fi hit Moon, with Sam Rockwell, launching a thematic trilogy. After Moon, he made the underrated Source Code, and the fan-loved Warcraft. It wasn't until 2018 that the second installment of the "Moon trilogy" released on Netflix: Mute. Sadly, Mute wasn't the follow-up everyone wanted it to be. Fans and critics both hated it, and it looked like the "Moon trilogy" would only be a duology. But instead of giving up, Duncan Jones decided to finish the "Moon trilogy" in graphic novel format. It's a bold choice—and one that looks great.
Madi: Once Upon a Time in the Future, a graphic novel by Duncan Jones and Alex De Campi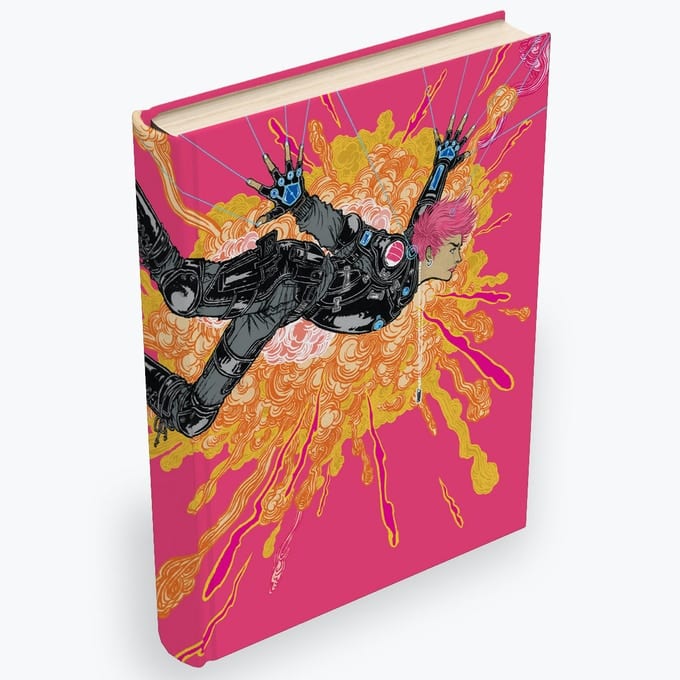 (Image: Madi: Once Upon a Time in the Future hardcover edition, art by Yuko Shimizu, Z2 Publishing)
Madi is about a "special-ops veteran whose attempt to survive one last mission ends up with her on the run across the world from everyone she's ever known." Joining Jones and De Campi is a host of artists, including Chris Weston, Annie Wu, Rosemary Valero-O'Connell, Duncan Fegredo, Pia Guerra and Simon Bisley. De Campi helped Jones adapt his screenplay into a graphic novel script—and then helped find a lot of great artists. "I was just trying to bring to life the most amazing graphic novel version of his vision that I could," De Campi said in an interview with The Hollywood Reporter. Duncan Jones picked a perfect partner for the conclusion of his "Moon trilogy" graphic novel. De Campi's enthusiasm for the project and his ability to flesh out the screenplay will make it a great story.
Madi Might Not Be the End of the "Moon Trilogy" After All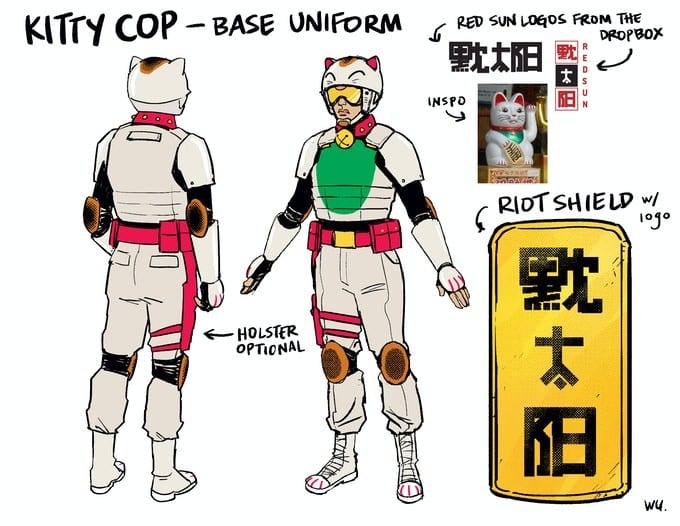 Annie Wu's concept art for our Kitty Cops, or: "kawaii, but make it fascism" (Image: Z2 Publishing)
As The Hollywood Reporter points out, switching from film to graphic novel opens a lot of doors for the world of Madi: Once Upon a Time in the Future. And Duncan Jones is well aware that the graphic novel could expand his "Moon trilogy" even further. "I love these characters now and this story even more than I did before we made this book," Jones said. "I would love to do more with them."
But he doesn't just want to expand it himself. "I would love someone else to!" Jones continued. "I would love a big Japanese anime studio to option it, translate it into Japanese and make their own version of it…that would be amazing!"
Duncan Jones and Alex De Campi Are Already Over the Moon With Their Kickstarter Graphic Novel Goal
(Image: Madi: Once Upon a Time in the Future paperback edition, art by Duncan Fegredo and Jacob Phillips, Z2 Publishing)
Many comic creators are turning to Kickstarter to fund their projects now, even if they have big names. Thankfully, it took very little time for Duncan Jones to fund the graphic novel and make the end of his "Moon trilogy" a reality. In fact, just while writing this article, they raised another $1000, reaching $121,270. That took less than a day. However, there are still good reasons to back their project. In fact, there are 30 good reasons. For the lower tiers, you can get the softcover early. However, if you pledge $39 or more, you get a beautiful hardcover with 30 pages of additional content.
But if you would rather wait, Madi will be available in November from Z2 publishing.
(Featured Image: Madi: Once Upon a Time in the Future, art by Yuko Shimizu, Z2 Publishing)
Roman Colombo finished his MFA in 2010 and now teaches writing and graphic novel literature at various Philadelphia colleges. His first novel, Trading Saints for Sinners, was published in 2014. He's currently working on his next novel and hoping to find an agent soon.
Leave a comment