Jane Foster Thor Revealed In Love And Thunder Crew Set Shirts – And She Is Already Perfect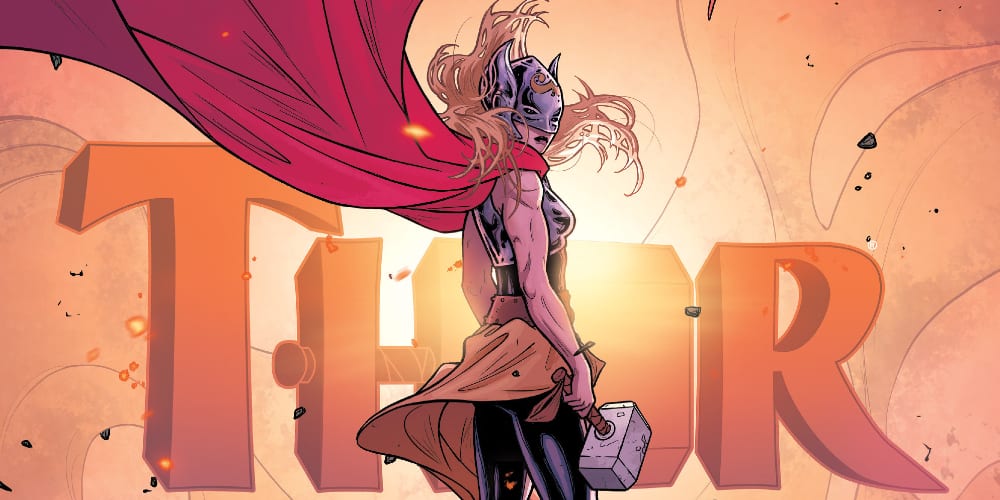 Ever since Marvel Studios announced that Natalie Portman would not only reprise her role as Jane Foster, but would lift Mjolnir and become Thor, fans have wanted to see more. That was in 2019, about seventy-six years ago, depending on pandemic time. We should have seen a trailer by now, excited to see the movie in November. We'll have to wait seven additional months for Thor: Love and Thunder, but something small and special happened today. A crew member revealed, via t-shirt art design, our first look as Jane Foster as Thor!
The Revealed Look of Jane Foster as Thor Also Shows Her Comic Book Accuracy
The first look at Thor and Valkyrie in updated armor AND the first look at Jane's Mighty Thor armor in Thor: Love and Thunder ♥️⚡️ pic.twitter.com/TtySGDpuar

— Thor: Love and Thunder News (@lovethundernews) June 15, 2021
Okay, so it's just a t-shirt that I already want to buy, but it is still great. The armor, the hair (though brunette and not blonde), and that wonderful helmet/mask. This is exactly what Russell Dauterman, an up-and-coming artist at the time, envisioned in 2014. In fact, we should expect Thor (2014) #1 to spike in value soon. Especially those variants. Now that some probably fired crewmember has revealed Jane Foster as Thor, it all feels a bit more real. The Goddess of Thunder is coming! Mjolnir and all. That just leaves one question – how did she get Thor's hammer in the first place?
The Return of Mjolnir Is One of the Biggest Mysteries in Thor: Love and Thunder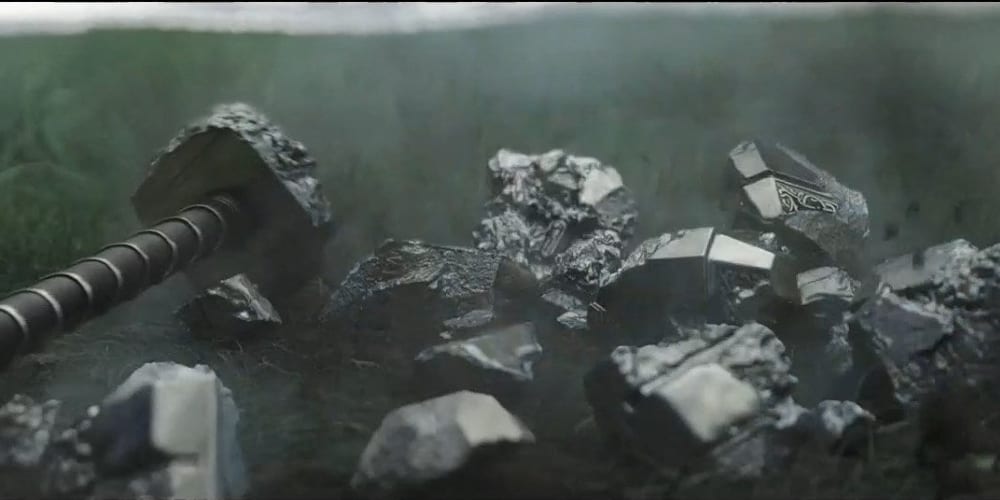 Um, where did the shards go? Seems irresponsible just to leave them on the ground. (Image: Thor: Ragnarok, Marvel Studios)
One of the major plotlines of Avengers: Infinity War was about Thor making a new weapon capable of challenging Thanos. Why? Because in Thor: Ragnarok, Hela shatters it by simply flexing her fingers a little. However, we last saw Mjolnir in Avengers: Endgame, when Thor brings it to the present after going back to Asgard circa The Dark World. And then, one of the most amazing moments in the history of the MCU: Captain America picks up the hammer. But at the end of the movie, we see Cap bringing Mjolnir with him to put all the Infinity Stones back in place – and the hammer. Thor would be pretty screwed after the first 20 minutes of The Dark World if he doesn't. So how does Mjolnir return in Love and Thunder?
While Jane Foster as Thor was finally revealed, we'll probably have to wait until May to see Mjolnir back in action. And since we didn't see a fully realized Thor: Ragnarok bisexual love story, maybe we will here.
Thor: Love and Thunder is set to release in theaters on February 11, 2022
(featured image: Thor (2014) #5, Marvel Comics)
Roman Colombo finished his MFA in 2010 and now teaches writing and graphic novel literature at various Philadelphia colleges. His first novel, Trading Saints for Sinners, was published in 2014. He's currently working on his next novel and hoping to find an agent soon.
Leave a comment