Guardians of the Galaxy #1 Al Ewing and Juann Cabal Give Us A Dysfunctional Space Family (spoilers!)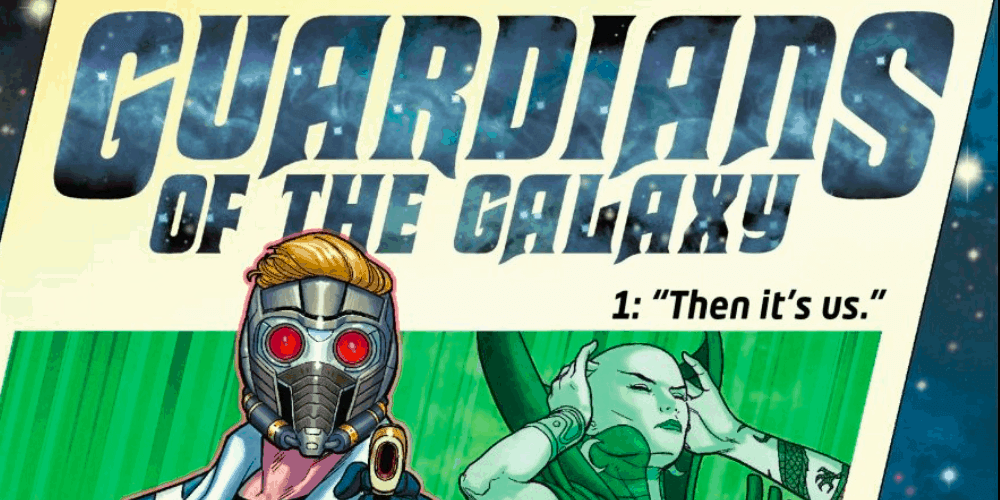 For Marvel, a #1 issue generally means that a new creative team is taking over a title, and leading the character or characters into a new era. We just saw this recently with Thor #1. And we're seeing that now with Guardians of the Galaxy #1, from writer Al Ewing and artist Juann Cabal. After the catastrophic events of Donny Cates's Guardians run, Ewing and Cabal pick up the band of misfits while they try and vacation. And this leads to one of the most disturbing images I've ever seen in comics…
Domestic Bliss Has No Place for the Guardians of the Galaxy
When we catch up with the Guardians, after a prologue where a crazed-Zeus attacks a peaceful Kree settlement, the team is gathered around a picnic table for a Thanksgiving feast. And then we see something that should not exist. That is wrong on levels that indicate something horrific has happened to the character. You need to see it to understand the horror:
The horror…the horror. (Image: Guardians of the Galaxy #1 by Al Ewing and Juann Cabal, Marvel Comics)
Gamora…the deadliest woman in the universe…living a domestic life? This feels wrong. It is wrong. What happened to her? Well, that's part of the problem. The beginning of the issue relies too much on previous events, so it's not a good jumping on point. Drax is very different-looking, Groot can talk like everyone else, Rocket apparently nearly died and had to have all his cybernetics replaced. There's too much that feels disconnected. In Thor #1, Donny Cates managed to bridge the gap from War of the Realms to his own thing without the reader trying to figure out what was happening. For Guardians of the Galaxy #1, Cabal portrays the changes well, but Ewing doesn't give us enough information to get why they happened.
The Guardians of the Galaxy are at Their Weakest—So Ewing and Cabal Has Them Fight Gods
Once the awkward opening is out the way, we get a pretty cool story. The gods of Olympus woke up, and for some reason, they are pissed at everyone. When he destroys a peaceful Kree settlement, he declares: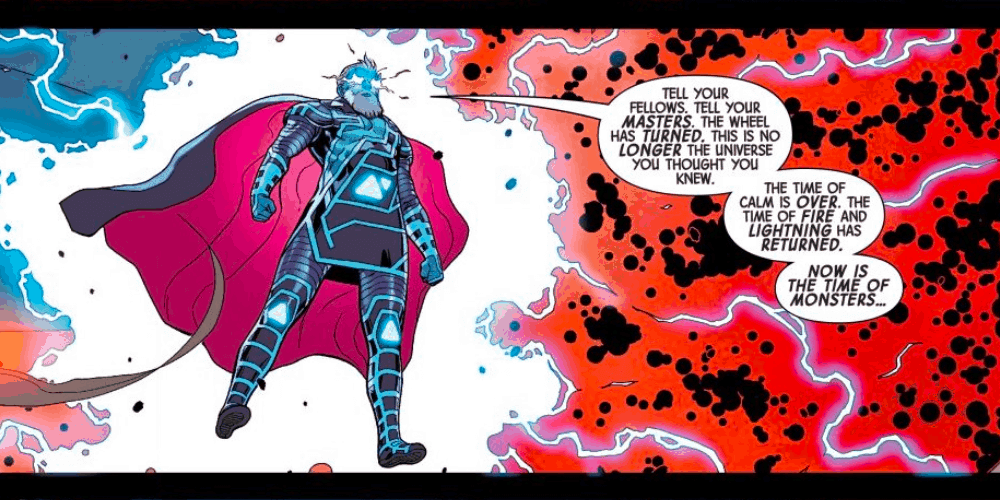 Somebody needs a longer nap. (Image: Guardians of the Galaxy #1 by Al Ewing and Juann Cabal, Marvel Comics)
Nova goes to the Guardians for help, and Gamora, Drax, and Groot immediately say no. The alternate universe versions of Moondragon and Phila-Vell immediately say yes. But Rocket and Star-Lord are not so fast to decline or agree. Instead, they sneak off in the middle of the night as Quill leaves Gamora a text apologizing to her. Yikes.
The team fighting the Greco-Roman gods? Nova, Marvel Boy, Phyla-Vell, Moondragon, Rocket, and Star-Lord…not a great team considering the threat, and they know it. But it works for the Guardians of the Galaxy. Despite not knowing what happened before this issue (hey, there are a lot of comics to read, I'm trying), you know that this is what's left. Ewing and Cabal didn't create a Guardians of the Galaxy team that "made sense"—this team is always a bunch of misfits, and the new group isn't fit for anything. They go into a massive threat without any real preparation and having barely worked together.
Ewing and Cabal Take You from "Meh" to "Cool" to "HOLY BALLS" in One Issue
Two-thirds the way through Guardians of the Galaxy #1, the issue hits a great stride, enough to forgive the earlier faults. The last bit makes you forget it. As things spiral out of control for the Guardians of the Galaxy, Ewing and Cabal dial it up to Herculean levels. Literally:
It's about to go off! (Image: Guardians of the Galaxy #1 by Al Ewing and Juann Cabal, Marvel Comics)
And then it leaves off. Of course. However, we won't have to wait issue after issue for Ewing and Cabal to wrap this up Guardians of the Galaxy vs the gods storyline—the solicitation for next month says the arc will end in issue #2. If this is the pace of the series, count me in.
 Grade: Hercules's Lion Loincloth
(Featured Image: Guardians of the Galaxy #1 by Al Ewing and Juann Cabal, Marvel Comics)
Roman Colombo finished his MFA in 2010 and now teaches writing and graphic novel literature at various Philadelphia colleges. His first novel, Trading Saints for Sinners, was published in 2014. He's currently working on his next novel and hoping to find an agent soon.
Leave a comment