Retro Review : "Whatever Happened to the Caped Crusader?"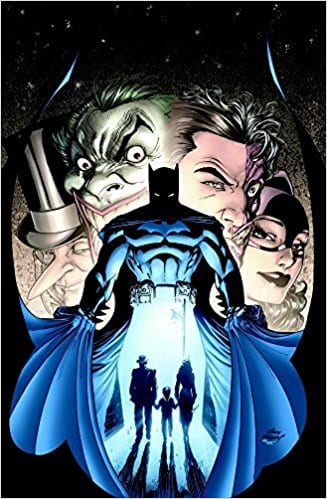 It's hard to believe that in April of 2019, it will have been 10 years since one of my favorite Batman stories, second only to the Batman Hush miniseries, finished its story arc. I am talking about DC Comics Batman "Whatever Happened to The Caped Crusader?" by Neil Gaiman with art by Andy Kubert. This story arc spanned between two issues:  Batman #686 (which was released in February 2009) and Detective Comics #853 (which was released in April of 2009). Being that it has been ten years, I thought it would be a perfect time to look back at this story in a Retro Review as well as maybe even introducing this story to those that might not have had a chance to read it yet.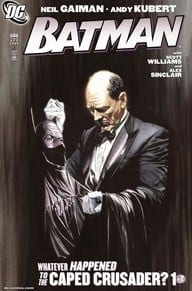 Synopsis :
The story opens in an alternate time which looks and feels like a true throwback to the DC Comics Silver Age. Every one of Batman's friends and foes are arriving in Crime Ally to attend his funeral. When the service begins, each of the characters tell a different tale. A eulogy of sorts that is comprised of events that lead up to their last encounter with the Dark Knight and ultimately results in his death. But much like the alternate time in which this story takes place, these tales are alternate versions of events. No matter how different these tales are, all these stories all end with the death of Batman. Watching over his own funeral is Batman himself, and he knows that these events told in these tales are not true, He even finds himself questioning if he really is dead. 
My Thoughts:
Out of all the eulogies that were told, Alfred's was probably my favorite. In Alfred's tale, he explains that he was living the life of an actor when he received a letter from his dying father to return home to care for the Wayne Family. After that fateful night when Bruce's parents were murdered, he watched as Bruce lived in shock and depression for years before starting out the life of the vigilante known as Batman. The little happiness that crime fighting brought Bruce, however, did not last forever. depression and darkness took hold of Bruce once again. So, Alfred hired some of his actor friends to become some of Batman's greatest villains such as the Riddler and the Penguin to provide a challenge for Bruce.
While it worked for a time, Alfred again saw Bruce needing something more. A villain that would be Batman's archnemesis. This is when Alfred became Batman's greatest villain of all time: the Joker.  Bruce would eventually find this out (after all he's the World's Greatest Detective) and he became justifiably angry at his family's butler for creating a world of lies. Alfred tried to explain his actions, but Bruce's resolve was strong. He will always need to be Batman.
Upon seeing the Batsignal, he heads to a situation where the Riddler (who got a little too wrapped around his alternate persona) was holding multiple hostages. During the confrontation, he shoots Batman and kills him. While we know that these events are not true cannon events, it really presents an interesting alternate version of the stories and characters that we all know.
Alfred ultimately wanted to see Bruce as happy as he was when he was a kid and he did everything in his power to help save Bruce from the darkness that lived in him. Although being Batman did make Bruce happy for a time, it ultimately consumed him in the end. Bruce would always be Batman, and there will always be a need for Batman until the very end.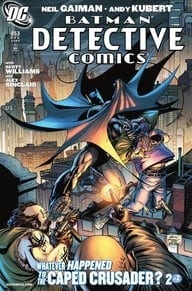 This story also spawned a truly fantastic and powerful quote that I personally enjoy: "The end of the story of Batman is he's dead. Because in the end, the Batman dies. What else am I going to do? Retire and play golf? It doesn't work that way. It can't. I fight until I drop. And one day, I will drop. But until then, I fight.". To me, this quote pretty much sums up Batman's story perfectly. Bruce will always be Batman until the day he dies. Quitting is simply not an option. Bruce will always fight to the very end to protect Gotham and its citizens from the criminals that threaten it. This Idea is also reinforced by the eulogy that Superman gives and by the overall recurring theme of the story.
Overall, this was truly a great story that holds up to the test of time. It was still as enjoyable as it was when I first read it. To me, it's one of those stories that I can go back and reread from time to time and it never gets stale. Being an avid Batman reader, this story is a fantastic homage to the life of the character. The same can be said for the characters (both friend and foe) within the story. It's very much Neil Gaiman's perfectly penned eulogy to Batman. This powerful and moving story contains both of Catwoman's and Alfred's emotional eulogies which is expected considering the relationships that they both had with Batman.
 Andy Kubert's artwork perfectly captures the tone that Gaiman is conveying in the story. Not once does the art feel out of place within the story. I also have to say that I absolutely loved the way Kubert drew the Silver Age characters. The characters' look and the feel of the elements around them (like when they are pulling up in their cars in the very beginning) are such a fantastic call back to that time period. This is further reinforced by the coloring of Alex Sinclair. This makes them really have that Silver Age vibe.
It is fun to go through the comic just to see how many surprise cameos that you can spot during Batman's funeral that don't have the reader's attention drawn to them. I know after my first read through, I went back and looked at a few panels to see who I could find.  Though this story isn't really considered a true cannon story, it's a very fitting way to bring closure after the events of Batman R.I.P and the Final Crisis where Batman "lost" his life after a final showdown with Darkseid.
While I do own the single issues that make up this story arc, the graphic novel for this story was a must buy for me. It has several pages of sketches by Andy Kubert that showcase his fantastic Silver Age character sketches and even has one of Bat-Mite that never made it into the finished pages. The graphic novel also includes a few other Batman stories written by Gaiman as well: A Black and White World , Pavane, Original Sins, and When is a Door.  This is an essential pick up for any Gaiman Batman fans!  If you don't own a copy of this graphic novel, I highly recommend that you try to track this down at your local comic book shop, bookstore, or online.
Feel free to let us know in the comments below what are some of your favorite Batman stories that you have read and still pretty much hold up to this day.
Image Credits : DCComics.com Batman #686 DCComics.com Detective Comics #853
Leave a comment