Why John Mulaney & The Sack Lunch Bunch Is Everything We Need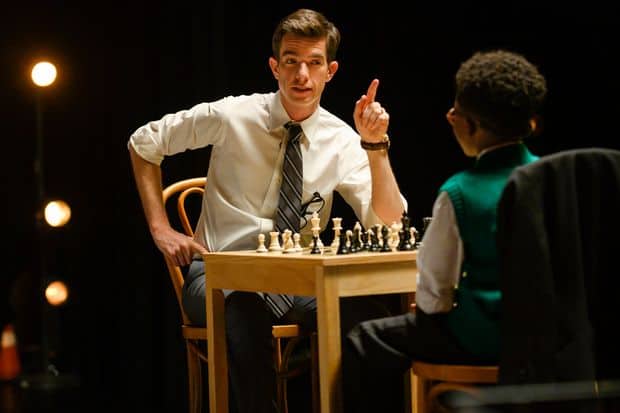 I often write about how refreshing it can be to watch a movie or show that feels intimate and unique in a time where every other movie seems to be a sequel/reboot/franchise. Oftentimes these pieces of original work are in the form of indie movies or Netflix originals. John Mulaney & the Sack Lunch Bunch may be a Netflix original, but I never expected an intimate, refreshing hour of content to come from a comedy special. In this musical comedy, created by John Mulaney himself, The Sack Lunch Bunch is thoughtful, funny, charming, and a bizarre special that only Netflix could give us.
John Mulaney & the Sack Lunch Bunch, A Quirky Comedy Special
John Mulaney is best known for his past writing for Saturday Night Live, his voice acting in Big Mouth Season 3, and his multiple stand-up comedy specials on Netflix. Over the past few years, he's become one of the biggest names in current comedy for his refreshing takes on overdone topics, like his Horse in a Hospital bit as a way of making a Donald Trump joke that doesn't feel tired. He's also quite public about certain aspects of his life. This includes his decision to live a childfree lifestyle with his wife, Annamarie Tendler, often incorporating it into his standup. So, he was the last person we expected to make a children's special. But that unexpectedness is why it works so well.
The Sack Lunch Bunch shows a variety of sketches with the child cast, made up of 15 kids aged 8-13. The sketches are about bizarre life tales and include pretty big dance and song numbers. Amongst these performances are times where Mulaney speaks with the kids in comical fashion, in a self-referencing way, or through intimate interviews with the children about their biggest fears. So, we do get to see the kids and their acting/singing/dancing chops. But we also get a genuine sense of who they are as people. It's sweet and sincere, and creates a comedy special that uses kids to be funny, but respects their ability to be funny without putting the joke on them.
Image via Netflix.
Why Netflix Is The Perfect Place For The Sack Lunch Bunch
I do think that this is a really difficult concept to do well. If it weren't for Mulaney's name already being so well-known, very few people would watch this on its Christmas Day release. But we've grown to trust Mulaney's genius after his stand-up. So, it has quickly become a must-watch for anybody who favors the genre, and whether you like kids or not. And while Mulaney's stand-up isn't always PG, The Sack Lunch Bunch is perfectly kid-friendly, even if most kids may not understand the irony of it all.
Being able to stream this comedy special at your leisure is what'll give it enough views to be successful. Because, honestly, it's something that you have to be in the mood for. This isn't the type of special that you scroll through on cable and decide to watch for a quick laugh.   It's weird, and Jake Gyllenhaal's outlandish performance proves it. Being a Netflix original means that Mulaney had plenty of creative freedom to make the kind of special that he wanted, despite how much it defies expectations based on his previous work.
John Mulaney Is The Non-Dad Dad Joke
As I mentioned, John Mulaney is not a father, nor does he wish to be. So, to have him making jokes and playing in a fatherly role during the special is pretty ironic. In the end, it works in his favor. Many of the jokes almost lean towards the "Dad Joke" laughs. Instead, he manages to master the non-Dad Dad Jokes. You can tell that the way Mulaney approaches this special is by asking himself what a younger Mulaney would have wanted to watch. He doesn't try to act like he knows what kids today would want to see.
John Mulaney & the Sack Lunch Bunch is available for streaming on Netflix now. It's not what you expect from a comedy special, but we still think it's pretty great. So, what are you waiting for? Go check it out!
Featured image via Netflix.
Meghan Hale is the kind of movie lover that has a "must watch" that is a mile long... and growing. When she isn't talking about the latest film and television news she is writing one of her many in-process novels, screaming film trivia at anybody who will listen, and working as a mental health care professional. Follow her on Twitter @meghanrhale for some fun theories and live reactions to all things entertainment.
Leave a comment