Toy Story 4 Makes Us Cry…Again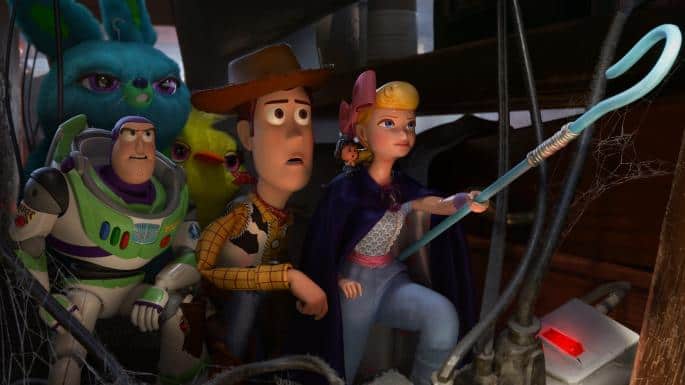 At what point do we just call Toy Story movies for what they are: emotional abuse in the form of 90ish minute adorable cartoons. In the first one, we had to watch Buzz's painful existential crisis as he realized he wasn't a toy. In the second movie, it looked like Woody would be lost forever, and then we had Jessie's tragic story too. And the third. Nope. Don't want to go there…but I kind of have to, don't I. Okay. Here we go. THEY ALL ALMOST DIE IN AN INCINERATOR WHILE HOLDING HANDS! And then, as if that wasn't enough, we see them leave Andy when he gives his toys to Bonnie. It's like Pixar wants to see just how much they can devastate us. And in the fourth installment, they…oh, I won't spoil that.
The Toys' Story in Toy Story 4
So this time around, we have a new—and very strange—"toy." Forky (brilliantly voiced by Tony Hale), a toy that Bonnie makes out of literal garbage. A spork, a popsicle stick, googly eyes, pipe cleaner, and some chewing gum. She writes her name on his "feet" and now he's a living thing…who desperately wants to be trash again. Woody takes it upon himself to teach Forky about Toy life and responsibilities. In the process, Forky tosses himself out of an RV Bonnie's family is vacationing in, and Woody must go on another adventure to find him. In the process, he runs into the love of his life, Bo Peep, a toy Andy's mother sold over a decade ago. Thus begins our emotional conflicts. Is rekindling that old love more important, or is saving trash-toy more important? Meanwhile, the other toys are kind of done with Woody's crusading.
The New Toys
We get more than just Forky too. In fact, we get some excellent new additions to the Toy Story family. The first two—as they are literally inseparable thanks to a string holding them together—is Ducky and Bunny. Now, this is some of the most brilliant voice casting ever: Key and Peele! As in Keegan-Michael Key and Jordan Peele. Their bromance oozes into these characters, making them instantly lovable and likable. There's also Gabby Gabby, voiced by Christina Hendricks, the most tragic villain of the Pixar universe. She's a toy from the forties who was never played with due to a malfunction in her voice box. All she wants to do is be some little girl's toy, and she's been wanting that for eighty years. Maybe Pixar just likes to hurt their characters.
But the most ingenious casting ever is for Duke Caboom: Keanu Reeves. There has never been a more perfect blend of voice to toy than this, and we must all bow to Toy Story 4 for giving us this miracle. If the franchise continues, it must be with Duke Caboon. The Canadian stunt toy who loves posing, but doubts his abilities. It's the best acting of Keanu's career. He might actually be live action in the film, it's hard to tell because he's that damn good.
The Returning Cast
Most of them don't get a lot to do. Buzz has a small role, and the rest just wait in the RV. Toy Story 4 is very much Woody's story, even more than the last three films. Tim Allen, Joan Cusack, Kristen Schaal, and the rest just aren't featured enough. Tom Hanks is still good as Woody, but it does feel like he's ready to say goodbye to this character. Again. However, Annie Potts is wonderful. Finally, Bo Peep returns and she's part of the story. You can hear how much fun Potts is having with every line she utters.
Does Toy Story 4 Need to Exist?
Ever since Pixar announced Toy Story 4, the main response was: why? Toy Story 3 felt like such a perfect end. We had closure. Or did we? It's not until watching the fourth film that you realize there was a little more we needed to truly say goodbye to these characters. But that's just it—this HAS to be the end. One, I don't think our psyches could take much more abuse, and two…they finally all fall into that incinerator. Just kidding. It's something you'll understand when the movie ends.
Then again, we all said Toy Story 3 needed to be the end and they found a compelling reason to make another, so maybe Pixar can do it again.
Toy Story 4's effect on Commercialism
We're now spending twenty bucks to buy fake trash.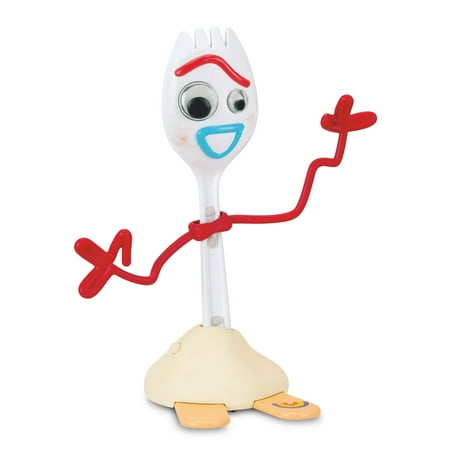 Grade: A-
Oh, stick to the VERY end, past the Disney logo. It's so worth it. One of the best after credit scenes in Pixar's film library.
Roman Colombo finished his MFA in 2010 and now teaches writing and graphic novel literature at various Philadelphia colleges. His first novel, Trading Saints for Sinners, was published in 2014. He's currently working on his next novel and hoping to find an agent soon.
Leave a comment