The History of Scooby Doo – Cartoons, Spin-Offs, and a New Movie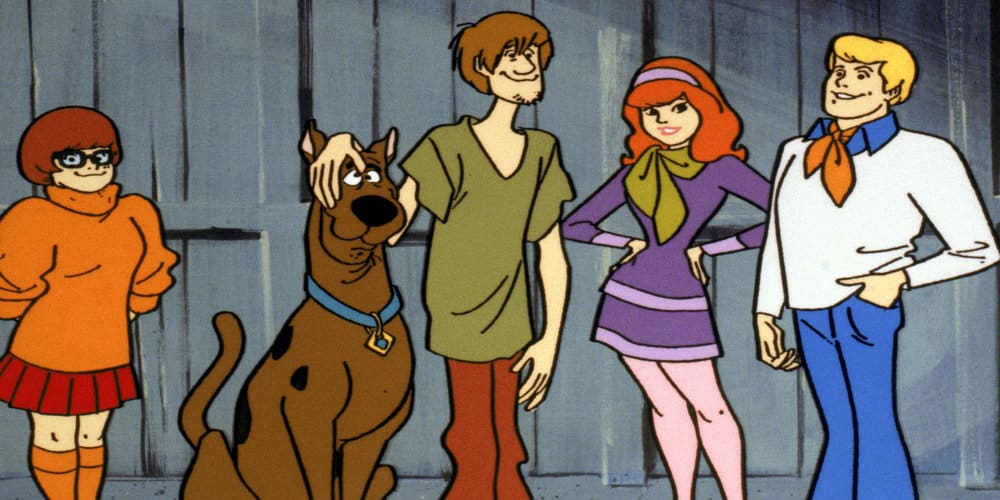 Warner Bros. Pictures released their final trailer for SCOOB! this week, the new animated film starring the gang from Scooby Doo. Interestingly enough, the 3D animated film, which releases May 15, comes over 50 years after the original show debuted. How does a retro 60s cartoon still have so much cultural power behind it? As it turns out, the history of Scooby Doo involves a lot of careful planning and deliberate strides for longevity. 
The History of
Scooby Doo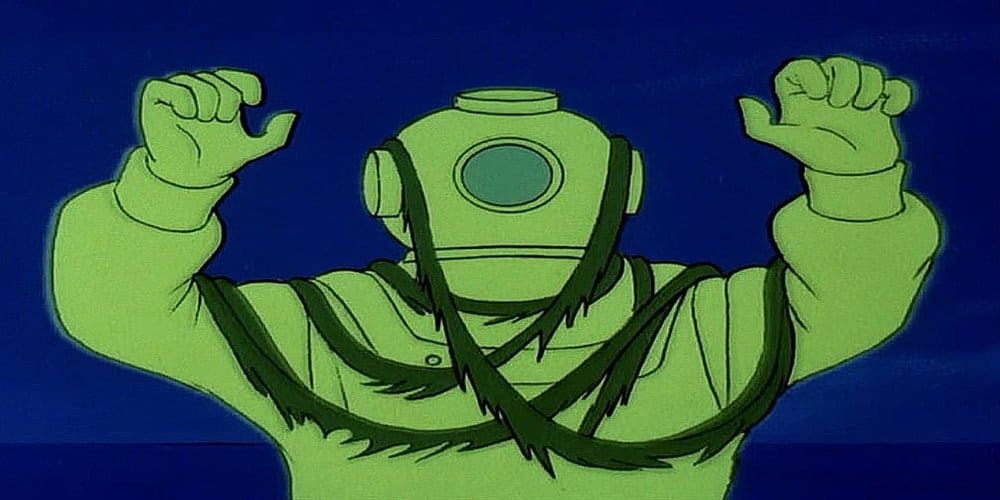 Image Credit: Warner Bros.
Like any great cartoon, the idea behind Scooby Doo was more than simply a creative endeavor. Without the complaints of some more conservative parents, who knows if we would have ever seen the Mystery Gang. New Scooby Doo movie releases sounds like a great time to revisit this show's rich history.    
Developing a More Friendly Saturday Cartoon
In 1968, Hanna-Barbera was the name behind the country's most popular cartoons. Unfortunately, some more easily irked parents disliked the violence seen in such hits as Space Ghost, The Herculoids, and Birdman and the Galaxy Trio. Essentially, these parents weren't just complainers writing into papers. In fact, a few of them sat on the boards of animation studios like Hanna-Barbera to ensure children were always being provided with entertaining yet permissible content.
As it turns out CBS daytime programming exec Fred Silverman was looking to put a splash in his Saturday cartoon lineup. Appeasing the upset parents was a goal as well, so shows like The Archie Show hit the screen, cross promoting their program with music and toys. The music in particular was a hit with kids, so Silverman's plan was to make another teen rock group cartoon, but one where the members also solved mysteries. 
House of Mystery and the History of
Scooby Doo
's Early Years
Silverman approached Barbera with the idea, and the writing team at the animation studio came up with Mysteries Five. Five teens, Geoff, Mike, Kelly, Linda, and Linda's brother W.W. would star in the show. The twist, however, was the bongo-playing dog Too Much. During the initial animating phase, it was decided that Too Much would be a large cowardly dog, and a Great Dane seemed to fit best. As the teens were animated, different elements of their personalities and style emerged, warranting a name change. That's how we arrived at Fred, Daphne, Velma, and Shaggy. 
Next was the name, which couldn't be the Mysterious Five anymore now that only four teens would star in the show. Who's S-S-Scared? Funny enough, the attempt at drawing up a more acceptable show for kids ended up seeming too scary, so in 1969, executives rejected the show.
Scooby-Doo, Where Are You! –
1969 to 1976
Looking back on the idea, Barbera thought the idea was sound, but needed to be reflected more as a comedy. The music angle was ditched, and Too Much was renamed Scooby-Doo, inspired by the scat at the end of Sinatra's "Strangers in the Night." Renamed Scooby-Doo, Where Are You!, CBS green-lit the show for the 1969 Saturday morning cartoons lineup. Seventeen episodes were ordered, and the new cartoon was set to go up against ABC's The Hardy Boys. Almost immediately, Scooby Doo blew its time slot rival out of the water. 
In 1972, a new format of Scooby Doo debuted in a one hour episode format. The appeal of these longer episodes, known as The New Scooby-Doo Movies, included fun and exciting guests. Episodes featured popular Hanna Barbera characters such as the Harlem Globetrotters, Josie and the Pussycats, Speed Buggy, and even Batman and Robin at one point. Other characters and actors from outside the Hanna-Barbera world appeared as well, including  Sandy Duncan, The Addams Family, Cass Elliot, Phyllis Diller, Don Knotts, and The Three Stooges. CBS aired these hour long specials and Scooby-Doo, Where Are You! reruns until the show left the network.
The Move to ABC and Expanding the History of
Scooby Doo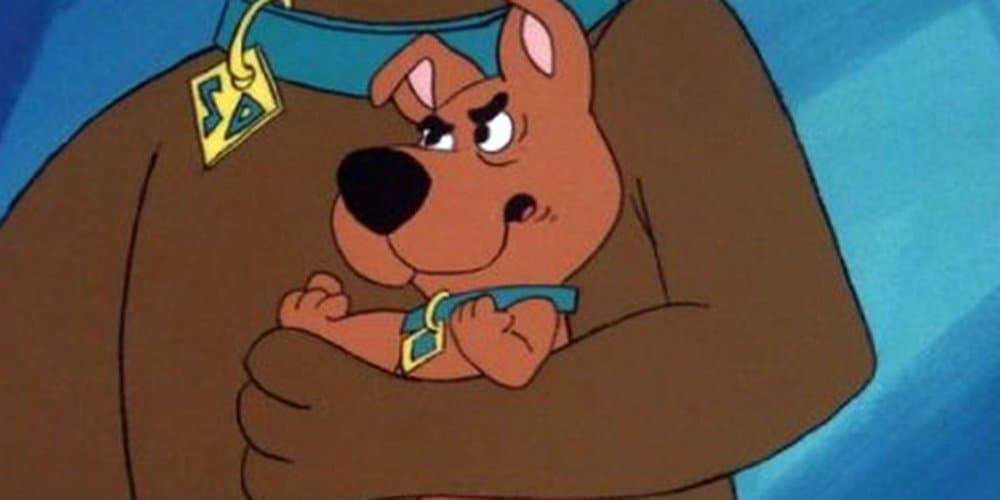 Image Credit: Warner Bros.
Fred Silverman became president of ABC and purchased the rights to Scooby Doo in 1976. The ABC years included a lot of experimenting, including new shows adapting the Scooby-Doo, Where Are You! format to fit new characters and exploits. A straightforward format called The Scooby-Doo Show soon transitioned to a two hour format called Scooby's All-Star Laff-A-Lympics. The two hour block included the shows Laff-a-Lympics and Captain Caveman and the Teen Angels. Scooby-Dum joined the mix as Scooby Doo's dimwit cousin, and later, Scrappy Doo became a mainstay. 
Scooby-Doo and Scrappy-Doo became the name of the show in 1979 in an effort to save ratings, which were in decline. It worked, and would later return to a half hour format under the name of The New Scooby and Scrappy-Doo Show through 1985. 
Movies and Spin-Offs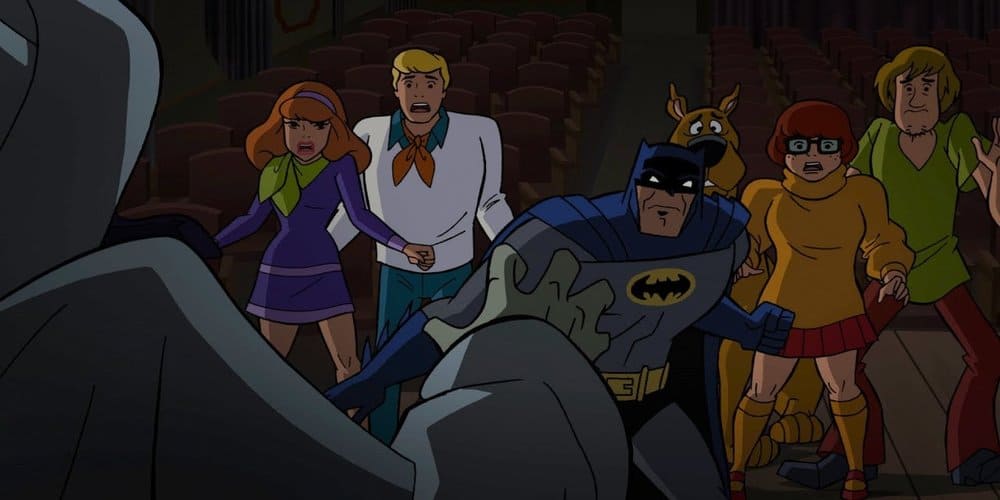 Image Credit: Warner Bros.
Once 1987 rolled around, the Mystery Gang would feature in a number of movies and spin-offs. It wasn't until 2002 when the show would return as a 30 minute cartoon on WB Kids called  What's New, Scooby-Doo? In between, a number of direct to video films worked and didn't work. Notably, Scooby-Doo on Zombie Island (1998), Scooby-Doo! and the Witch's Ghost (1999), Scooby-Doo and the Alien Invaders (2000), and Scooby-Doo and the Cyber Chase (2001) did pretty well. Then came guest spots from everyone from superheroes to WWE stars. 
SCOOB!
and the Longevity of the Mystery Gang
A new adventure from Warner Bros. Animation, SCOOB!, is the latest entry in the longevity of the history of Scooby Doo. Starring  Will Forte, Zac Efron, Gina Rodriguez, and Amanda Seyfried, the gang will have to deal with Shaggy and Scooby Doo getting taken to help with the prevention of an evil plan. The trailer, seen below, is honestly really great. I think it'll be a great way to reintroduce new, younger audiences to a timeless team of mystery solvers. 
There's no overstating the influence of Scooby Doo. From merchandise and TV shows to cultural artifacts like "jinkees" and "I would have gotten away with it if it weren't for you meddling kids," the show is a treasure trove of 20th century references and entertainment. If you're a longtime fan, then I anticipate the new reboot to be a fun revisit to the series. If you're not a lifelong Scooby fan, you can watch old episodes on Boomerang with a year's subscription coming out to $40. 
Comment below who your favorite villain was from the old Scooby Doo cartoons! Thanks for reading Comic Years for all things comics, cartoons, and pop culture. 
Featured Image Credit: Warner Bros.
Taylor is the Gaming Editor of Comic Years and a lifelong fan of video games. He holds two degrees in Political Communication and wrote a Master's Thesis on resistance movements, race, and the exploitation of college athletes. His wife and two Toy Australian Sheppards keep him sane.
Leave a comment