Marvel Releases New Trailer For Black Panther 2, Reveals Closer Look At Characters
Marvel Studios has released the new trailer for Black Panther 2, revealing the first look at characters for the much-anticipated movie sequel.
This is not a drill! Marvel Studios released a new trailer for Black Panther 2 weeks before its official theatrical release. Marvel fans heavily anticipate the upcoming sequel after the untimely death of Chadwick Boseman in 2020.
During the San Diego Comic-Con, we saw the first trailer for Black Panther 2. The trailer then reveals that the kingdom of Wakanda is grieving the loss of its king, T'Challa. The movie decided to follow the course of Boseman's passing with the sequel's plot. But the details surrounding T'Challa's passing in Wakanda Forever are still unknown to us.
The trailers have confirmed new characters that will appear in Wakanda Forever. One of these new characters is Dominique Thorne's Riri Williams whose appearance in Black Panther 2 doubles as her debut in the MCU. Thorne will reprise her role as Riri Williams in her standalone Disney+ series, Ironheart. Another actor who'll be making in the MCU is Tenoch Huerta, who'll be playing Namor the Sub-Mariner.
Other Marvel actors such as Angela Bassett (Queen Ramonda), Letitia Wright (Shuri), Lupita Nyong'o (Nakia), Winston Duke (M'Baku), and Danai Gurira (Okoye) will be reprising their roles in this movie as well. Ryan Coogler returns to be the film's director.
Recently, Marvel boss Kevin Feige stated there was no chance of recasting Boseman and finding a new actor to play T'Challa. According to him, "it just felt like it was much too soon." With this in mind, Black Panther 2 will introduce the new Black Panther. Luckily, the new trailer of Black Panther 2 teased us with this.
Marvel Studios
New trailer for Black Panther 2
The big question still stands: Who would be the new Black Panther? And it looks like the new trailer for Black Panther 2 teases the answer to the question.
The new trailer for Wakanda Forever gives us a taste of what we'll expect in the sequel. While Wakanda is still grieving, the kingdom faces a new threat. Tenoch Huerta's Namor, the King of Talocan, comes to the surface world to wreak havoc. With their protector gone, Wakanda is at its weakest. We also see Riri Williams don her Iron Man-like suit for the first time and a closer look at Michaela Coel, who plays Aneka, the leader of Midnight Angels.
But perhaps the biggest bomb this new trailer dropped is a first look at the new Black Panther suit. The new suit looks like a slender version of the suit T'Challa wore — something fitting for a woman to wear. While the character behind armor is still unknown, the suit features face markings similar to that of Shuri's. So, Shuri will likely inherit the title of Black Panther — a nod to the movie's origins in Marvel Comics.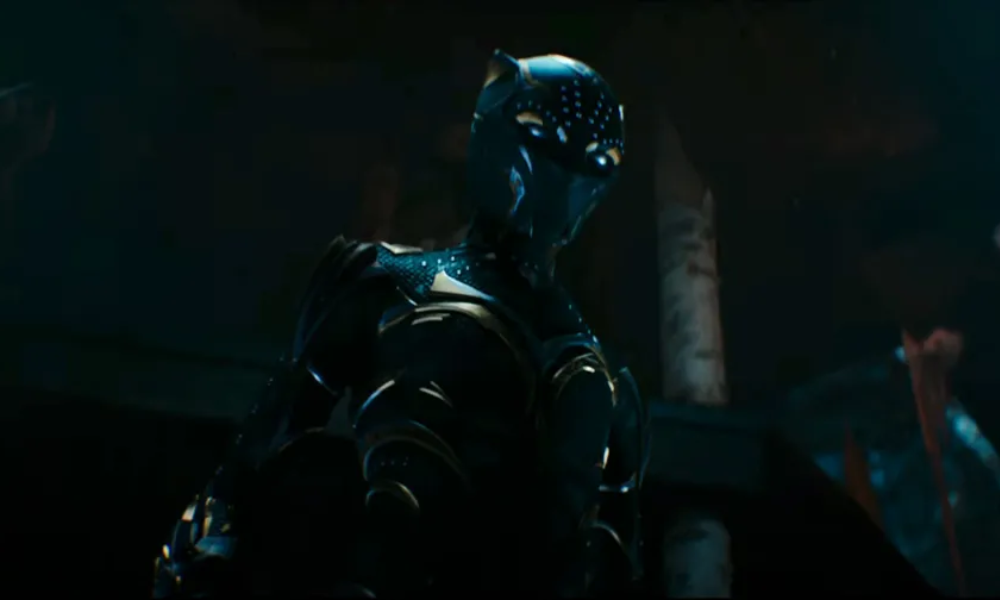 Marvel Studios
Fans are also waiting to see M'Baku's (Winston Duke) return, who captured the hearts of many during his appearance in the first film. Unlike his temperamental attitude in the first film, Duke teases that M'Baku has changed greatly and has a new role in the sequel. This is what Duke said when speaking with ComicBook.com at D23 Expo:
"I think M'Baku is forced to catch up with the times," Duke said. "His role has changed. He survived The Snap, he is now a part of the Tribal Council so he's more forward-facing and less insular. So he's been forced to really be a part of the collective transparency. I think that's a really cool thing for him and you get to see a whole new dynamic including him."
While the new trailer for Black Panther 2 has already given us goosebumps, we'll be expecting more intense scenes when the sequel hits the theatres. 
Black Panther: Wakanda Forever will premiere on November 11th.
Paul is many things. He's a fan of anime, superheroes, and everything in between. He dedicates his downtime to annoying the heck out of his cats and dog.
Leave a comment