The CW Planning To Expand Arrowverse Further With New Spinoff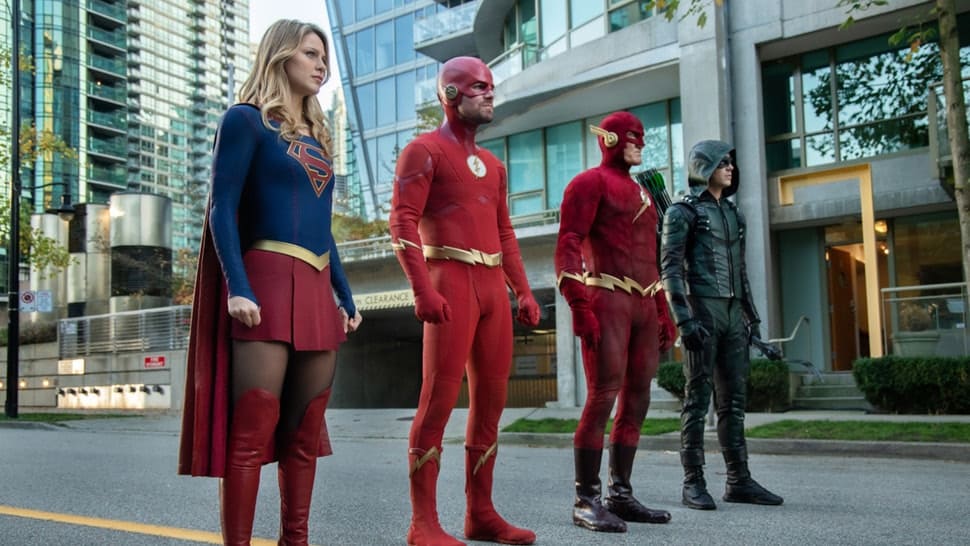 The popular lead of CW's DC Comics universe, Arrow, will be ending later this year. The eighth and final season will premiere in October of 2019. It has been confirmed that the eighth episode of the final season will be a crossover event. So, we may see a collaboration that involves old, and potentially new, characters. Arrow already built up a pretty solid group of characters from the original comics, many of whom earned their own shows. Though, there's still one more to come. Mark Pedowitz, the current CW president, spoke at the Television Critics Association Sunday. Pedowitz announced that the network will be adding another DC series to the Arrowverse on The CW.
What Does The Arrowverse Look Like Now?
Arrow first hit television screens in 2012. The series follows Oliver Queen, a billionaire playboy who went missing for five years. He finally returns, determined to help his city by becoming a vigilante. Shortly after, in 2014, The Flash became its first spin-off. Another hero wanting to use his skills to fight crime, Barry Allen utilizes his super-speed to do good. 2015 saw the premieres of Vixen and Supergirl. Vixen is an animated web series that streams on CW Seed. It had a two-season run. Another animated series, Freedom Fighters: The Ray follows Ray Terril (a.k.a. The Ray), who deals with exposure to a genetic light bomb, resulting in light-based powers. Supergirl follows Kara Danvers, Superman's cousin, who begins her own career as a superhero (though on a different "Earth" than the main Arrowverse. Premiering in 2016, Legends of Tomorrow is a collection of supporting characters from the previous shows. They travel through time, first to stop an apocalypse, then to fix their constant mistakes that change history.
The CW Arrowverse has spent their time developing a group of characters that we've grown to love. It has been a slower buildup than what Marvel did for their Defenders crossover series, but it's long-lasting runtimes have been proving that it's working. Later in 2019, we'll see a new addition with Batwoman as part of the Infinite Earths crossover. Led by Ruby Rose as the titular character, Batwoman will see Kate Kane, Bruce Wayne's cousin, trying to protect Gotham as a vigilante. Kate Kane has made an appearance in the Arrowverse with the show's "Elseworlds" crossover event. Her show will premiere on October 6th, 2019, but the story starts before she meets the Arrow and friends.
What Could The New CW Crossover Be About?
There are few details of what the crossover could be. We do know that the show is on the slate for the 2020-2012 television season, though. His announcement of the new Arrowverse property came when asked about any future Arrow spin-offs. So, with next to nothing confirmed, fans have been speculating what they'd like to see. Pedowitz spoke about Batwoman being "the next step to do something," so it's possible that the new crossover could also be set in Gotham, tying in with the new series. One of the biggest sources of speculation is whether the new series will follow a stand-alone hero or a team-up series. It is possible that they will go the route of the Netflix-Marvel collaboration, and have an entire series of the DC heroes and villains teaming up. Or, they may stick with the trend of featuring one sole hero, with room for crossover episodes.
The Arrowverse is forbidden from using some DC characters, as Warner Bros. may be holding on to them for their exclusive use in the DC Extended Universe. So, we won't expect to see a Wonder Woman or Harley Quinn spin-off, as they're currently being heavily featured in the DC Extended Universe. However, at a 2017 Comic-Con, showrunners told the audience that Booster Gold and Blue Beetle were characters that have been talked about. At the same con, showrunners also mentioned their desire to introduce The Question into the Arrowverse. But, apparently, the DC films had plans to use the character. Maybe the DC Extended Universe has scrapped their plans, and gave The CW permission? Only time will tell.
So, Arrowverse fans, what would you like to see The CW do next?
Featured image via The CW.
Meghan Hale is the kind of movie lover that has a "must watch" that is a mile long... and growing. When she isn't talking about the latest film and television news she is writing one of her many in-process novels, screaming film trivia at anybody who will listen, and working as a mental health care professional. Follow her on Twitter @meghanrhale for some fun theories and live reactions to all things entertainment.
Leave a comment