A Stranger Things Refresher Ahead of S3
We live in a time where it's far too easy to binge-watch anything. While this means that you're able to absorb content quickly, it can have the downside that you forget what you've watched when the next season finally comes out, like what happened with Jessica Jones. Which means that you're probably here for a recap of what you've already watched. So, for those of you who watched all of Stranger Things' second season the day that it came out, and are prepared to do the same for season three, then this refresher is for you. An obvious spoiler warning for the first two seasons, but don't worry – season three will be waiting for you when you're done reading this Stranger Things refresher.
A Refresher On The Threat of Stranger Things 
Season one of Stranger Things was all about the Demogorgon, which El fiercely defeated. Season two is all about bigger and stronger forces. A giant, shadow-esque and spider-like creature named the "Mind Flayer" that Will has been seeing was the "Big Bad" for this season. And, not only that, but there appeared to be even more Demogorgon type creatures, coined "Demo-Dogs". These new beasts all seemed to be coming out through underground tunnels. Though, Dustin did manage to befriend one with the power of candy.
The Characters Of Stranger Things
Season one's finale saw the disappearance of El after she defeated the Demogorgon. Most fans assumed that her fate wasn't sealed, as how could Stranger Things exist without her? And they were right. El hid out in Hopper's cabin, with Hopper treating her as his own daughter. Fearing for her life, Hopper forbade her from leaving the cabin, causing some tension between the pair. Eventually, El becomes fed up with the cabin fever and escapes to search for her birth mother. Her mother, though, is living with permanent brain damage caused by shock treatments and is living in a catatonic state. Instead of returning back to Hopper, El goes on to try to find other people living with special powers like she is, in what is widely considered the worst episode of the entire series.
Will had a hard time in season one of Stranger Things, what with being missing and all. Any hope that he would have a happy season were crushed when he became possessed by the Mind Flayer. The monster begins using him as a tool to spy on Will's dimension. The only option ends up being to perform a sci-fi 'exorcism' on Will before the Mind Flayer can use his knowledge to take over Hawkins, and eventually the rest of the world.
On the not-paranormal side of things, a few new characters arrive in Hawkins. Step-siblings Max and Billy arrive to shake things up. Max becomes a new crush for both Dustin and Lucas. Billy serves as an antagonist to Steve, which will likely be settled in season three. And Sean Astin had a great season-long run as Bob Newby, a love interest for Joyce Byers who met his ultimate fate helping her and her son escape.
The Relationships
Nancy and Steve broke up near the beginning of season two. It would have been easy for Steve to walk away from the gang. He does stick around and became a sort of big brother to the rest of the kids. His friendship with Dustin becomes particularly strong. Nancy, on the other side of things, ran off with Jonathan to help close down the Hawkins Laboratory. With the help of a confession by Dr. Owens regarding Barb's death in season one, they force it to shut down. While on this adventure, the two finally get together. It is unclear whether they are officially a couple or not, which we'll have to find out in season three.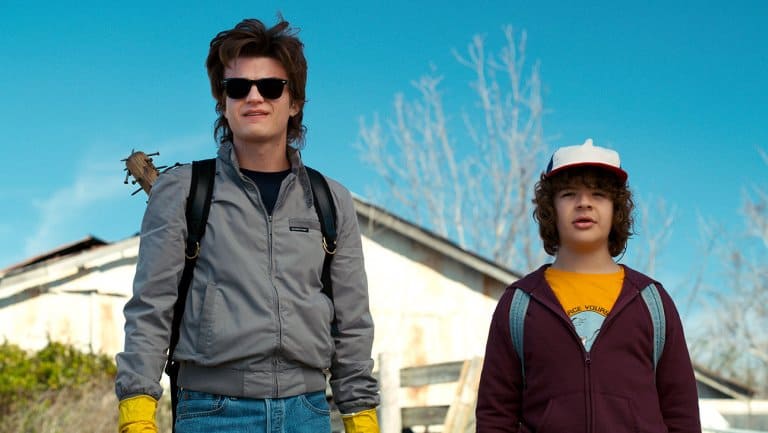 Mike and El are still going strong. Despite being apart for the majority of season two, they finally reunite near the end. The season closes with them at a school dance, finally given some time to just be kids in love. While Mike and El get an adorable and fairy-tale ending, things aren't so happy for Joyce. The season saw her falling in love with a new character, Bob. He becomes the fan-favorite and hero of the season, but fatally sacrifices himself to some Demo-dogs. This is the big heart-breaker of season two. It does, however, leave the potential for a Joyce and Hopper romance in season three.
The Ending
In an epic final episode, El uses all of her strength to close the gate controlled by the Mind Flayer. She manages to successfully close it, though it drained her strength and caused the biggest nosebleed yet. While the gate may be closed, the Mind Flayer still looms out there, in its own dimension. The last shot of the season showed it in the Upside-Down waiting and watching our tiny heroes.
Season three has eight brand new episodes to binge-watch this Independence Day weekend and is now streaming on Netflix. Thanks to this Stranger Things refresher, you can skip the recap and dive right into the new season. At least, until you're left dreading the long wait for season four.
Featured image via Netflix
Meghan Hale is the kind of movie lover that has a "must watch" that is a mile long... and growing. When she isn't talking about the latest film and television news she is writing one of her many in-process novels, screaming film trivia at anybody who will listen, and working as a mental health care professional. Follow her on Twitter @meghanrhale for some fun theories and live reactions to all things entertainment.
Leave a comment