The Real Reasons You Don't Hear From Jeff Foxworthy Anymore
The Real Reasons You Don't Hear From Jeff Foxworthy Anymore
Jeff Foxworthy enjoyed a pretty successful career during the 1990's and early 2000's. His "you might be a redneck" jokes were extremely popular and he endeared himself more to fans with his relatable humor about being a Regular Joe, a guy from the South, and a dad.
Foxworthy starred in his own network sitcom, headlined Are you smarter than a 5th grader? and also became the most successful comedy recording artist of all time with this album selling out fast.
But over time, His fame has gradually faded and he is no longer the king of comedy he once was.
However, he isn't exactly "out of business" as he still boasts of huge followership and is still pretty much busy still.
Getty Images
Jeff Foxworthy projects since superstardom 
Barbecue sauce production
Foxworthy launched his own line of barbecue sauce – Redneck Barbecue sauce sometime in the early 2000s and thanks to being a celebrity, the sauce was soon flourishing in the market. It wasn't just about his name though because the sauce was quite good.
His merchandise received huge commendation from Consumer reports in 2006, with its critic heaping praise on his "big roasted garlic flavour which could go with anything at all.
TV commercials
Fans can still catch a glimpse of Foxworthy's face on TV as the comedian has actively been involved in more than 20 TV advertisements since 2015.  He worked as the face and voice of the Golden Corral Buffet Chain. He has worked with iScope (an iPhone attachment that can be used by hunters to take pictures of whatever they see through their gun's sight) and Purina animal feeds.
So, he is still very much around but fans just need to pay a little more attention to the Ads.
Hosting a baking competition show
Jeff Foxworthy worked as a host on the American baking competition back in 2013. The reality competition series was originally known as The Great British Bake Off but was changed to the American Baking Competition after CBS adapted it. It was extremely popular but got cancelled after a single season.
ABC revived and renamed it to The Great American Baking Show in 2016 . Unfortunately, they decided switching hosts would be better and Foxworthy made way for Nia Vardalos and Ian Gomez.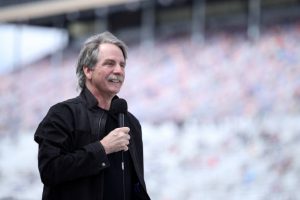 Getty Images
Running a web series
Web series are usually capitalized on by upcoming comedians to gain some recognition and get an impressive résumé. However, even established names produce them and this is exactly the case with Foxworthy. 
His web series is titled Foxworthy Outdoors: Inside & out and is basically about Jeff's hunting and fishing experiences with his friends. The series also covers their other pursuits in the great outdoors. The show has 5 seasons in all.
Spending time outside
His excessive love for being outside propelled him to start his personal outdoors equipment company. He named it Foxworthy Outdoors and engaged in sales of patriotic sports themed "Redneck" T-Shirts and other merchandise under the Foxworthy brand.
Proceeds made from this company goes into the production of Inside & out while also funding hunting trips on Jeff Foxworthy's land preserve for children with life-threatening diseases and wounded soldiers.
Hosting "Still Smarter Than A Fifth Grader"
Foxworthy has also been busy with his host duties on Still Smarter than a fifth grader?. The show pits adults against a panel of kids and seeks to gauge how much general knowledge they have retained since they left grade school.
The light hearted show aired on Fox but went defunct in 2011 after running from 2007 to 2011. In 2024, Fox revived the project and immediately secured Foxworthy as host.
Leave a comment