Five Clips For Spider-Man Day That Shows The Web-Head Is Our Best Hero
In August, 58 years ago today, Stan Lee and Steve Ditko gave the world one of its best superheroes and changed comics forever. Teenage sidekicks already existed in the world of comics for more than 20 years. Yet, Peter Parker became (one of) the first teenage superheroes. We commemorate this now on August 1, and for Spider-Man Day, we thought we'd share five clips from Spider-Man films that show why Spidey is the people's hero.
Spider-Man was my first favorite comic book hero, and he was also my kid's first favorite. My kid was just a baby when Sam Raimi's Spider-Man first came out on home video. The DVD animated menu screen, of Spidey web-swinging through New York, was enough to keep my one-year-old entertained for hours. The scene where Willem DaFoe's Norman Osborn notices a cut he gave Spider-Man's arm on Tobey Maguire's Peter Parker was the first movie scene to make my kid cry. (The second was a scene from a Godzilla movie where the king of kaiju was presumably killed.) A big softie myself, I often tear up at moments in Spider-Man movies (many of which are in this list).
There is something about Spider-Man that just resonates with people, whether they are babies or grown-ass adults. Perhaps it's because, with his full-face mask and costume, we can easily imagine that we are the hero. So, let's celebrate Spider-Man Day with five of the best clips from Spider-Man films to date.
Five Classic Web-Head Scenes for Spider-Man Day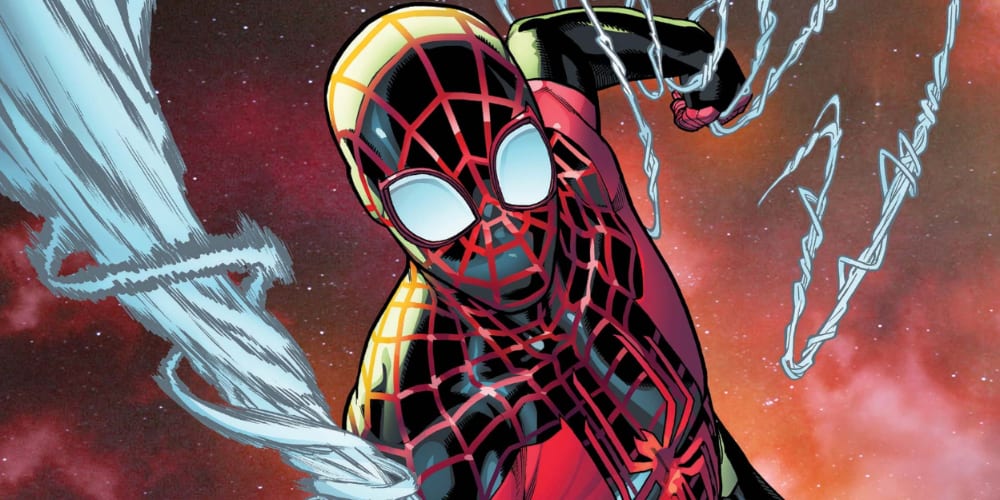 (Image: Miles Morales: Spider-Man #10, Marvel Comics)
With almost six decades of Spider-Man stories behind us, from comics to cartoons to films, there is a lot of moments to choose from in our Spider-Man Day celebration. Yet, we've decided to go with five scenes from the more-recent films that have direct ties back to the comics. This is by no means a definitive list. Your favorite Spider-Man moment might come from Spider-Man and His Amazing Friends or that comic where he helps Frog Man Jr. (look it up!) feel like hero despite being very bad at it. When it comes to celebrating why you love Spider-Man on his day, there are no wrong answers. Still, let's look at five iconic moments from the Web-Head's life on the big screen that truly capture why he's our best hero.
Carefully, He's a Hero
There is always some scene in a Spider-Man movie where the hero bonds with average New Yorkers. More than Superman, Batman, Captain America, or anyone else, Spider-Man is a hero that cares about people first. This train scene from Spider-Man 2 is iconic and even became a popular meme with the kids. This scene, which contains the least subtle Jesus Christ symbolism this side of Cool Hand Luke, defines who Spider-Man is more so than any in the film. Cut from this clip, is the moment when Alfred Molina's Doctor Octopus bursts into the traincar to continue fighting the weakened hero. The average New Yorkers put themselves between the villain and the "just a kid" who saved them.
C'mon Spider-Man!
Though the contexts are very different, this scene from Spider-Man: Homecoming is ripped directly from the comics. What makes this scene so spectacular (and perfect for Spider-Man Day) is that we are seeing the Wallcrawler at his lowest point (both figuratively and literally). Buried under a mountain of rubble, a broken and frightened Peter Parker has to psyche himself up to save the day. Tom Holland does an excellent job of reminding the audience in the beginning of the scene that Spider-Man is, after all, just a kid. His breathless terror when he awakes buried under rubble is chilling, which makes the triumph of his success even greater. Finally, unlike in the comic scene that inspired it, Spider-Man is not concerned about the well-being of his family. Rather, he's worried about saving both innocent lives and the villainous father of the girl he's crushing on.
Yes, This Is a Scene From Amazing Spider-Man 2
We could argue all day about what the "best" Spider-Man movie is, but there is mass consensus on which one was the worst. Amazing Spider-Man 2 was a film with potential but ended up bogged down by convoluted storytelling and endless set-ups for a shared universe that wasn't meant to be. Andrew Garfield may not have portrayed the best version of Peter Parker, but he was successful in capturing the voice of Spider-Man from the comics.
Peter is a soft-spoken nerd, while Spider-Man is a quippy, sometimes arrogant hero (a defense mechanism rooted in character). This scene is maybe his best work under the mask. While the criminally-underused Paul Giamatti's Rhino attacks the city, a small boy dressed as Spider-Man stares down the villain. Garfield plays this scene with a brilliant mix of soft-spoken reassurance to the child and the right amount of swagger for one of Marvel's goofiest (but deadly) villains.
Spider-Man Day Isn't Just About Peter Parker
Sony Animation's Spider-Man: Into the Spider-Verse is nothing less than a triumph. A film that no one thought was necessary, especially with the Tom Holland recast, it introduced one of the best Spider-people to moviegoing audiences. Some years ago, there was controversy surrounding an agreement between Marvel Entertainment and Sony Pictures that stipulated Peter Parker could only be portrayed as a white, heterosexual male. Stan Lee took some flak for agreeing with this, even though he added that any other person could become Spider-Man. Enter Miles Morales. The character, created by Brian Michael Bendis, is a second-generation Spidey, but still embodies everything great about the hero.
Everyone knows the "What's Up Danger" scene from the movie (they put it in the trailer for Peter B. Parker's sake). Yet, that's only part of what makes this scene great, in the clip above the scene where Miles' father talks to him through a door is a crucial part of what truly inspires Miles to become the Spider-Man he's meant to be.
Anyone Can Wear the Mask, True-Believers!
The second scene from Into the Spider-Verse, this clip follows Miles after he watched the original Spider-Man die at the hands of the Kingpin. We see his fear, the reaction of New Yorkers to the loss of their hero, and finally a Stan Lee cameo. Spider-Man Day is a little bittersweet since we lost Stan Lee, but his cameos in Spider-films are some of his best. In the much-maligned Spider-Man 3, his first speaking role in the Raimi films, he tells Tobey Maguire that "one man really can make a difference."
To Miles, buying a cheap Spidey costume, "Stan" the comic shop owner tells him that the Spider-Man costume "always fits, eventually." Sure, it's part of a gag, since the camera pans to the "No Returns or Refunds EVER" sign. Yet, it's a sweet line that reminds us that the thing that makes Spider-Man great has nothing to do with his great powers but rather his sense of great responsibility. And that under the mask, Spider-Man could be anyone, even someone like us.
Celebrate Spider-Man Day by Sharing Your Favorite Spider-Moments
These are all very popular scenes that even folks who aren't Spider-Man fans are probably aware of. Yet, they all capture key elements of the Spider-Man character that makes him so beloved by people from all backgrounds. Spider-Man is an ace when it comes to stopping bad guys, but like the rest of us he struggles to make rent, have a social life, and myriad other real-world problems. An inspired choice by Stan Lee and his co-creators, the mundane problems they gave their heroes helped kids (and adults) better connect to these heroes.
The mask isn't the only thing that allows readers to see themselves in Spidey, it's his problems. Superman is perfect. Batman has his issues, but he's got it all together when it comes to crime-fighting. Captain America always knows the right thing to do. These are figures kids can look up to. Yet, Spider-Man feels like a character that isn't above any of us. He's just trying to get by while doing the right thing, no matter the sacrifice. It's a lesson that all of us can stand to learn or re-learn even today.
How are you celebrating Spider-Man Day? Share what makes Spidey special to you or your favorite moments from the comics, films, or cartoons in the comments below.
Featured image via Sony Pictures Animation
Joshua M. Patton is a father, veteran, and writer living in Pittsburgh, PA. The first books he read on his own were comics, and he's loved the medium ever since. He is the greatest star-pilot in the galaxy, a cunning warrior, and a good friend. His book of superhero short stories, Tales of Adventure & Fantasy: Book One is available as an ebook or paperback from Amazon.
Leave a comment