In The Heights Musical Lifts The Genre To A New, Well, Height
In The Heights isn't just a musical; it's a rarity. We all know that Lin-Manuel Miranda is a genius, a talent, a setter of trends; and that his imagination, dedication, scintillation knows no bounds, no ends. But paired with Crazy Rich Asians director John M Chu, the pair deconstructed the musical and built something new. In the Heights is a musical unlike we've ever seen before, and one that the Academy Awards isn't likely to ignore. It is a coming-of-age story set in New York City, but not made to look shiny, whitewashed, or pretty, but reflects the Washington Heights Hispanic community, making their world a reality.
In the Heights Shows a Real New York City in a Fantastical, Musical Way
You haven't seen the real New York until everyone around you breaks out in dance. Happens all the time. (Image: In the Heights, Warner Bros Pictures)
Okay, I promise I won't rhyme for this entire review. My editor would want to kill me, and so would you. So, let's dive into the first, most noticeable aspect of the movie, one that is absolutely wonderful to see. This time, we have a diverse cast of Hispanic performers playing Manhattanites instead of just extras like satellites. Because when it comes to a musical like In the Heights, old Hollywood would want a big name cast – all white.
Damn, that's hard to turn off. Okay, I promise this time that I won't rhyme. Damnit.
Representation Is At the Center of In the Heights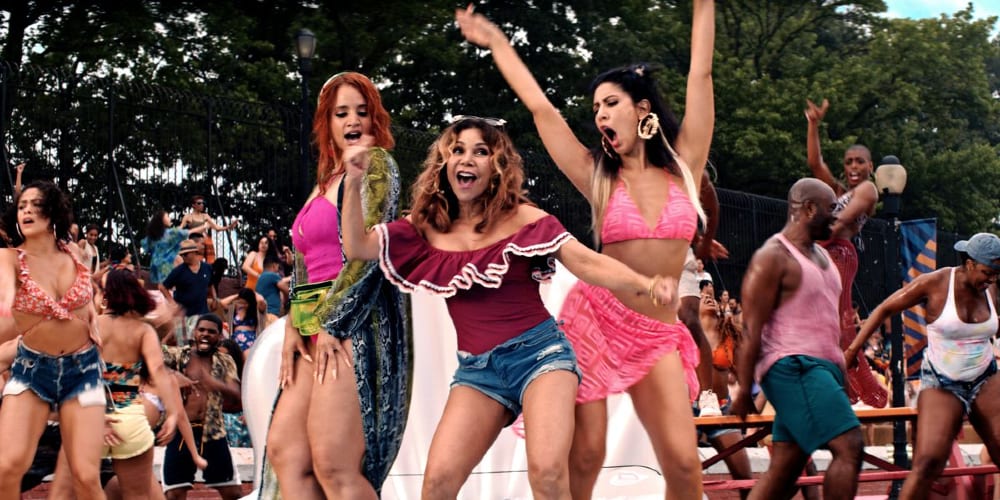 They're delighted that Emma Stone, Scarlet Johannsson, and Meryl Streep – and yes, they've all played non-white roles. (Image: In the Heights, Warner Bros Pictures)
One of the biggest criticisms of Hollywood is that movies and television productions centered in New York City have entirely white casts. Not just NYC, of course. There were two movies set in Egypt in the last decade where white actors played Africans. But for New York, we see this a lot. Take, for instance, the recent Friends Reunion. There were no non-white guest stars from the series. Why? Because there were only a handful of non-white guest appearances, usually dating Ross, and fetishized to try and make him more likable. And yet the producers tried to say that this didn't matter by having people from around the world, especially Ghana, talk about how much they loved the show. They even got BTS, for some reason. However, when people see NYC in shows like Friends, without actually going to the city, they'd have an all-white population in their heads.
But there are only two white actors in the musical In the Heights. Also, they each have maybe thirty seconds of screen time. Though one of them was Patrick Page, one of the best performers on Broadway, he doesn't even sing. That's like casting Keanu Reeves and not letting him be awesome. As far as the main cast, the only actor not Hispanic is Black actor Corey Hawkins.
And the cast is great, which we'll get into later.
In the Heights Shows How New York is the Drop Cloth, Not the Painted Wall
So, no one told me when I was a kid, but busting the fire hydrants is a felony. Careful kids. (Image: In the Heights, Warner Bros Pictures)
In reality, New York is one of the most diverse cities in the world (maybe the most). There are neighborhoods predominantly representing a single culture—your Little Italy, Chinatown, and Harlem. Then there are places like Jackson Heights, Rego Park, and Alphabet City that are much more mixed. Washington Heights is predominantly a Hispanic community coming from the Caribbean. And throughout In the Heights, the musical shows how there's still diversity within one ethnicity. Characters come from Cuba, Dominican Republic, Puerto Rico, and more. What's great is that you can see, sometimes just subtly, differences in dance and singing styles for each culture.
There's a wonderful scene in In the Heights where the character Vanessa, an aspiring fashion designer who wants to get out of the Heights, finds inspiration in a discarded drop cloth. She sees the specks of various colors, and something sparks. It might be an obvious metaphor, but it's still a beautiful way to represent NYC.
But that's not the only thing that makes In the Heights a great musical.
In the Heights Has An Amazing Musical Cast of Soon-To-Be Household Names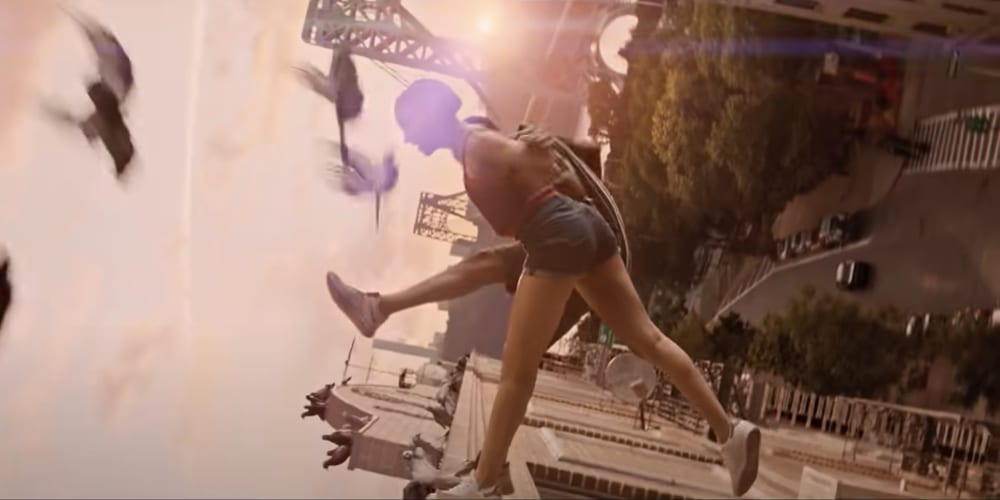 Leslie Grace and Corey Hawkins's stunningly beautiful building-side waltz needs to be seen on the big screen. (Image: In the Heights, Warner Bros Pictures)
Some of the cast of In the Heights are already well-known in the Broadway musical scene.  Of course, Lin-Manuel Miranda rose to Broadway royalty with Hamilton. Here, he plays the small role of Piragüero, a shaved ice street vendor. But he's being pushed out by the evil, menacing Mister Softee – a cameo from Chris Jackson, known for playing George Washington in Hamilton and Simba in the Lion King. But Miranda doesn't expand his role from the original In the Heights musical. All he did was expand his gut a little. We also get Jimmy Smitts and Daphne Rubin-Vega, two of the best Hispanic actors in Hollywood. Alongside them, Orange is the New Black's Dascha Polanco and Brooklyn 99's Stephanie Beatriz in two hilarious supporting characters.
But this musical would not work if it weren't for the main stars of In the Heights. Melissa Barrera, as Vanessa, the designer who wants to escape the Heights, makes you feel like the neighborhood really is a trap of sorts. But on the flipside is Leslie Grace's Nina. The character moved to California for college, but after the bills of an ivy league school started stacking up and her homesickness got worse, she returned home. Through her, the Heights seems like the most wonderful place in the world. Corey Hawkins' Benny shows a different kind of love for the neighborhood, working as a taxi cab dispatcher, ensuring everyone gets to where they need to go. However, as good as the cast is, from Patrick Page's ten-second cameo to Olga Merediz's deeply moving performance as the neighborhood Abuela, nobody outshines Anthony Ramos, playing the main character Usnavi.
Anthony Ramos's Performance in the Musical In the Heights Will Launch an Incredible Career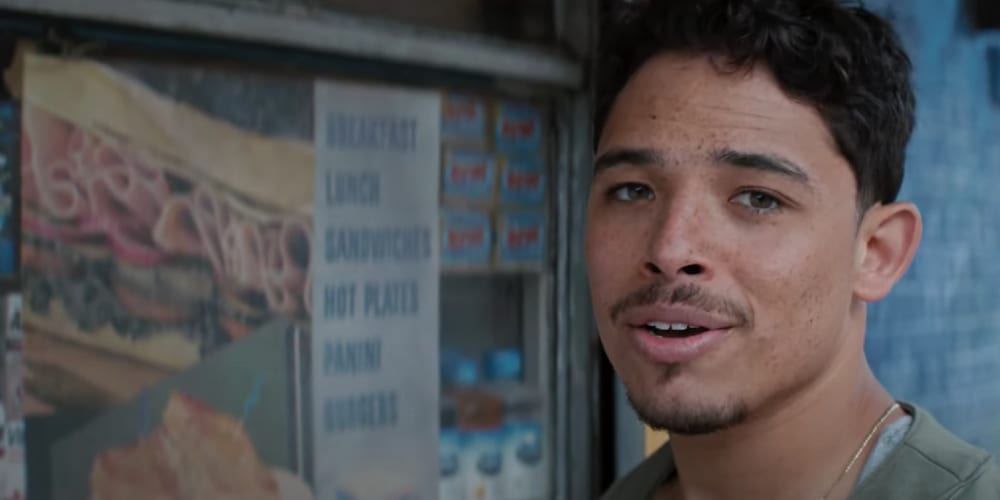 Timothèe Chala-who? (Image: In the Heights, Warner Bros Pictures)
It helps to be friends with Lin-Manuel Miranda. Ramos worked with actor/singer/writer/producer/genius in several projects, including Hamilton and the original In the Heights Broadway musical. Yet what he does in In the Heights makes you forget that the Miranda was the original Usnavi. That's Ramos's role now. If stages anywhere in the world put on a production of In the Heights, they will not compare the Usnavi actors to Lin-Manuel. They'll use Ramos. In fact, Ramos is so good in this musical that not only does he own the role in In the Heights, he makes Miranda's performance as Hamilton seem just OK. Watch the filmed Hamilton on Disney+ and tell me I'm wrong. This movie will definitely get a few Oscar nominations, but Anthony Ramos will most likely win. Well, him and one other person.
With In the Heights, John M Chu Has Turned the Musical Upside Down
The logistics of this entire scene must have been a nightmare. (Image: In the Heights, Warner Bros Pictures)
Early in the film, there's a musical sequence at a community pool that lets you what to expect from In the Heights—pure magic. In fact, maybe that's what the M in John M Chu stands for – Magic. This is a new style of musical that has all the set pieces and dance numbers of traditional ones like The Greatest Showman, but so authentic you feel like this can all actually happen on the streets of New York. Until June 8th, 2021, West Side Story was considered the New York City musical, but as of June 9th, 2021, that honor belongs to In the Heights. It will be really hard to make a musical, especially one set in NYC, that can top John M Chu's in the Heights.
But it's not like any director is going to do something like remake West Side Story as their first attempt at a musical.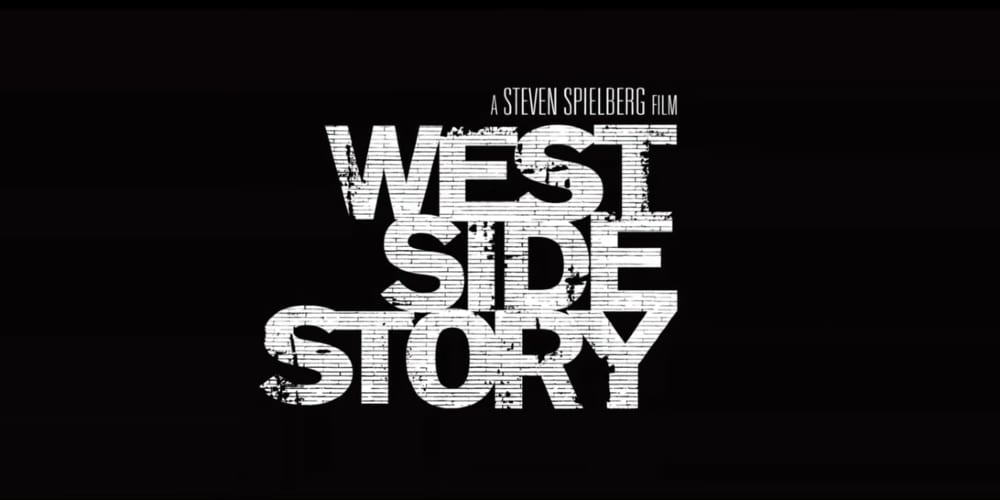 Well, balls. (Image: Amblin Entertainment)
(Featured Image: In the Heights, Warner Bros Pictures)
Roman Colombo finished his MFA in 2010 and now teaches writing and graphic novel literature at various Philadelphia colleges. His first novel, Trading Saints for Sinners, was published in 2014. He's currently working on his next novel and hoping to find an agent soon.
Leave a comment