Chadwick Boseman: A Legacy of Legendary and Iconic Roles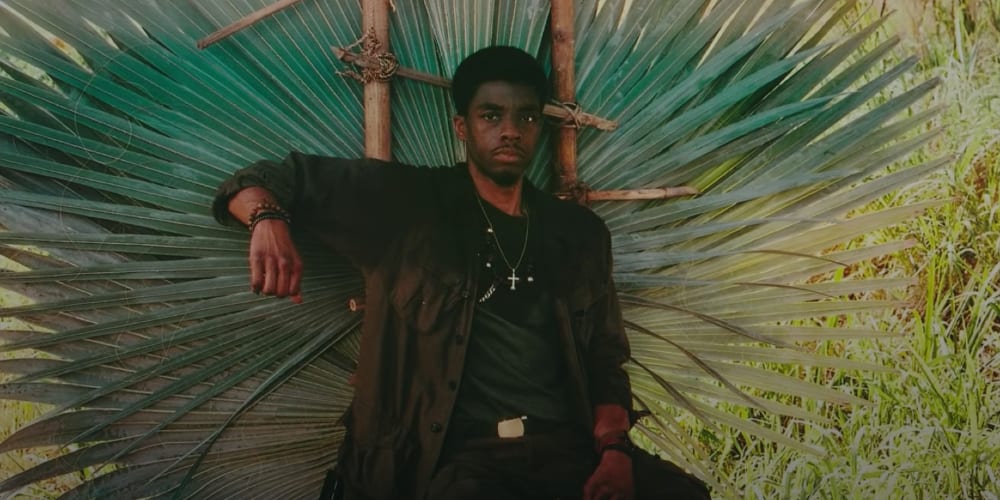 Last night's news about Chadwick Boseman's passing feels surreal. When most people in the world saw him last, he was saving the world in Avengers: Endgame. He was strong, powerful, and regal. It's bad enough that he was so young and talented. But Boseman was also a real-life hero to many Black children across the world. He showed them that Hollywood got it all wrong. That superhero can be Black Kings and not simply a White superheroes sidekick. But when it comes to iconic roles, Chadwick Boseman quickly built his legacy. He didn't just bring T'Challa to life, but also three legendary figures in American history.
The First of Four Iconic Roles that Made Chadwick Boseman a Household Name: Jackie Robinson in 42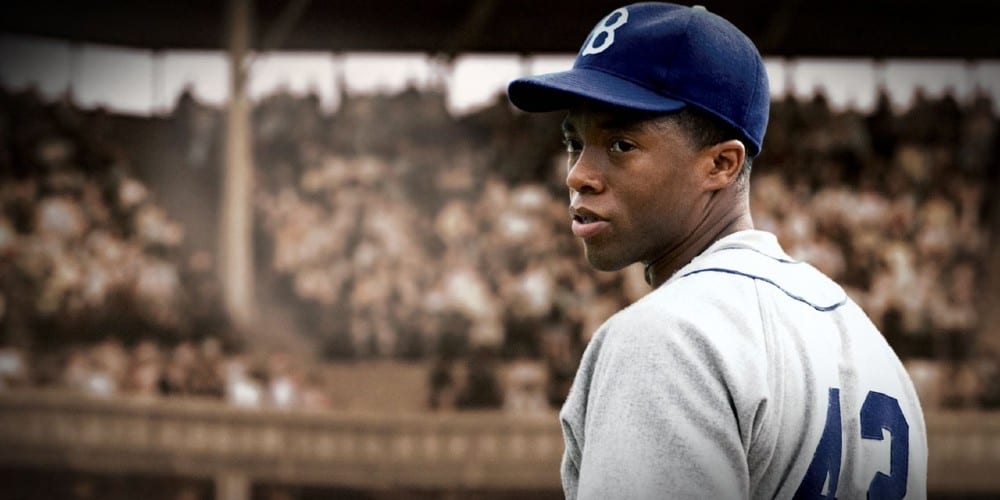 (Image: 42, Warner Bros. Studios)
When Chadwick Boseman put on the iconic Brooklyn Dodgers #42 Jersey for the role of Jackie Robinson, his rise to stardom took off. Working alongside Hollywood legend Harrison Ford, Boseman took command of the screen, giving life to Jackie Robinson's generally stoic demeanor. What came through most of all in his performance was humbleness. 42 showed what he could do with such an important figure in history. And from there, he just kept getting better.
"It's not easy to play a stoic, but Boseman anchors the movie, and when he smiles, 42, already such a warm story of such cold times, gets even brighter."
—Mary Pols, Time
The Iconic Role Chadwick Boseman Should Have Received His First Oscar Nomination For: James Brown in Get On Up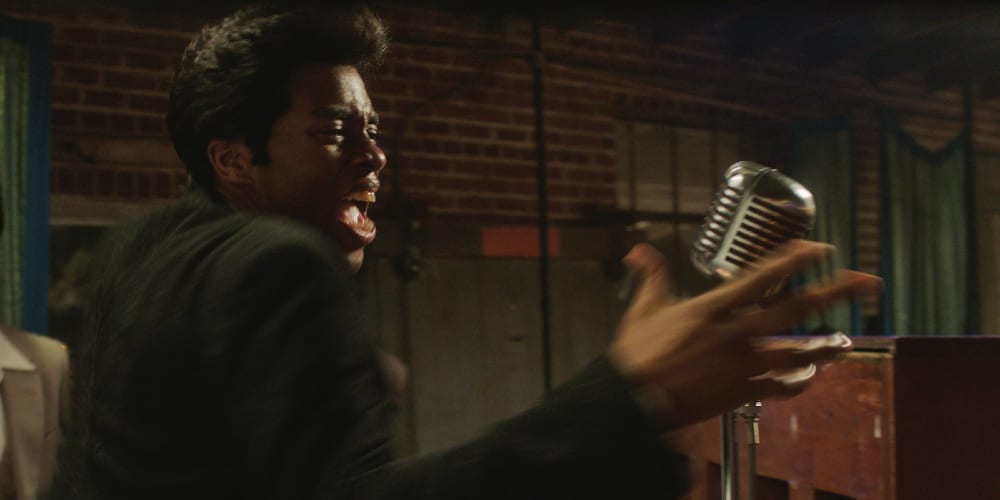 (Image: Get On Up, Imagine Entertainment)
How do you go from the quiet demeanor of Jackie Robinson to the loud and explosive personality of James Brown? Not only was Get On Up the second time Chadwick Boseman played an iconic figure—it was only his second lead role in a major motion picture! This is one of those "wait, who did win the Oscar that year?" followed by anger when you find out the Academy didn't even nominate Boseman. This was during one of the many "Oscars So White" years (Eddie Redmayne, by the way, won that year. You will forget this fact by tomorrow morning). For this role, what stood out the most was the pain Boseman brought to James Brown. His portrayal was heart-wrenching. It was also the role that made people go, "oh, we have to keep our eye on this guy." Luckily, Marvel Studios definitely did.
"Boseman captures the volatility, on and offstage, of the entity we recognize as James Brown, the flamboyance, the fierce ambition, and the uncompromising determination to be treated with respect. (He also dances up a storm!)
—Lisa Jensen, Good Times
Bringing an Iconic Civil Rights Role to Life: Thurgood Marshall in Marshall
(Image: Marshall, Sony Pictures)
There's a nice bit of trivia about this movie. Reginald Hudlin, the director, is one of the best Black Panther writers in comic book history. Of course, Boseman was already playing T'Challa at the time, so maybe that's why Hudlin thought of him for this role. Then again, Thurgood Marshall was a bit of a superhero for his time too. Playing Thurgood as a young man, Boseman brought a lot of charisma to the lawyer who went on to become the first Black Supreme Court Justice. Despite the immense weight of the role, Boseman seemed perfectly at ease with the part. So much so that during the movie, you're easily able to enjoy it as a fun courtroom mystery and a portrayal of one of the most important people in U.S. history.
"Boseman embodies the nobility of Marshall's calling and his cause, yet he also bares a sly, rakish side of the civil rights icon."
—André Hereford, Metro Weekly
The Most Iconic Role Chadwick Boseman Ever Played: T'Challa in Black Panther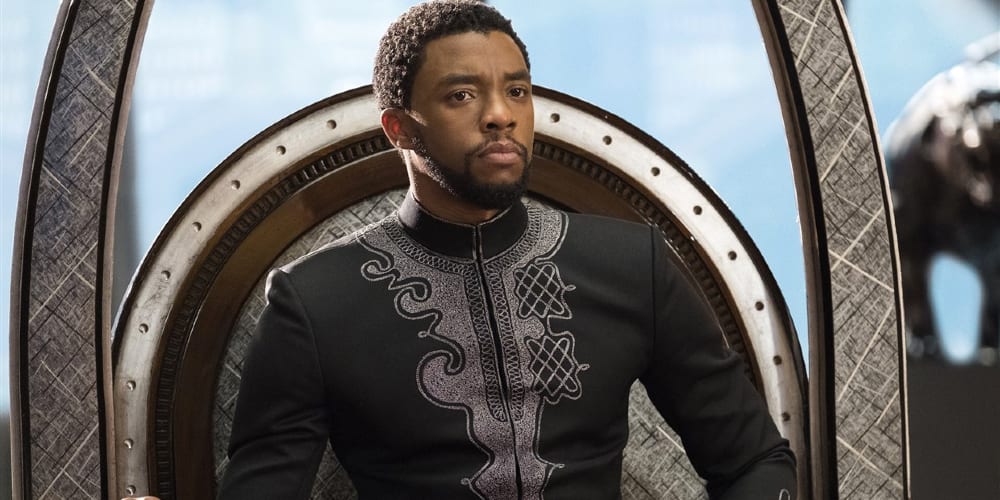 (Image: Black Panther, Marvel Studios)
It's worth noting that T'Challa is the only fictional character on this list. However, it feels like playing Thurgood Marshall, James Brown, and Jackie Robinson was all leading up to Chadwick Boseman playing the iconic superhero role in his own movie. Before Marshall, we got just a taste of Black Panther in Captain America: Civil War. But in his full-length, solo film, Boseman brought more depth, humanity, and regality to the King of Wakanda. Probably already, people are debating who should play Black Panther in the next movie, but this role will forever be Boseman's. He'll remain the King of Wakanda for generations to come, even as others play the hero.
"Chadwick Boseman commands every moment of this film, radiating probity and purpose, and it's only later on that you realize that, with another actor, this wouldn't have been a sure thing."
— Mick LaSalle, San Francisco Chronicle
Chadwick Forever.
(Featured Image: Da 5 Bloods, Netflix)
Roman Colombo finished his MFA in 2010 and now teaches writing and graphic novel literature at various Philadelphia colleges. His first novel, Trading Saints for Sinners, was published in 2014. He's currently working on his next novel and hoping to find an agent soon.
Leave a comment