Midsommar Review – A Horror in Broad Daylight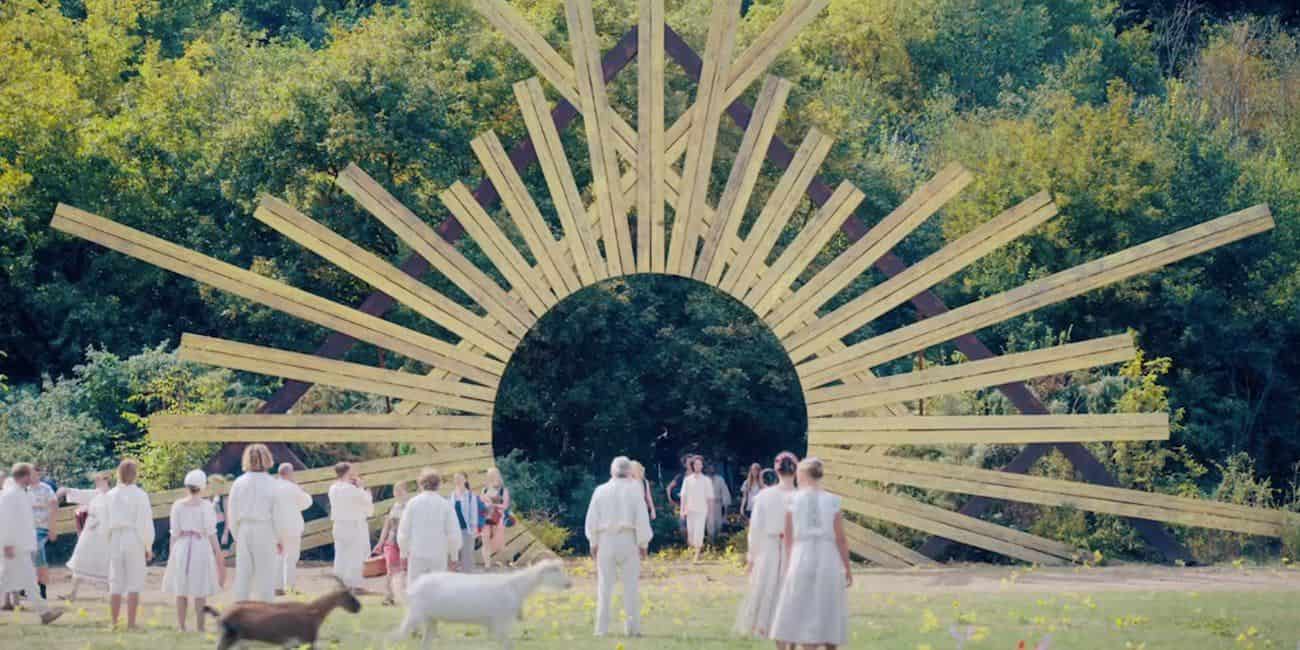 Midsommar is the sophomore release of a newcomer on the directing scene, Ari Aster. His previous film, Hereditary, gained him numerous horror fanatic fans. Though his last film gave us nightmares with its jaw-dropping, sweat-inducing scary moments, what Midsommar provides is much different. I want to preface this review of Midsommar with a warning. This is not a film for the faint of heart, and it's not just because of a little bit of gore or the incredibly explicit sexual content that comes along with the R rating (click here to see our discussion of the Midsommar R-rating). Midsommar is sickening. But for those who can handle it, the film promises a nauseatingly beautiful experience.
The Premise Of Midsommar
Dani Ardor, portrayed by Florence Pugh, clearly has a tough time dealing with life. Her anxiety is only heightened after experiencing tremendous loss and she is left to rebuild her life with the only person that she has left. Her boyfriend Christian, played by Jack Reynor, has become exhausted with Dani's depression. Despite their relationship struggles, Christian feels obligated to invite Dani along on a trip to Sweden with his friends, including the Swedish Pelle. Pelle has invited the gang to witness his village celebrating their midsummer festivities. Josh and Mark, anthropology classmates of Christian, join Dani, Christian, and Pelle. The trip promised beautiful Swedish women and partying. However, when the group arrives at Pelle's commune-like home village, stuff gets weird.
Pelle defends the actions of the festival's activities as being a cultural difference. The group is forced to be apart of disturbing rituals and bizarre customs. Josh and Christian are studying the residents for their thesis project. They become consumed by the oddities that are going on around them, instead of disturbed. Simon and Connie, who are also first-timers at the festival, are the first to become suspicious about what's happening around them. As the gang starts to question their safety, Dani finds herself learning to grieve her previous losses in a new way that the Swedes encourage. What was meant to be a summer vacation with friends starts to become a life-changing trip of horrors.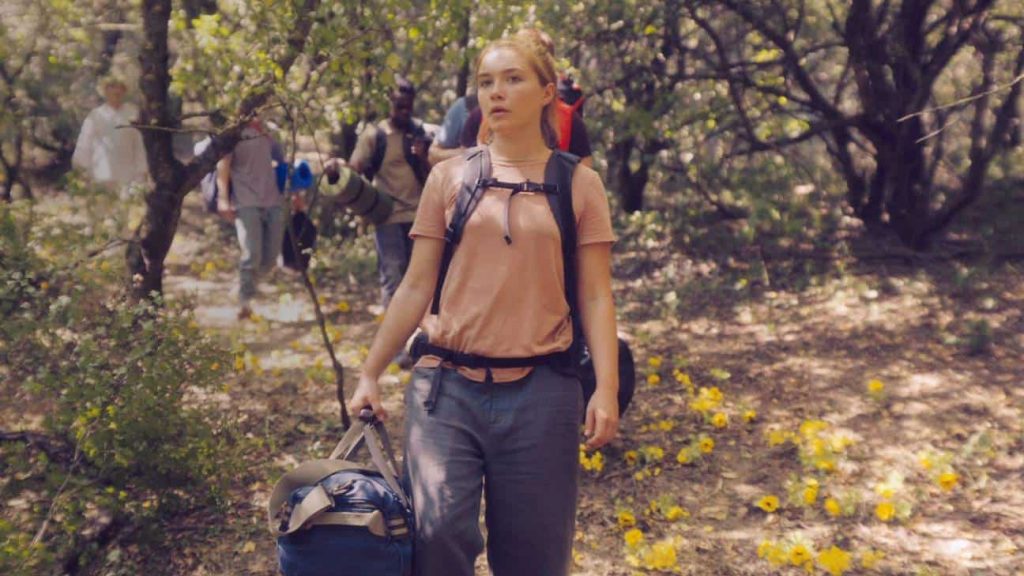 The Performances In Midsommar
Toni Collette gave such a fearless performance in Aster's Hereditary that she received Oscar buzz, a rarity for horror movies. Her acting promised a tough opportunity for whoever would lead Aster's next film. Florence Pugh seemed more than up for the task and gave one of the best performances of the year. Her role as Dani allowed her to express a wide range of emotions, from enthralling grief to crazed optimism. There is a scene in Hereditary where Collette grieves the loss of her daughter. Her animalistic screams felt so hopelessly raw that anybody watching felt like they had to grieve with her. Pugh is given a similar opportunity in Midsommar, grieving a similar loss. It is so much more than sobs and sadness. She captivates and saddens the audience with her neverending wails of desperation, making you sympathize with the character throughout the rest of the movie.
This film really belongs to Pugh, and it will be hard to find a review of Midsommar that ignores this. The supporting characters do, however, give brilliant performances when given the opportunity. Jack Reynor as Christian sucks you into the dying relationship and makes you hate him in a confusing way. William Jackson Harper as Josh and Vilhelm Blomgren as Pelle both do a great job of portraying the kind of friends that you would want to travel with. It's Will Poulter, though, that is drastically underused. Almost every word that comes from his mouth causes a laugh, which seems out of place amongst the darkness of the movie. He vapes inappropriately, gets endearingly high on magic mushrooms and isn't afraid to joke about the festivities going on around him. If this weren't a horror film, it could easily be all about him on a Swedish adventure.
Final Thoughts
While this film is being promoted as a horror film, I warn movie-goers that enter the theatre expecting a few scares and some violence. The film relies on something entirely different to get the effect of the Midsummer festival. Though there is one jump scare (that did manage to catch me off guard), Midsommer is more of an experience than a horror flick. The 147-minute runtime waits an hour before it even starts to break into its scary stuff. The violence isn't just graphic, but it is real in a way that will have you wincing in your seat. You barely have time to fear for the characters before you're asking yourself what the hell is happening. A review of Midsommar cannot properly prepare you. You should brace yourself for an alluring nightmare that plays before your eyes in the bright daylight.
Featured image via A24
Meghan Hale is the kind of movie lover that has a "must watch" that is a mile long... and growing. When she isn't talking about the latest film and television news she is writing one of her many in-process novels, screaming film trivia at anybody who will listen, and working as a mental health care professional. Follow her on Twitter @meghanrhale for some fun theories and live reactions to all things entertainment.
Leave a comment