Attack on Titan Season Four to Be its Last
There are some shows that transcend their intended audience. Some of our upcoming anime releases are among them. DragonBall Z is a great example. So is Game of Thrones. Attack on Titan is shaping up to be its own great example of when a show goes above and beyond expectations. Readers of the manga knew the show would be a hit. Casual fans of anime, and even some hardcore fans, could not have imagined how big this series would get. As it wrapped up its third season, news of a fourth and final season were announced for 2020. Attack on Titan season four might be its last, but it is a fitting end for an iconic series. 
What to Expect in Attack on Titan Season Four     
If you have not seen Attack on Titan, you may not know the general concept of the show. Overall, the show paces itself as a character-driven action series. The main hero, Eren, battles massive humanoid giants called titans that wreck human civilization at first sight. He isn't doing it alone though. He wished all his life to become a Scout, a member of an elite military unit that fights titans using steam-powered rope systems. As they fly through the sky like Spider-Man, Eren and the scouts attempt to kill titans before they kill more humans. 
The Titans came to be through a human named Ymir Frtiz. After coming across the Devil of All Earth, she became a titan, a curse which killed her 13 years later. Seen somewhat as a power, the ability was passed on through her daughters to nine individuals who created their own empire. The Eldians were later overthrown and put in a three-walled city, in which they were protected from the titans that attacked humans. 
In the show's three seasons so far, we see backstory, meet new characters, and find more questions than answers. In its fourth season, the show will try to wrap up all these disparate storylines. The show is certain to be an all time hit for years to come.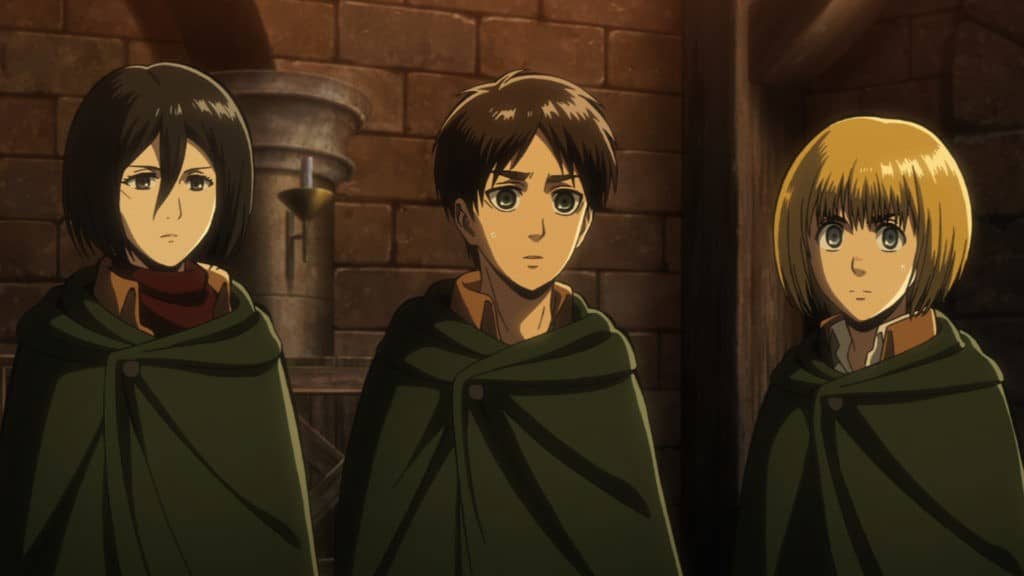 What Makes Attack on Titan Such a Hit?
The show became a hit nearly as soon as it started airing. With the audio-dubbed version and a subtitled-version with original Japanese dialogue, fans of all sorts flocked to Attack on Titan. There are a lot of things that make the show special. For example, the kids who are central to the show are not particularly special. Without any spoilers involved, it is safe to say that before entering the Scouts, there is nothing that sets them apart. In fact, they are sort of rejects, always facing bullying from others. As they join the Scouts, they unlock what makes them special. 
That's where the show excels. Attack on Titan has so many characters in its three seasons so far that have come and gone. The chaos of the titans and their threat is very real. This show doesn't hesitate to kill central characters. It's part of what made Game of Thrones feels special in the early seasons. You truly never know if your favorite character is going to make it or not. 
What Do We Still Need to Know?
We're not going to get into spoilers or a show analysis this time around. What we can say for sure is that the never-ending twists and turns in Attack on Titan are likely not over. The show has been a never ending journey towards the truth of the titans. We might know where the titans originated from, but why are they back? After 100 years, the titans started attacking the walls again. Now that the origins of some of the show's longest running secrets were revealed in Season Three, Part Two, we have more questions to get to before the show's end. 
A Live Action Movie On the Way?
A live action movie already released in Japan back in 2015. Now, an American version is set to hit production soon. The series is possibly going to be directed by Andy Muschietti, the director of IT. Producers David Heyman, Masi Oka and Barbara Muschietti set to get it rolling, and with the success of IT and hype behind IT Part Two, Andy Muschietti seems like a great choice. We know from the live action Japanese version that the titans are downright horrifying in CGI. The animations of Attack on Titan are already terrifying, but with modern technology, they could end up being even more horrifying in this adaptation. 
When Does Attack on Titan Season Four Air?
There's no set date for the premiere of Attack on Titan season four. What we do know is that production is underway. A release date will likely come some time soon, perhaps even as soon as Comic-Con. For now, we know that season three blew our minds. Season four is set to be even bigger and better. 2020 can't come soon enough! For everything anime, comic books, and pop culture, keep reading right here on Comic Years!
Taylor is the Gaming Editor of Comic Years and a lifelong fan of video games. He holds two degrees in Political Communication and wrote a Master's Thesis on resistance movements, race, and the exploitation of college athletes. His wife and two Toy Australian Sheppards keep him sane.
Leave a comment