Why Is Yellowjackets So Popular? A Review of the Latest (Literal) Cult Series
It can be hard to start a new series. Whether you're re-watching Friends for the 30th time or binge-watching things that you've had on your to-watch list for a decade, starting something brand new can feel risky. What if it's not worth your time? Or worse, what if it's the best thing you've ever seen and it ends on a cliffhanger and never comes back for a second season? Well, if you've been stuck on this re-watch rut like me, one thing might tempt you out of it, and it's Showtimes latest literal cult craze, Yellowjackets. At this point, there's no way that you haven't heard of it. So, why is Yellowjackets so popular? Let's explore why in this mostly spoiler-free Yellowjackets review.
In addition to a mild spoiler warning, Yellowjackets is filled with some potentially triggering subject matter. This review of why Yellowjackets is so popular will allude to some of these themes. Keep this in mind if you decide to read on.
What Is Yellowjackets and Why Is It So Popular?
Yellowjackets opens with a girl running through the freezing snow in the middle of the forest. She's clearly terrified, and justifiably so. She's about to die in a brutal way and be eaten by a group of young women. But before we find out who is behind her murder, and how they got to this point, we're going to go way back.
It's 1996, and a soccer team just won their way into a national tournament in Seattle. We know that the plane eventually crashes, leaving them in the Canadian wilderness for 19 months. The Showtime series takes its time getting to the crash and introduces us to our soccer stars and their typical high school drama before their lives are turned upside down. This is almost frustrating since we know what is coming. But it pays off in the long run, as we're emotionally attached to them when things go bad.
The series could easily turn into a wilderness survival tale where the viewer watches alongside the girls to see who lives and who dies. Instead, they jump between the 1996 events of the crash and its aftermath, and 2021 when a few survivors show the results of their trauma.
Image via Showtime.
How The Two Plotlines in This Yellowjackets Review Answer Why It Sucks Us In
What seems to be the most divisive amongst Yellowjackets fans in their review is not the implied cannibalism, relationship drama, or survival tactics. It's the decision to split the story into two timelines. Some think that it's boring filler while we wait for the "good stuff" to go down or that it's unnecessary. But instead of an unneeded glance to the future, the series crafts an excellent post-trauma tale that could work as a show on its own. The 1996 storyline is just what pulls us in and gets us started.
Perhaps the most fun that we have with the 2021 timeline is how it gives us clues about what's to come in 1996. Characters namedrop other crash survivors, mention unnamed "others" and have terrifying flashbacks. It's like a puzzle that's begging us to put it together, and no matter how hard we try we'll always be missing a piece or two.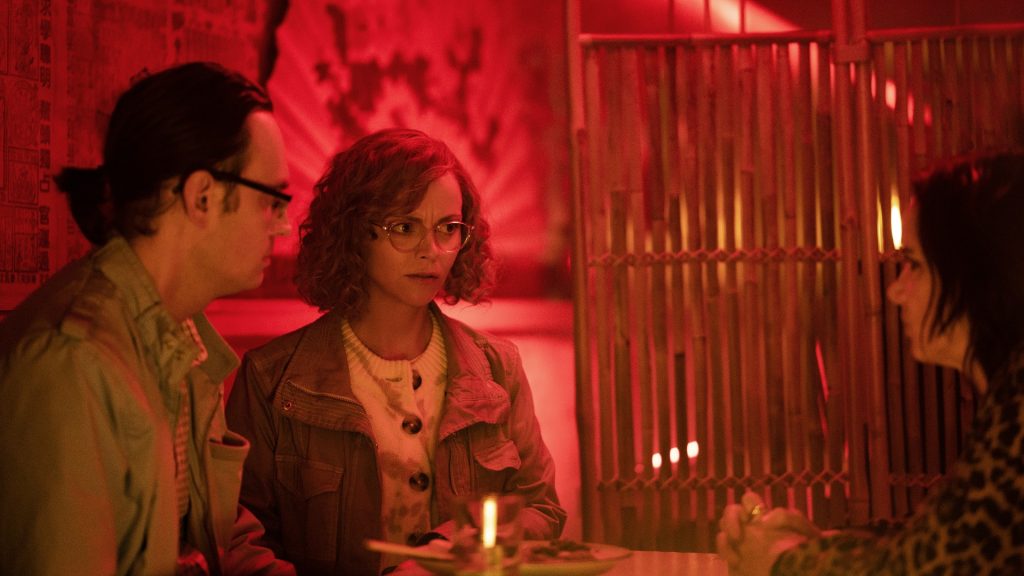 Image via Showtime.
The World Can't Resist a Dark and Creepy Tale
The world is attracted to morbid stories, and the reason why is similar to why everybody is obsessed with true crime. Studies have shown that it's in our nature to have strong reactions to tales that give insight into why people hurt others. And what's better than a slow burn series that slowly builds up to a crime that most of us can't ever imagine resorting to?
Any one of us could survive a plane crash, and watching Yellowjackets has us questioning what we would do if it were us. And of course, we'd never eat our best friends… But what if we had to? The show scratches that itch that we can't get away from. The one where we imagine ourselves in unthinkable scenarios, praying that it never becomes us.
Fortunately, Yellowjackets doesn't jump to all of this darkness in its first season. Despite waiting for the big reveal of who is leading these girls to darkness, it sets itself up for a multi-season show (it's already been renewed for season 2) filled with new twists in both the 1996 and 2021 timelines. After all, they were out there for 19 months. A single season would be cheating us.
Image via Showtime.
So, What Is It About Yellowjackets That Makes It So Popular?
We've already read Lord of the Flies and watched Lost or Flight 29 Down or any of the other plane crash stories that are out there. So, what is it about Yellowjackets that makes it the highest debut for Showtime since 2016? It doesn't have a 100% on Rotten Tomatoes for nothing.
The bulk of the praise comes down to stellar performances of both the 1996 cast and the 2021 cast. Standouts include Melanie Lynskey as the older Shauna, a survivor who looks meek but is perhaps the most fearless of them all. And then there's Sophie Thatcher, the teenage version of Natalie who goes from burnout to lifesaver. And everyone is blown out of the water by Christina Ricci, the adult version of Misty, who is a certified sociopath. We hate her, but Ricci makes it so damn enjoyable.
In addition to the performances, Yellowjackets also crafts a deeply haunting tone that's hard to stop thinking about. A lot of this is thanks to the score, which my Crave subtitles read as Everything consumes you while you watch, even when it's so uncomfortable that you want to look away.
Image via Showtime.
What Would Happen If Lord of the Flies Was About Women?
What would have happened if the characters in Lord of the Flies were women? This question has been asked in countless essay questions, online threads, and your everyday discussions. Type it in on a search engine, and you'll be hit with responses about how "girls wouldn't do anything to hurt somebody"  and that they'd be so much more organized. It doesn't take much reflection to realize that the real answers aren't as straightforward.
Talks about a female-centric Lord of the Flies being developed by Scott McGehee and David Siegal broke a few years ago. This had the internet questioning if two men were the right people to tell this story, considering how things would play out differently.
Thankfully, Yellowjackets has a diverse room of writers and series creators, and it shows. Everything feels realistic, from the armpit hair to the awkward tan lines and refusal to shy away from what would really happen if you had your period while fighting for your survival. These little details, mixed in with the dedication to world-building and character crafting, are part of why Yellowjackets is so popular.
Season One of Yellowjackets Is Available to Stream Now on Showtime.
It's rare that a television show hits so many different nails on the head. The answer to why Yellowjackets is so popular is because it has it all. It's a high school romcom, a survival story, a murder mystery, a thriller, and a horror all at once. You can't help but watch the teenagers and think if it's the last time that they'll ever be happy, but you also delight in watching them navigate the typical experiences of coming of age. It's just that most of us don't come of age in the middle of the woods, surrounded by threats.
Readers, we want to know if you agree with our review of why Yellowjackets is so popular. Did it suck you in as quickly as it did for us? Drop your thoughts in the comments and start theorizing with us about season 2 on Twitter.
Featured image via Showtime.
Meghan Hale is the kind of movie lover that has a "must watch" that is a mile long... and growing. When she isn't talking about the latest film and television news she is writing one of her many in-process novels, screaming film trivia at anybody who will listen, and working as a mental health care professional. Follow her on Twitter @meghanrhale for some fun theories and live reactions to all things entertainment.
Leave a comment