SPOILER: Why House Of The Dragon Changed This Character's Death?
Ryan Condal, House of the Dragon's showrunner, explains why they changed this character's death in Episode 6 compared to its book counterpart.
In the most recent episode of House of the Dragon, we've seen another major character death. But this death is a bit different from its source material. Showrunner Ryan Condal explains why they choose a different path for Lady Laena Velaryon's demise.
The Game of Thrones sequel chronicles the lives of the House Targaryen 200 years before the events of the original series. In this show we've seen Lady Laena Velaryon (Nanna Blondell), who was the eldest child and the only daughter of Princess Rhaenys Targaryen (Eve Best) and Lord Corlys Velaryon (Steve Toussaint). In Episode 2, Lord Corlys offered his daughter to be King Viserys' (Paddy Considine) new wife. But the king turned down this offer due to her youth. Back then, they talked about Vhagar, a she-dragon that would be pivotal to her demise.
In Episode 5, we've seen the start of the romance between Lady Laena and Prince Daemon Targaryen (Matt Smith). Their flirtatious encounter in that episode turned out to be quite successful. Following the 10-year time skip between Episode 5 and Episode 6, it was revealed that the two married and had two children. But tragedy struck while Lady Laena was giving birth to her third child. 
In George R.R. Martin's novel, Fire & Blood, Lady Laena's death was less spectacular than the show's. In the book, she died due to a fever three days after giving birth to a deformed son. It was believed that Lady Laena attempted to reach Vhagar to fly for the last time, but she collapsed on the tower steps.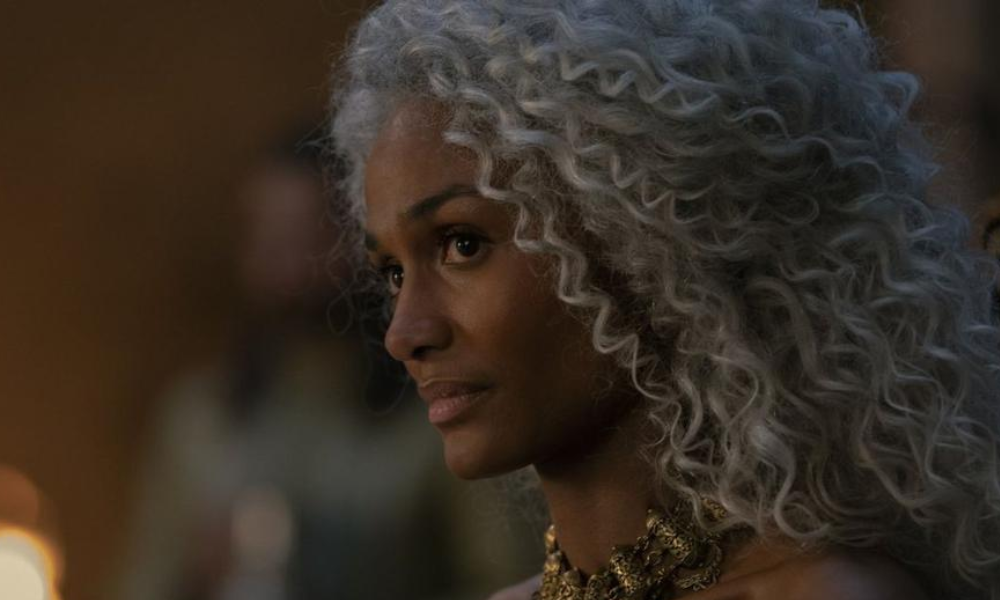 HBO
Why House of the Dragon changed her death?
In an interview with Variety, Ryan Condal talked about the changes they made in Lady Laena's death in House of the Dragon. He mentioned they wanted to give the character "a memorable" death, something that "felt active and in her character." This is in comparison to her uneventful death in the books. Read Condal's full statement below:
"Laena's a valkyrie. She's a dragon rider. We met that little girl back in Episode 2; that little girl went on a couple years later to claim the biggest dragon in the world. It felt like she wouldn't want to go out the way that the history book said. Unfortunately, because of the nature of the season and the storytelling, we didn't get to spend as much time as I think we would have preferred to with Laena. We had to keep the story moving. So we wanted to give her a memorable out that felt active and in her character. Even though we're only with Nanna Blondell's portrayal of her for a very brief time, within that moment, it tells you a lot about who Laena is and was."
Following what Condal said, they were giving Lady Laena a moving death that is according to her agency and will. He recounted our first significant introduction to the character when she was just a little girl. But despite her youth, she claimed to be a dragon rider of the largest living dragon in the world. 
HBO
If there's one thing Lady Laena's death highlighted in House of the Dragon, it is the deep bond between the dragon and its dragon rider. It was outstanding to witness how they humanized a dragon, making it convey emotions the viewers would feel. More so, the show explored Laena's strong personality despite her limited screen time. And when she commanded her loyal dragon to kill her and her unborn child through fire, she cemented her death as one of the show's most dramatic deaths. She died dragon rider's death, just like she wanted.
Episode 6 of the House of the Dragon is already streaming on HBO. 
Paul is many things. He's a fan of anime, superheroes, and everything in between. He dedicates his downtime to annoying the heck out of his cats and dog.
Leave a comment