Who is Black Krrsantan – The Book of Boba Fett Wookie Bounty Hunter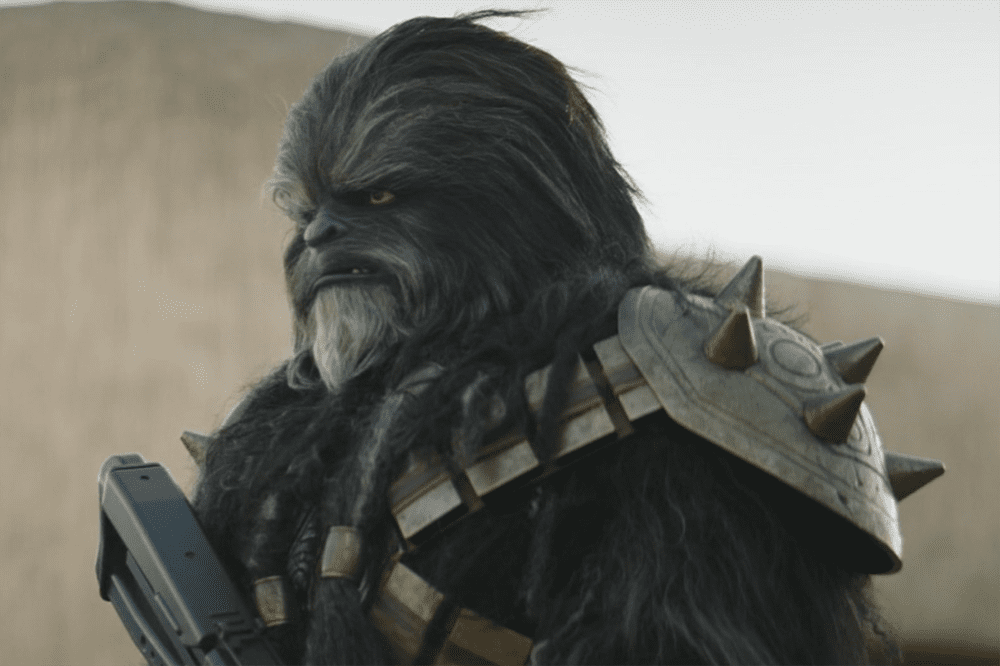 In Chapter Two of The Book of Boba Fett, casual Star Wars fans met a Wookie bounty hunter. Black Krrsantan, however, is no stranger to fans of the Star Wars comics. The feared and downright brutal bounty hunter is well integrated into stories with some of the franchise's top characters. From run-ins with Jabba the Hutt, Darth Vader, and Obi-Wan Kenobi, there's a long list of comics featuring Black Krrsantan. Let's explore who Black Krrsantan is in the Star Wars universe and find out what might be happening in The Book of Boba Fett.
Who is Black Krrsantan in The Book of Boba Fett?
Image Credit: Lucasfilm & Disney+
In The Book Of Boba Fett Episode 2, we really did get a little bit of everything. The second "chapter" included Hutts, expanded looks into Fett's past, and yes, Black Krrsantan. If you're wondering who Black Krrsantan is, then you're in the right place! In terms of the Book of Boba Fett, here's what the show revealed about this menacing character.
In "The Tribes of Tattooine," Black Krrsantan shows up as a defender of the "Twins." These twins are two Hutts, eager to see Boba Fett taken down. They believe they should run Mos Espa, the same territory Fett now believes he runs. Does anyone else see a showdown coming? Well, we know Hutts aren't much of fighters, so they reveal they have some help. Enter Black Krrsantan, a huge, scary Wookie with anger in his eyes.
There's clearly going to be a fight between Black Krrsantan and Boba Fett down the road. Given Fett's age, it's unclear how he'll fare. That said, even a younger combatant like Fennic Shand might even have some trouble. In his live-action debut, Black Krrsantan looks to be a terrifying presence for anyone in his way. From what we know of the character's journeys in the comics, that's definitely true canonically.
If you're someone who isn't too aware of Black Krrsantan outside of The Book of Boba Fett, then here's some background across the Star Wars media.
The Bounty Hunter's Run-Ins with Obi-Wan Kenobi and Darth Vader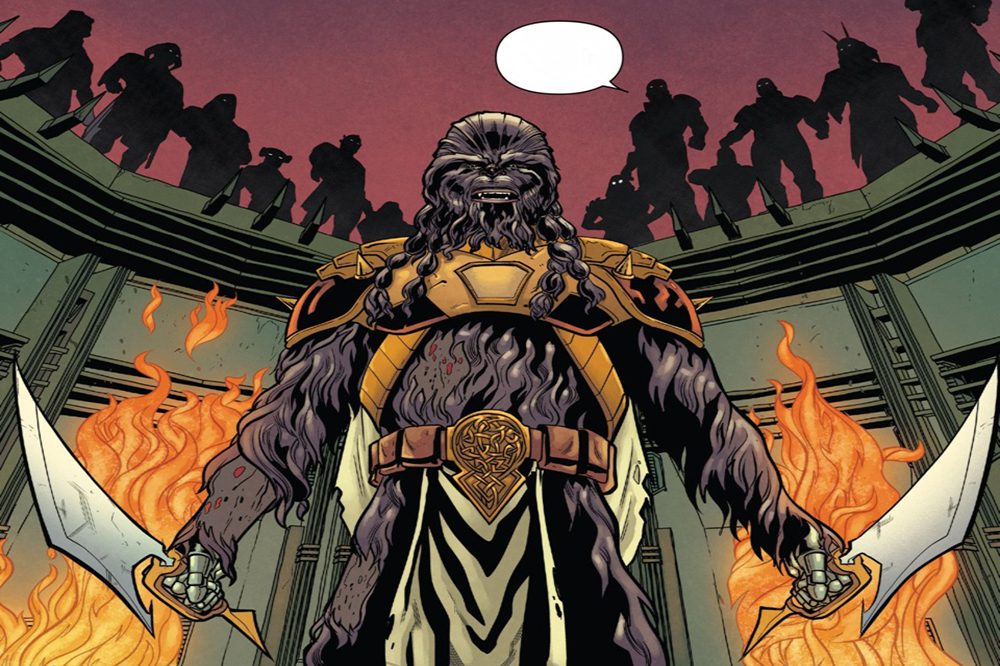 Image Credit: Lucasfilm & Disney+
Black Krrsantan shows up quite a bit in the post-Return of the Jedi comics. Exiled from Kashyyyk, he seeks out the Xonti Brothers, crime lords featured in the Star Wars series Doctor Aphra from Marvel. Later, the bounty hunter ends up working for none other than Jabba the Hutt on the planet Tatooine. While hunting down a local politician in 2015's Darth Vader comics, he actually takes Owen Lars hostage. That's the same Owen Lars seen raising Luke Skywalker – crazy connections, right?
That's not where they stop, either. Who shows up to defend Uncle Owen? Obi-Wan Kenobi! It makes sense, given his task of protecting Luke. Well, the interaction is a bit concerning given Black Krrsantan's ability to nearly best Kenobi. After eventually falling to Kenobi, however, Black Krrsantan flees Tattooine knowing Jabba will be angry with the job unfinished. From here, Black Krrsantan and Boba Fett are actually hired by Darth Vader in the villains' titular Marvel Comics series. Fett goes off to hunt Luke while our Wookie baddie gets after an agent connected to the Emperor.
Following his work for Vader, Black Krrsantan works for Doctor Aphra. If you're unfamiliar with Aphra, then I'd highly encourage you to read those Marvel Comics. They're extremely well-done, and she's a fascinating character. In short, she's a recruit of Vader who eventually falls out of his favor. For a while, Black Krrsantan is actually under her order. I hope we see her in the live-action form at some point. Overall, there's a lot of comic canon for The Book of Boba Fett to use.
Will Boba Fett and Black Krrsantan Face Off?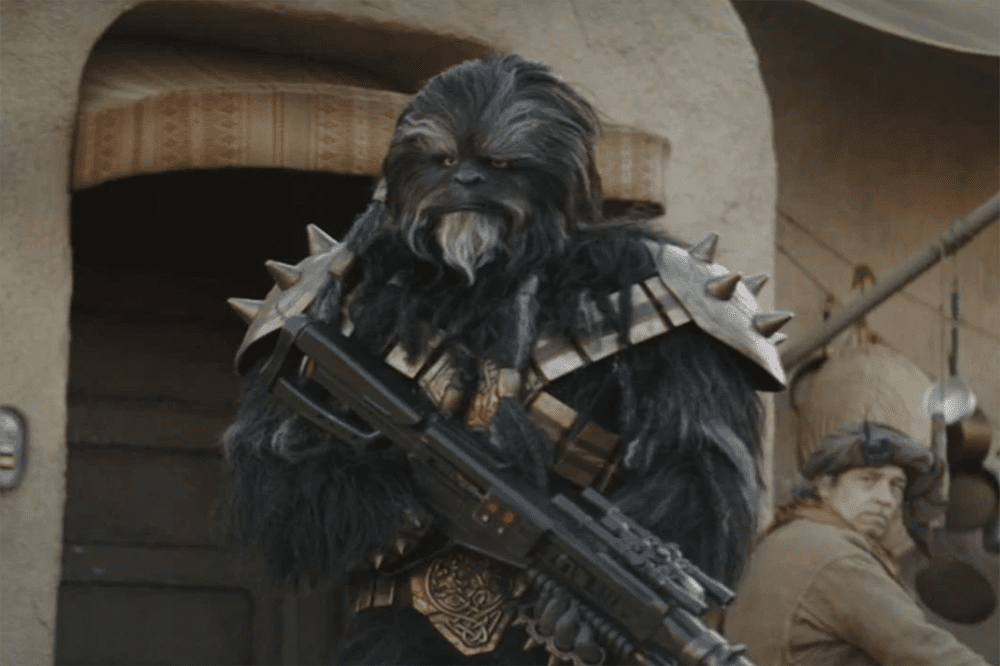 Image Credit: Lucasfilm & Disney+
Overall, the live-action Star Wars shows on Disney+ are following a format. Firstly, the shows introduce an antagonist in an early episode to add menace to a main character's story. Then, they return for a showdown. If the Twin Hutts are the main challengers to Boba's throne, then it's almost certain Black Krrsantan and Fett will face off. Given the comics' narrative, the show seems to set up that the Wookie and Fett have run into each other before.
I won't say that it's likely that Fett went on to work for Vader like in the comics. Given the Tusken Raiders arch developing on the show, it appears that live-action Fett took a different path. I'm sort of glad he did because the Tusken culture explorations are really great. That said, there's a chance that we might end up seeing Black Krrsantan show up in the flashbacks taking place. If not, then maybe they just hated each other from first sight. How romantic!
In short, we're almost certainly getting a Fett showdown with Black Krrsantan. I think the eventual payoff in The Mandalorian and villain Moff Gideon was really great. While it doesn't appear that The Book of Boba Fett will carry this over to another season, that means we're getting a fight sooner than later. With only seven "chapters" in this first season, we have five episodes to see this play out.
Stream The Book of Boba Fett Chapter 3 on January 12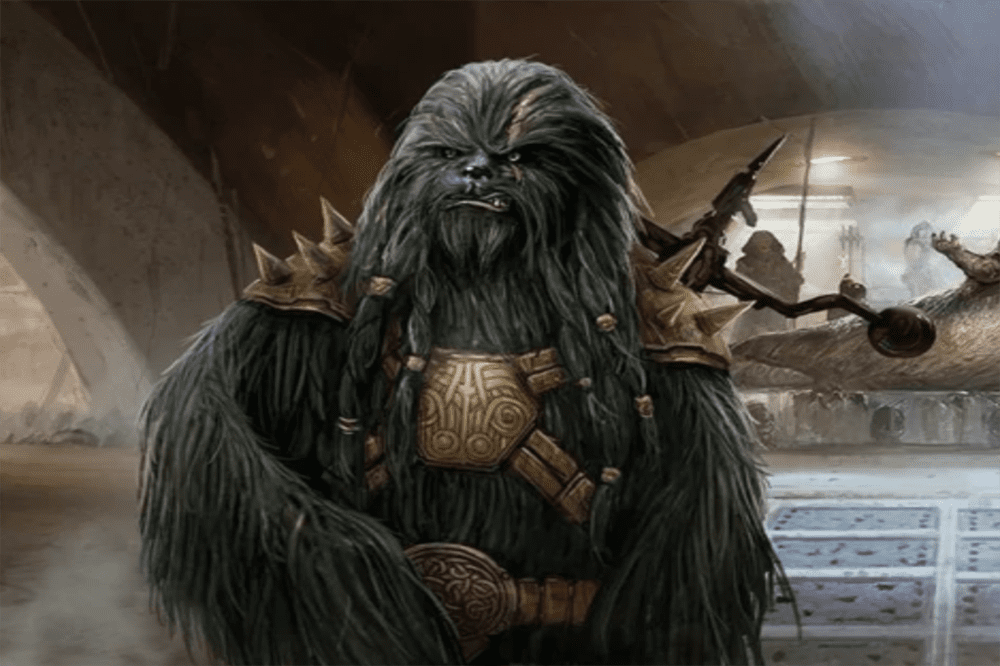 Image Credit: Lucasfilm & Disney+
You can stream The Book of Boba Fett on Disney+. Chapter 3 will arrive on January 12th on the streaming service. If you have thoughts on the second episode, then make sure to share them in the comments. We will almost certainly be seeing more of our beloved Wookie bounty hunter. If you have some predictions for him, then drop them in the comments!
Again, I can't recommend diving into the comics enough. The 2015 Darth Vader series and the many Doctor Aphra runs give us lots of Black Krrsantan. Here's hoping that Jon Favreau uses some of that content in The Book of Boba Fett.
Speaking of, keep reading Comic Years for more on The Book of Boba Fett, Star Wars, and all things comics and pop culture.
Image Credit: Disney+
Taylor is the Gaming Editor of Comic Years and a lifelong fan of video games. He holds two degrees in Political Communication and wrote a Master's Thesis on resistance movements, race, and the exploitation of college athletes. His wife and two Toy Australian Sheppards keep him sane.
Leave a comment