Who Is Arthur Harrow – Moon Knight Disney+ Series Character Guide
The Disney+ series, Moon Knight, premiered on March 30 so I wanted to look at some of the major characters in the story. The series focuses on a mercenary named Marc Spector (played by Oscar Isaac), who later becomes the superhero (some might call him an anti-hero), Moon Knight. Spector suffers from multiple personality disorder, which usually presents as having at least two distinct personalities and memory issues. While most Marvel fans might not be familiar with Moon Knight and the supporting characters, this post is here to help! Today I'm wondering: who is Arthur Harrow and what is the history of Arthur Harrow in Moon Knight?
Who Is Arthur Harrow And What Is His Role In Moon Knight?
Image via Disney+
Arthur Harrow (who is played by Ethan Hawke in the Disney+ series) is a religious cult leader who is associated with the Egyptian god Ammit. For context, Ammit is a demoness (or sometimes called a goddess) who was known as the "devourer of the dead" and had the forequarters of a lion, the hindquarters of a hippopotamus, and the head of a crocodile. She would ask riddles and devoured the souls of those who answered wrong and were deemed unworthy of the afterlife. Hawke said that inspiration for the role came from David Koresh, a leader of the Branch Davidians religious cult, and if the trailer tells us anything, Hawke does the role justice. Fans got a glimpse of his followers parting a path for him and worshipping him as a god. Hawke's Harrow is the antagonist to Marc Spector and he appears to seek evil and darkness as a way to power. In the trailer, we hear him say, "There's chaos in you. Embrace the chaos." 
While it doesn't appear that Harrow has any mystical powers in the series, in the comics he's blessed with a genius intelligence, and his work as a surgeon and scientist is nominated for the Nobel Prize. In the Disney+ series, he could gain mystical powers from Ammit since Spector gets powers from Khonshu. 
A History Of Arthur Harrow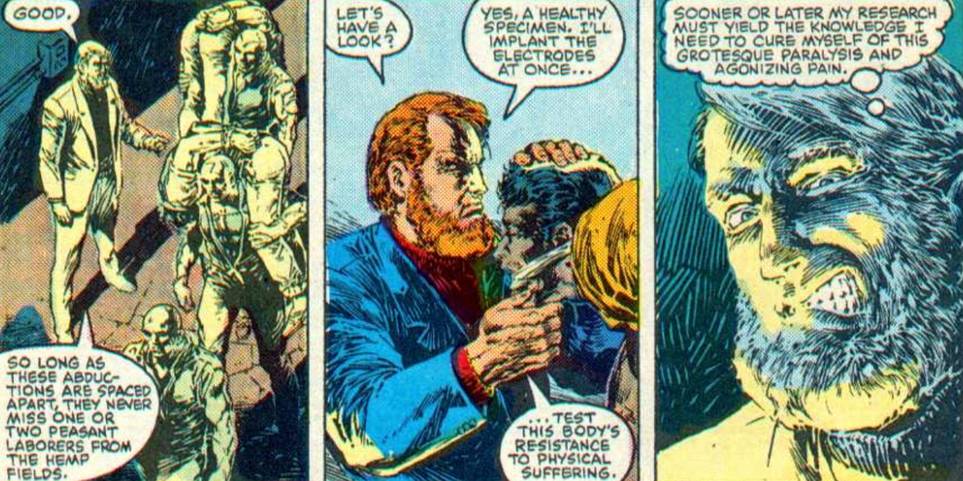 Image via Marvel Comics
The character of Arthur Harrow was created by Alan Zelenetz and he first appeared in Moon Knight #2 in April of 1985. As mentioned before, he was a surgeon and scientist who had genius intelligence in the comics; he was not affiliated with any religious cult. He suffered from trigeminal neuralgia, a condition that paralyzed the left side of his face. It resulted in his mouth being pulled into a permanent snarl and caused him a lot of pain. 
In the comics, Harrow is affiliated with the secret think tank organization known as O.M.N.I.U.M. (it's not known what the acronym stands for). He came upon their radar because of his work in the field of pain theory, which he was nominated for a Nobel Prize for. His colleague, Dr. Victoria Grail, grew suspicious of his successful experiments and thought he was testing on humans even though his papers all said he was only working with animals. She later found paperwork that seems to connect him to older experiments that had been carried out in Auschwitz, so the Nobel committee sent her to Mexico (where Harrow was supposedly working) to find out more and report back. 
Around the same time that Dr. Grail headed out to Mexico, Spector was driving when the Priests of Khonshu appeared before him and caused him to crash. The priests sent him visions of Harrow, Dr. Grail, one of the test subjects, and a pyramid. Spector realized that he needed to go there and save Dr. Grail and the test subjects, so he headed to Mexico too. O.M.N.I.U.M. tried to kidnap Dr. Grail, but Moon Knight came to save her just in time. Together, they realized that they were both looking for Harrow. Eventually, they found the job and discovered Harrow with his human test subject. They tried to catch him, but unfortunately, some of Harrow's test subjects stopped them and the scientist was able to escape in a helicopter. It's unclear what happened to Harrow after that, but the plot ended with Harrow being contacted by an O.M.N.I.U.M. chief, who said he could continue his experiments in Paraguay. 
Is Hawke's Harrow the post-comics character? After he escaped Mexico did he become a cult leader? Luckily fans can watch Moon Knight starting today so the mystery can be answered eventually! 
Moon Knight is currently streaming on Disney+.
Do you feel like you have a better sense of who is Arthur Harrow? Is there anything else in Arthur Harrow's history that I missed out on? Let me know in the comments below! 
Featured image by Alberto E. Rodriguez via Disney
Leave a comment