Werewolf By Night timeline Explained
We finally have an answer on the Werewolf By Night timeline. The television special serves as a bizarre Halloween horror special from Marvel Studios. It begins with a stylized painted fresco of The Avengers. We're all familiar with certain incidents that happened in the world of light, but nobody ever talks about the world below, where Werewolf's story takes place, according to a voice-over. The narrative then shifts to a tale of monsters, including new additions to the Marvel Cinematic Universe. The show received good reviews from fans and critics alike.
Collider's interview with the director about Werewolf the Night timeline and location inside the MCU. Many have been wondering where the new Halloween special fits in with the timeline of the rest of the MCU, especially since the character has comics ties to other recently introduced heroes. The Halloween special, the first of its kind for Marvel, stars Gael Garca Bernal as Jack Russell, one of many people gathered at a mysterious manor under the pretense of competing for a great and deadly premise.
Source: Den of Geek
Michael Giacchino worked on Up and Ratatuoille explained the Werewolf By Night timeline
In the lengthy conversation, director Michael Giacchino—who is better renowned for his compositional work on movies like Up and Ratatouille—discussed the special's timetable in some detail. He talked about the sources of his own inspiration for the special and why those were more important to him than the idea of tying the hour-long story into anything that the MCU has recently released involving characters like She-Hulk, Shang-Chi, or anyone else.
Physically and narratively, Werewolf by Night differs greatly from the rest of the MCU. The fresco-style is a rather oblique approach to answer whether the events in the novel take place within known MCU canon. The hour-long Disney Plus mini-movie feels like it exists entirely in its own world because they shot in black and white. Right out of a Hammer horror classic, the show features ridiculous violence. The MCU has established the Multiverse and several realms where anything is possible over the past few years.
"We never had that discussion. We never talked about what this meant for past, present, or future within the Marvel Universe. The one thing we all agreed on is it takes place within the Marvel Cinematic Universe. Yes, it's in there. We never say when, how or why. That was a big choice that we just said… I felt like they have done so brilliantly this whole interweaving connecting world between all of these characters over the past how many years. And I didn't know how to improve upon that. I didn't know how to make that better or bring something new to that."
The director also discussed the freedom Marvel gave him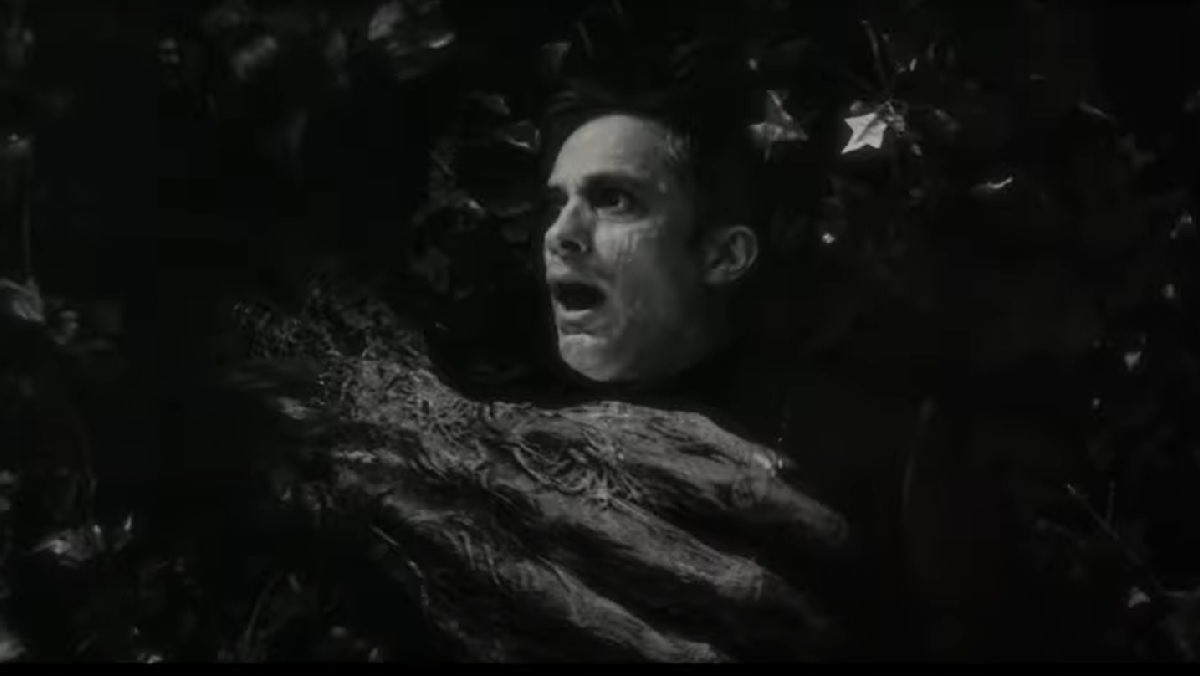 Source: DiscussingFilm
Beyond talking about the Werewolf By Night timeline, Giacchino talked about how he developed the story. The filmmaker claimed that Marvel offered him a lot of latitude to experiment with the characters of Jack (Bernal) and Elsa (Laura Donnelly.) He added hat any related movies or events did not constrain them.
"So I was like, "Well, let's just bring these guys in and let it just be a self-contained story." I kept referring to it as, think about this as an episode of The Twilight Zone, and we're going to get this story and this story alone one night in the life of Jack and Elsa, and let's concentrate on that. Then from there, who knows? We'll see what we do… we'll see where it goes. We'll see how we play it all out. But I didn't feel the need to worry about any of that at this point. And they certainly weren't mandating that I did, which I love that I thought that gave us a freedom to do something different and do something new."
If Werewolf by Night's MCU timeline placement is going to become a much bigger deal, it'll all come down from this film. Marvel Studios has not confirmed any additional appearances for Jack Russell or Man-Thing yet but they are expected back in some capacity so far as Blade movie with Mahershala Ali has long been seen potential place where those characters could return after being featured heavily throughout Phase 5 so far.
Make no mistake, Werewolf fans: if the characters from Werewolf by Night are returning to the Marvel Cinematic Universe, then the timeline is about to get a whole lot more complicated. The last time we saw them, they were caught in the middle of a war between vampire tribes. Now, it seems they'll be playing a pivotal role in shaping the future of the MCU. So buckle up, because it's going to be one bumpy ride!
Leave a comment