WandaVision Episode 7 Spoiler Review – It's Cinematic Universe Time, Folks!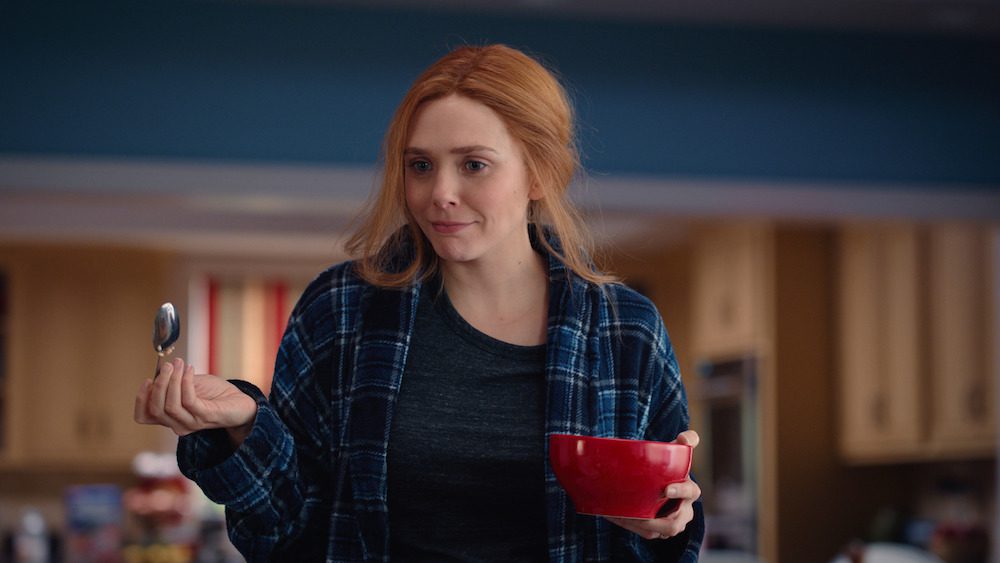 Remember the days of thriving movie theaters and Marvel cinematic releases where you would need to avoid the internet for days to avoid spoilers ahead of a big premiere? There would be a rush to get tickets on opening night so that you could consume the latest film right away, making it impossible to stumble upon every intimate plot detail accidentally. Well, now that the MCU has entered the world of television, this spoiler-avoidance and rush-to-the-screen mentality happen every single week. Episode 7 of WandaVision is finally here, and this installment has given us even more to think about.
This recap and review of WandaVision episode 7 will contain spoilers. So, please take a look at our recap of WandaVision episode 6 to remind yourself where we left off. Bookmark this page and return to it later if you haven't gotten a chance to stream the new episode.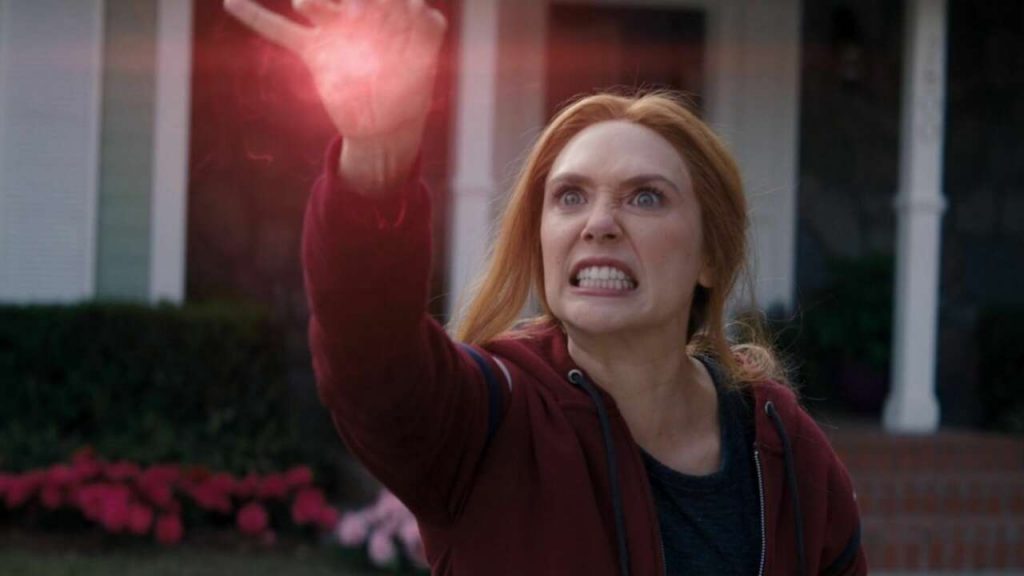 Image via Disney+.
WandaVision Episode 7 Recap – Modern Family of Horrors
Have you ever woken up in the morning after a big night out and just known that you'd need to take the day to yourself? Maybe you got up to some trouble or enjoyed your evening a little too much. Either way, there is no shame in a good old fashioned me-day! Though, if you're Wanda Maximoff, this type of "hangover" follows a major use of powers. Wanda's hex has grown, and things are getting a little out of control. The weirdest part of it all? She's not too bothered. It's her time to rest, after all.
Fortunately for Wanda, Agnes swoops in and offers to watch the twins, Tommy and Billy, for the day. This gives her the chance to lounge around in her pajamas, eating cereal and watching television. It sounds like a pretty lazy afternoon to us, and we couldn't be more jealous! Despite Wanda's mundane plans, it seems to come at a pretty odd time in her routine.
Wanda And Vision, Separated Again in WandaVision Episode 7
As Wanda deals with an overworked and overwhelming lifestyle, Vision is off trying to hunt down the truth. Remembering Darcy from his brief time outside of the hex, Vision finds the doctor, who is now inside with him. It doesn't take long for him to help her remember the truth, and the two are more than ready to share everything they know with each other.
Darcy and Vision are consistently bombarded with interruptions on their drive back to town. From road work to dozens of children crossing the street, Vision is convinced that Wanda is trying to keep him away from her. This doesn't sit well with him, and he eventually gears up to fly back home. (Only after realizing he was still "playing along" with the sitcom elements of the episode.)
Meanwhile, Darcy's gang outside of the hex continues to find ways to beat Hayward to Wanda. We know that Hayward is ready to launch something right away, but we spend little time with him. And thank goodness for that, because one second is too many when we have few precious minutes per episode. (There's still hope that the final two WandaVision episodes will be longer.)
Monica and Jimmy learn more about Hayward's evil plan, Cataract. They officially confirm what we have been predicting all along, which is that S.W.O.R.D. had ulterior motives with Visions' corpse, wanting to bring him back to life and utilize him as a weapon. This intel only fuels Jimmy and Monica even more, as they hope that it will help set the fire that Wanda will need to come back to her regular self.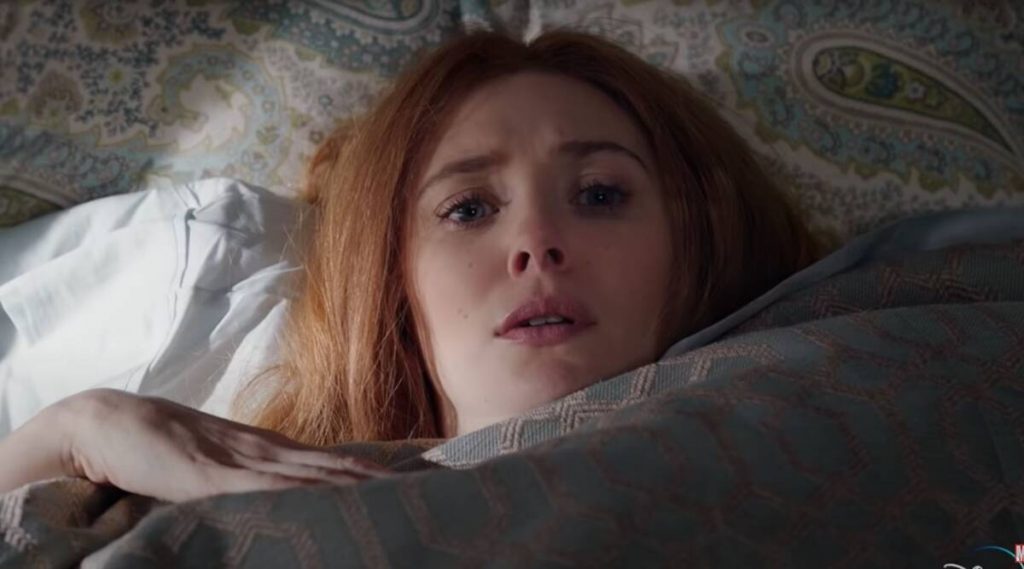 Image via Disney+.
All Monica Is Missing Is The Super Suit
Darcy had previously warned Monica about going into the hex again, as it can have dangerous and unpredictable effects on your body and mind. Willing to take the risk, Monica rushes through the hex after a failed attempt to drive through. As anticipated, this messes with her regular functioning. Though, it appears to be benefitting her, as she now has some heightened vision, moderately increased strength, and pretty piercing eyes. She can see beyond the visual spectrum of light, signaling that her transformation into Photon is underway.
Determined to beat Hayward to Wanda, Monica rushes up to her and wastes no time trying to warn her. While initially angered at the ambush, Wanda eventually starts to come around to Monica's pleas to remember who she is and deal with trauma she experienced. However, before she can truly break through, Agnes shows up. Oh, Agnes.
Okay Google, Add "Agatha All Along" To Every Playlist I Have
The true identity of one resident, Agnes, has been a big topic of conversation for fans since the series released its first episode. The name was enough to get us wondering if Kathryn Hahn's character would end up being Agatha Harkness, a notorious villain in the Marvel comic books. And, sure enough, the predictions were true. Agnes re-introduces herself to Wanda as Mrs. Harkness and even tells her that there is more than one "magical girl in town."
In what may be the most cheerfully terrifying scene in the MCU thus far, we get to watch a campy credit sequence of Agnes' making. "Agatha All Along" plays as we see Agatha influencing Westview to her liking throughout various moments of the show, including Pietro/Peter's arrival. This plays after Agnes/Agatha puts a spell on Wanda, making the tone even more threatening.
Prior to the end of the episode, we're given a special treat that we have come to expect in the Marvel Cinematic Universe. Yes, that's right – it's a mid-credit scene! We see Monica refusing to give up as she looks for Wanda. Before she can go down to the basement that holds Agnes' lair, Evan Peters catches her in the act.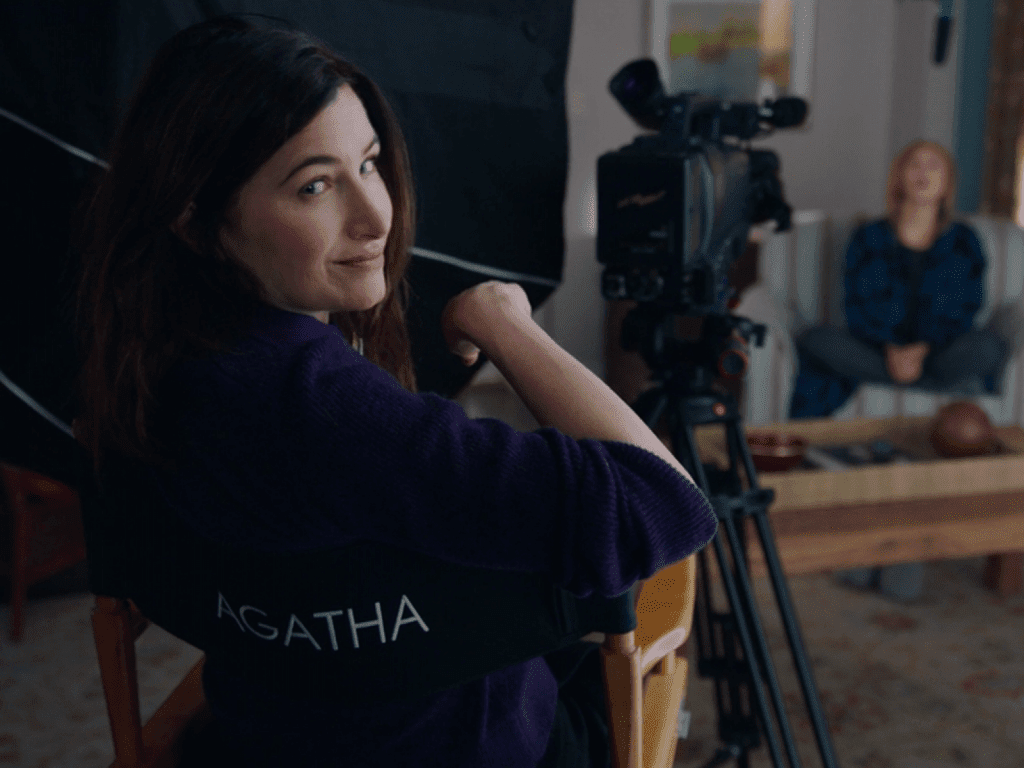 Image via Disney+.
Agatha, Agatha, Agatha – Why Are We Not Surprised?
For those non-comic book readers out there, the identity of Madame Harkness might be confusing to you. (And don't worry, I'm right there alongside you!) So, let's give a quick recap of this classic Marvel witch.
One of the original witches from the infamous Salem Witch Trials, Agatha Harkness has been around for quite some time. She made her comic debut in Fantastic Four #94 and is introduced as Franklin Richards' governess.  We later learn that her true powers are far beyond that of many other villains in the Marvel world, as she can use "chaos magic." Though, unlike Wanda, she has an awful lot of control surrounding her powers and is considerably more powerful because of it.
Beyond being a pretty strong lady, Agatha also has a lot of ties to Scarlett Witch. An Avengers: West Coast plot from the late 80s (and later in 2004 and 2005), Agnes takes the memory of Tommy and Billy away from Wanda. This is to prevent her from going up against Mephisto, a Big Bad (and the literal devil) in the comics. In response to the trauma (remind you of anything?), Wanda kills Agatha.
There is plenty of backstory behind Agatha Harkness. And while having a deep understanding of the comic books may help you understand the character, we're sure that it won't hurt your ability to enjoy whatever WandaVision does with her next. As we all know, the MCU has nearly perfected its ability to cater to comic book fans and casual fans alike.
WandaVision Episode 7 Brings Lieutenant Trouble Back
While a lot of this episode focuses on Agnes and her relationship with Wanda, the clear change in Monica going forward is something that can't be missed. This woman is clearly fearless, and up for any challenge, so it will only help that she now appears to have powers of her own. Now that Wanda and Monica are under Agatha's spell, we're eager to see how the pair can break out of it together. Also, it will make Monica an interesting addition to Captain Marvel's team in that character's sequel.
Vision Is The Threat Agnes Needs Going Forward
As mentioned earlier, Vision was worried that Wanda was trying to keep him away. Now that we know more about Agnes's consistent interruptions, we aren't sure that Wanda was trying to do this. Why would she create an entire world where she can spend eternity with Vision if she is willing to go days without him?
It's Wanda and Monica that are trapped. Plus, if those darn kids don't stop crossing the road, Darcy might be out-of-pocket for some time, too. This means that it's up to Vision to save the day. But how will he know where to look? Our group of powerful women is more than capable, but they might need some assistance getting back to their regular selves. We suspect that the upcoming episode might focus on Vision's hunt to give Wanda a hand.
Image via Disney+.
It's All Trauma, All Of The Time
WandaVision simply doesn't work if you ignore the trauma that has been brewing in Wanda's life. While the entire series has been an exploration of her grief and experiences, episode 7 of WandaVision takes this to an entirely new level. We can finally see the fallout of her experiences manifesting in a new way. She is lethargic, desperate for rest, and refuses to do anything that might change her mood. This looks a lot more like how we're used to seeing bad days play out. Even superheroes need some time on the couch, and we more than understand that.
Not only does Wanda's overall mood tell us more about her experiences with grief, but the advertisement does, too. Seriously – this episode features an ad for antidepressants. How more on the nose can you be?
The antidepressants in question are called Nexus. Sound familiar? NEXUS is the name of the internet hub featured in Avengers: Age of Ultron that Tony Stark himself hacks into to uncover JARVIS's scattered consciousness. Though, the appearances of Nexus in the comics are even more telling of what path WandaVision might be going down. Here, Nexus exists as a gateway through dimensions so that you can enter different realities. Considering how this entire show has been Wanda's desperate attempt to create her own reality, we think that Nexus might help out with that.
Image via Disney+.
Wanda Is Almost Ready For That Grief Therapy
Had Wanda stumbled upon the gateway to a new dimension earlier in the series, we're sure that she would have taken it. Anything to get out of the living Hell that she has been going through since the passing of her true love, her brother, and her parents, right? Despite all of the chaos that has gone on, Monica managed to break through, even if momentarily. This shows us that Wanda is ultimately on her way to accepting that what she has done is wrong and that she needs to face the facts of what has happened to her.
This episode has made it clear that Agatha Harkness is one of the real villains of WandaVision. And while we can't wait to see what she can conjure up, we know that deep down, the biggest villain of all is Wanda's own internal conflict. It is the core of everything that happens in Westview and has more than enough potential to wreak havoc elsewhere, too.
Readers, we only have TWO more episodes to go before WandaVision is up. It's time to make some final predictions and start talking about where we think this show will lead us. Based on our recap of episode 7 of WandaVision, what do you think is next? Let us know in the comments or on social media.
Featured image via Disney+.
Meghan Hale is the kind of movie lover that has a "must watch" that is a mile long... and growing. When she isn't talking about the latest film and television news she is writing one of her many in-process novels, screaming film trivia at anybody who will listen, and working as a mental health care professional. Follow her on Twitter @meghanrhale for some fun theories and live reactions to all things entertainment.
Leave a comment