WandaVision Creators Met With Dick Van Dyke For Sitcom Inspiration
It hasn't been that long since WandaVision aired on Disney+ and captured our hearts. We loved getting a more intimate view on these two underserved Avengers. The ambitious series was a brand new concept for the MCU, utilizing a sitcom format as a way for Wanda to process her grief and trauma. Each episode riffed on a different (or a couple of different) sitcoms from throughout the years. This format allowed for some wildly experimental and funny episodes, even as the series dealt with some heavy subject matters.
Getting Advice From Dick Van Dyke Himself For WandaVision
Image via Disney+
In a recent cast interview with Deadline, showrunners Jac Schaeffer and Mat Shakman revealed that they had met with Dick Van Dyke for tips on how to approach the world of sitcoms. The first episode of WandaVision did a riff on the legendary Dick Van Dyke show, and turning to the man himself gave them the best approach for the episode.  Turns out, the key was a live studio audience.
"He said, if it couldn't happen in real life it couldn't happen in the show," Shakman said. "Carl Reiner would gather everyone around the table on the first day of rehearsal each week and say, so what happened this weekend? He would take it all down and put it in the show. That left room to trip over ottomans and be silly but emotionally engaged. Everyone believed in that relationship between Mary Tyler Moore and Dick Van Dyke as a couple. That's what we needed too."
Filming In Front Of A Live Studio Audience For WandaVision
Image via Disney+
Schaeffer and Shakman also spoke about how thrilling it was to film in front of a live studio audience. This was something entirely new for them, and for the MCU. It was a big risk that definitely paid off.
"They did it in front of a live studio audience but they didn't go back like we do today on modern sitcoms… back then they did it like a play," Shakman says. "They rehearsed it. Curtain up, and the laughter you hear was the laughter in the audience. And they were done. It had a real lightning-in-a-bottle feel. We did that for our first show. You are holding hands and jumping off a cliff."
Elizabeth Olsen spoke about how the process felt like 'jumping off the deep end and learning to swim.' And that relying on her fellow actors felt like a big 'trust fall.' She also says that once the 'fourth wall' came up in episode 2 – and the live studio audience disappeared – there was a real feeling of becoming an 'ensemble cast.' The way that she, Bettany, and Kathryn Hahn who played Agnes/Agatha stayed consistent throughout the episodes was by focusing on one another, instead of the rapidly changing time periods of the show.
What Will Become Of Vision?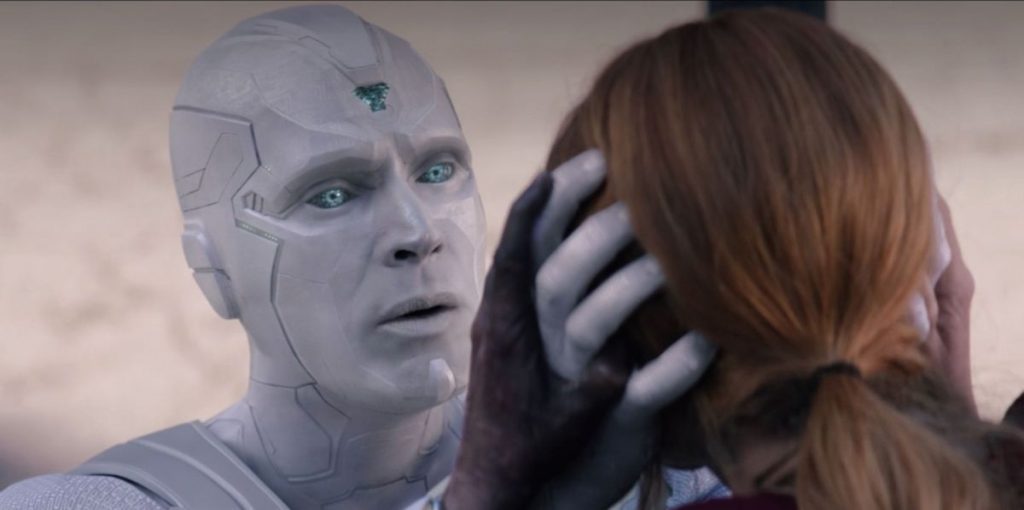 Image via Disney+.
The end of WandaVision left the fate of Paul Bettany's character up in the air. Will he return to the MCU in another form? Or is this the end of Vision as we know it? In the interview, Bettany discussed his uncertainty on whether or not he will return to the Marvel Cinematic Universe as Vision. But if this is the end for Vision, he is grateful to have had this experience with WandaVision.
"It was a beautiful culmination for all these things Lizzie and I have done together," he said. "We really found a lane for ourselves, and this was different in tone from those movies. But you never know with Marvel, whether you're done, or not. So I don't want to call it the end yet. This was one of the most creative experiences of my life, joyful and free, making this show. To see it embraced by an audience the way it was, was so wonderful."
Image via Disney
WandaVision is of course still streaming on Disney+ and if you're itching for a rewatch, make sure you follow along with our weekly Comic Years podcast episodes that we recorded after each episode aired. Listen today and see how many of our theories came true.
And for more genre news and reviews, be sure to follow Comic Years on Facebook and Twitter today!
Emily O'Donnell is a writer and photographer with roots in some of the earliest online fandoms. She cut her genre teeth on the Wizard of Oz books at the tender age of 6 years old, and was reading epic adult fantasy novels by the age of 10. Decades later, she still consumes genre fiction like there is no tomorrow. She is delighted to be living through the golden age of sci-fi and fantasy popularity. She is unashamed of the amount of fanfiction that still lingers online under her name.
Leave a comment