Vilgefortz – Witcher Season 2 Deleted Scene Changes
Season 2 of The Witcher has garnered a lot of attention for both being pretty enjoyable and straying from the stories of the books and games with the inclusion of the Undying Mother Voleth Meir. In terms of a fantasy show, it was a lot of fun, but there were some moments and plot points that felt a little rushed to get to things that were decidedly cooler. There's a lot of swords, running, and monster murder, which sometimes came at the expense of more expository scenes that got cut. This recently revealed Witcher Witcher season 2 deleted scene gives a little more context into why the Brotherhood suddenly turned on Yennefer. 
Vilgefortz of Roggeveen is a Mage of the Brotherhood of Sorcerers
Image via Netflix
The scene shows Vilgefortz and Stregobor having a conversation that has the same flavor of tension that made the intrigue in early Game of Thrones work so well. The conversation is level in tone but still extremely threatening. It's a little strange this scene was cut because it's a pivot point for the series as a whole so far. Stregobor has consistently been kind of an evil dude from the first time he meets Geralt through most of his interactions with anyone. He wanted to dissect Renfri after GEralt killed her and her gang, earning the name Butcher of Blaviken. And now he doesn't trust Yennefer, outwardly because of her elf blood, but this scene reveals there's more to it. 
This season added a few more things than major villains and shifts in characterization. There's also a new taboo on fire magic, which is now considered incredibly dangerous. But after wiping out much of Nilfgaard's army at Sodden in the climax of Season 1, Yennefer is seemingly untouched by the fire magic that should have destroyed her. So Stregobor wants to finish the job and is working on manipulating the rest of the Brotherhood into getting that done. 
Why This Scene Shouldn't Have Been Deleted from Witcher Season 2
Spoiler alert for The Witcher books, games, and potentially the show if it follows the same plotlines. 
Image via Netflix
So Vilgefortz is one of the major villains of the whole Witcher series. He's constantly playing both sides in the Nilfgaard vs. everyone else conflict, and he knows exactly what Ciri is in terms of her bloodline. Vilgefortz has been working with Emperor Emhry since before he even seized the throne, which makes this scene really important in context because Vilgefortz looks totally genuine while accusing Stregobor's protege (Instredd, one of many people in love with Yennefer) of being too entrenched with Nilfgaard. 
In context, Vilgefortz, the man who has been secretly partnered with the Emperor of Nilfgaard and playing both sides this whole time, is accusing a political rival of being too closely allied to the exact same people. It has the same energy as a lot of the early tense conversations with Littlefinger in Game of Thrones, but The Witcher isn't Game of Thrones, and it shouldn't be. But that doesn't mean it needs to depart from political intrigue entirely, particularly with characters like Vilgefortz who are defined largely by the things they do when they aren't flinging swords around willy nilly.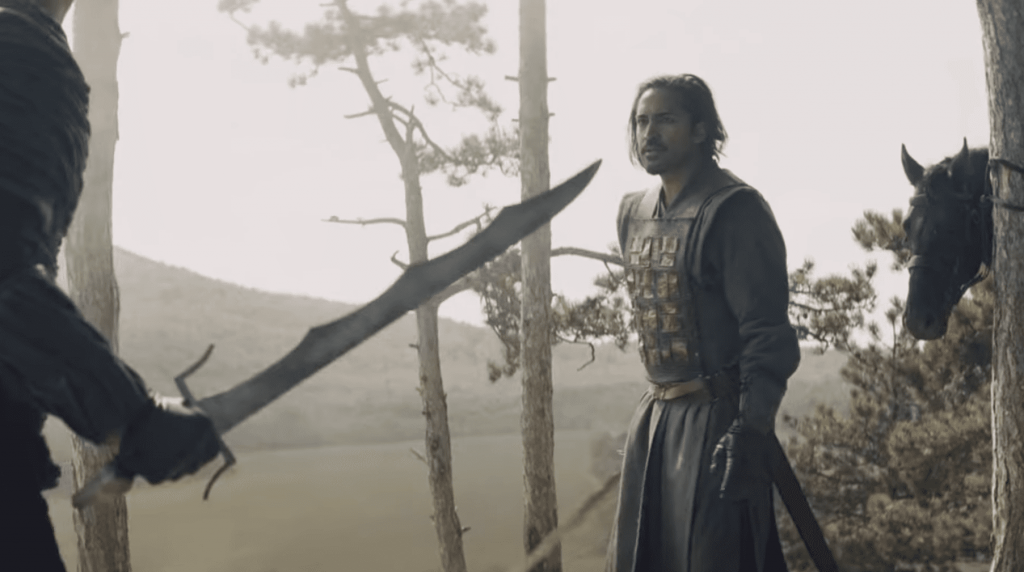 Image via Netflix
Why They Likely Cut the Scene from the Netflix Series
The Witcher season 2 had a very different pace and feel from season 1. First, things happened chronologically, which was for many fans a welcome change. Second, the stakes started out higher. In season 1, Geralt is usually just a professional monster killer trying to avoid, find, or protect a child he accidentally became responsible for. Sure, there's a whole invasion going on and cities are burning, but mostly he's just a dude with multiple swords, a friend who sings his praises, and a kid he has to find. 
Image via Netflix.
Season 2 escalates. Conflicts are more along the world-ending level, and that does fit with a lot of the later stuff with Ciri, but this was still a significant jump that made this season need to get busy adding things instead of continuing where season 1 left off. We had to learn that Yennefer lost her powers, that Nilfgaard is reeling from losing a huge chunk of its army, that a whole parade of people are after Ciri and also Yennefer, and then we still had to learn everything about the new Big Bad. That's a lot, and getting all that done naturally came at the cost of some of the moments that may have added depth to any of those various plots. This deleted scene is a nod toward how closely Vilgefortz is playing things, a nod that would have had a big payoff when it's revealed he's been working for Nilfgaard and seemingly through the match when he faced off with Cahir in season 1. 
The Witcher season 2 was good, but deleted scenes like this show how it could have been a lot more. In terms of fantasy tv series, it's enjoyable. The cast is fantastic, with Henry Cavill being a casting decision as perfect as Robert Downey Jr. as Ironman. But season 2 could have had more to it, and learning about deleted scenes like this reveals how much good material there was, and how much we hope will be kept when season 3 rolls around. For more on what went into the making of The Witcher season 2, check out this interview with Lauren Hissrich or watch The Witcher: Unlocked! 
You can find The Witcher season 2 on Netflix out now! 
What were your thoughts about The Witcher season 2, and what do you hope to see in season 3? Tell us in the comments
Featured image via Netflix
Jessica Kanzler is a freelance writer and editor who lives with her wife and cats. Jessica has bad taste in tv and an MA in Rhetoric, Writing, and Digital Media studies. Talk to her about Frasier on Twitter @Jessicaakanzler
Leave a comment