Tom Hiddleston Hints At Loki Logo Meaning In Interview
Tom Hiddleston hinted at the Loki logo meaning in an interview with Empire magazine and said that it plays an important role in the character's multifaceted identity.
I think that shapeshifting logo might give you an idea that Loki, the show, is about identity, and about integrating the disparate fragments of the many selves that he can be, and perhaps the many selves that we are. I thought it was very exciting because I've always found Loki a very complex construct. Who is this character who can wear so many masks, and changes shape, and seems to change his external feeling on a sixpence?
The mischief maker returns. Tom Hiddleston graces the cover of Empire in a WORLD EXCLUSIVE – giving the first word on #Loki and reflecting on his career so far in a major new interview, with a shoot by Steve Schofield. On sale Apr 15th. Order online here: https://t.co/zS4dZRZEmz pic.twitter.com/5VKDhjuX3O

— Empire Magazine (@empiremagazine) April 9, 2021
The new Loki trailer saw our favorite trickster god working with the TVA – the Time Variance Agency. Their job is to protect the timelines, and after Loki picked up the Tesseract in Avengers: Endgame, he spawned a new timeline. Loki teams up with  Owen Wilson's Mobius to help fix the timelines that he has broken and of course, hijinx ensue. As Hiddleston himself said, "he is mercurial in nature and you don't know whether, across the MCU, he's a hero or a villain or an anti-hero. You don't know whether you can trust him. He literally and physically changes shape into an Asgardian guard, or into Captain America repeatedly."
 More Hints To the Logo Meaning In The Short-Lived Loki Comics?
While Hiddleston was good at not revealing a lot from his interview, fans are already speculating on what (and who) will appear in the Disney+ series. Many (including us!) are already thinking about how Daniel Kibblesmith's short-lived Loki comics could play into the show. There were only five issues before Marvel canceled the series, but readers learned some potentially important information that could be seen in future MCU TV shows and movies. For example, in Loki #3, Loki meets Then and Now, the children of Eternity. They oversee the "House of Ideas," a place in the MCU where superheroes' stories are kept. Loki stumbles upon Spider-Man's shelf and notes that there is no way so many stories could be told in one lifetime. Even more bewildering is Wolverine's shelf, which stretches beyond sight. How is it possible for them to experience so much?
SPOILER: 
Then and Now alter time so that the heroes can do more; some heroes specifically ask for more time, while others are given more time because Then and Now feel like they need it.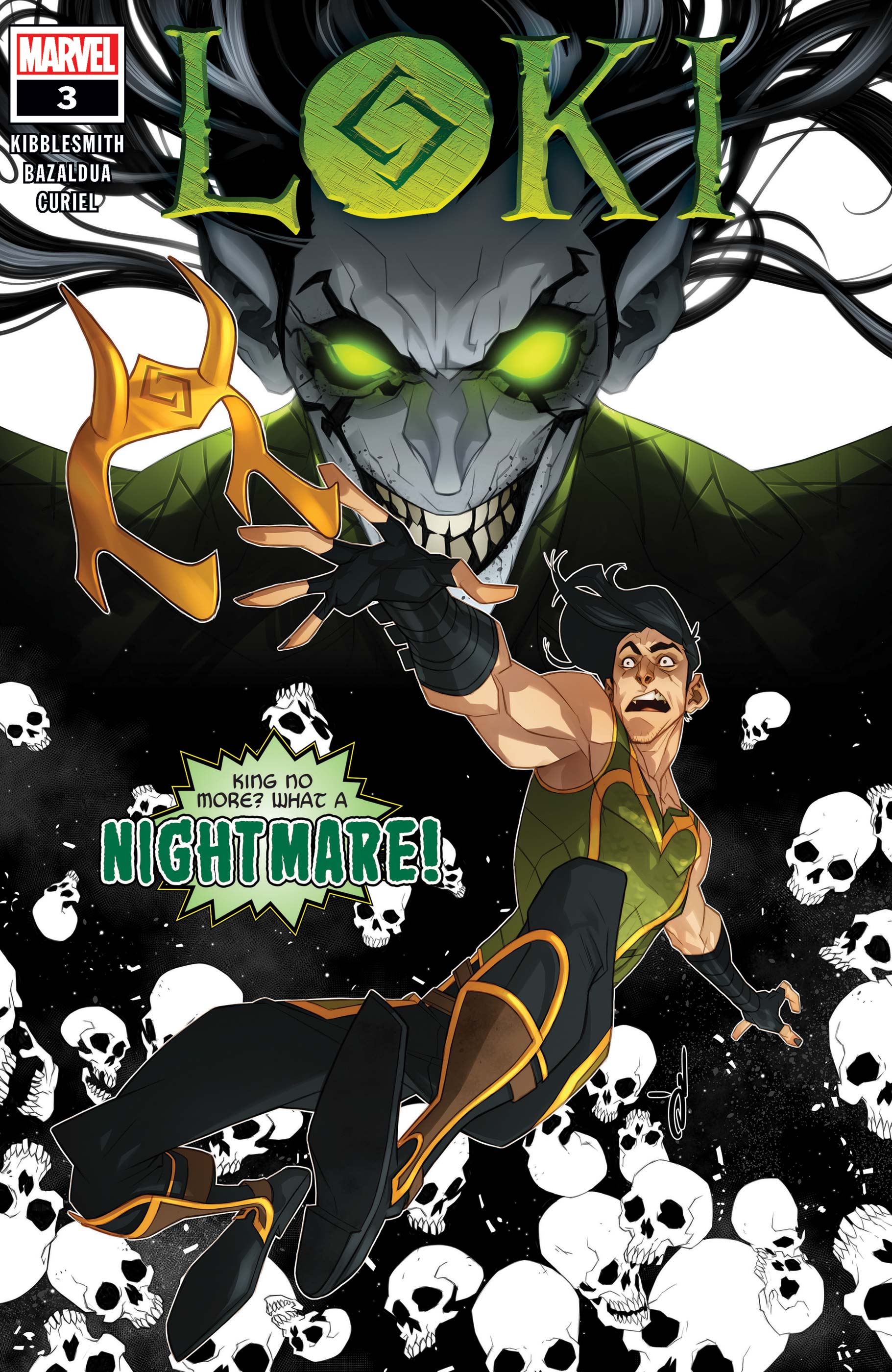 Image via Marvel
Knowing that Loki will be working with several different timelines, it would make sense to include characters i.e. Then and Now, that can alter time (I imagine this could lead to some very frustratingly hilarious scenes with Loki and the rest of the TVA being thrown off course by these children). In addition, Spider-Man: No Way Home, is set to come out later this year, so having Loki discover his shelf could play directly into the movie.
Other comics in the series have Loki time traveling (to the Wild West!) and meeting a whole host of other characters (the Fear Lord Nightmare and the Frost Giants!), so the comics are rife with material to be incorporated into the TV series.
Loki premieres on Disney+ on June 11th.
What do you think is the meaning of the Loki logo? let us know in the comments below!
Featured image via Marvel
Keilin Huang is a freelance writer that likes the Oxford comma, reading from her neverending pile of books from the library, and Reeses peanut butter cups. She thanks her Dad for introducing her to his Superman comics and probably majored in Journalism because of Lois Lane. Contact her at [email protected]
Leave a comment