The Good Place Series Finale Reminds Us Why We Stuck Around
There's nothing more human than not knowing what happens after you die. This concept of morality is spoken by Michael in the series finale of The Good Place. Though, ideas of the afterlife have been explored for the show's full four-season run. For those who haven't had the opportunity to watch the series finale, don't worry. We won't spoil it for you.  Though, we are here to say that The Good Place series finale gave us the ending we deserved, which isn't true for many shows out there.
Image via NBC
How The Good Place Made Us Fall In Love With It
Michael Schur has been responsible for plenty of favorites. He's been a part of creating The Office, Parks and Recreation, Brooklyn Nine-Nine, and more. All of his shows (though, I think we can argue on The Office) are full of wholesome comedy. They manage to be refreshing, witty, and current, all while telling stories that we want to hear. The Good Place has been no different. With a diverse yet cohesive cast, we've all been able to find bits of who we are and who we'd like to be amongst the characters.
The final season of The Good Place is worlds away from what the show started with. When the series began, it was all about Eleanor Shellstrop (Kristen Bell) and her struggle to play a morally perfect person who deserved to live in The Good Place while living a lie. The show hit a massive turning point after the first season. It played out one of the best twists in comedic history – they were in The Bad Place.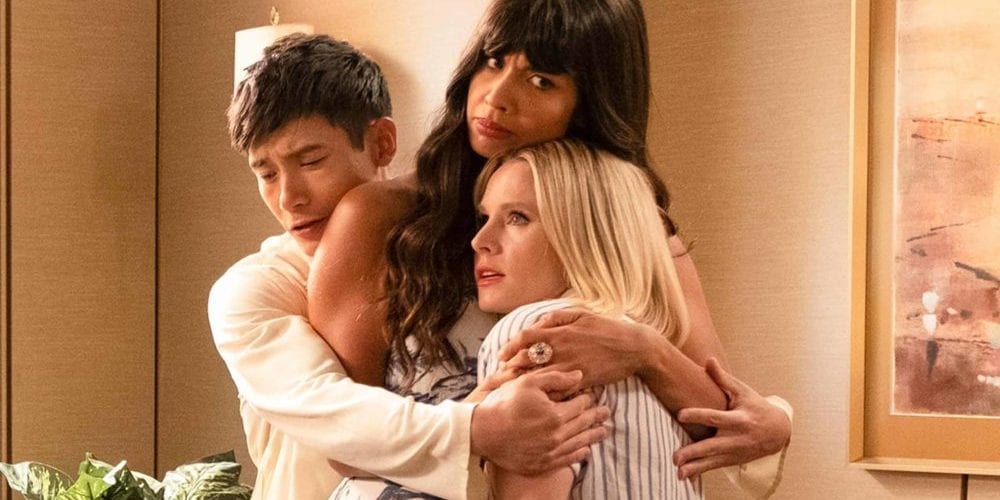 Image via NBC.
A Show That Never Got Stuck
The NBC series easily could have found itself in a repetitive cycle. After all, the entire second season was full of rebooting the characters to re-do Michael's experiment. Though, the writers managed to push the characters in directions that felt both natural and unexpected. Allowing Michael to become a good person flips the series in a new direction, which manages to play out perfectly for the second half of the series.
Eleanor, Chidi (William Jackson Harper), Tahani (Jameela Jamil), Janet (D'Arcy Carden), Jason (Manny Jacinto), and finally, Michael (the incredible Ted Danson) played a show full of heart. Each character manages to become fully realized. We feel them as real people, yet know that they belong together. While forces within the plot try to push them apart, it never becomes a drama within their relationships. There are no unimportant arguments or unnecessary agendas.
The Good Place Handles A Touchy Topic With Grace And Wit in the Series Finale
Morality is a rough topic to handle. Like Chidi, you can take a million ethics classes and still not know the meaning of life. The Good Place, from the moment it premiered to its last moments, takes the idea of an afterlife and what it means to be good or bad and plays with it, knowing that they can't really be proven wrong. They're able to take as much artistic freedom as they want, and yet they still managed to end up with something that seems almost realistic. They don't make morality or the afterlife a showcase of religion. In fact, religion barely plays a part in the show. And it certainly doesn't impact one's ability to end up in The Good Place.
The penultimate episode of the series handles the concept of eternity. People were living in The Good Place, the ultimate utopia. But they weren't happy. Though it seemed like an impossible code to crack, the gang does it. They realize that the ultimate satisfaction for everyone isn't to eat good food, have fun, or fall in love. It's to have a purpose. Having to exist forever erases the determination of life, or the pride in accomplishing (and failing) tasks. So, in the end, being able to walk out on life is crucial to being happy, because you have an end-point. As difficult as this life-changing concept is, the show handled it with humor, sensitivity, and fun.
Image by Colleen Hayes via NBC
The Good Place Series Finale Feels Deserved
It's common for shows to end on heightened emotions. Whether it's a mind-boggling realization like the ending of Lost, or a bittersweet finale like with Breaking Bad, finales are a way to wrap things up will making us remember how it finished. While The Good Place could have left us begging for more or with a twist as good as its first, it doesn't do that to us. It respects us as viewers, and lets us end the show peacefully. And, while I wish I could have hundreds of episodes full of Tahani, I'm glad that the show ended the way it did. I'm sure that Schur can agree, as it ended on his own terms.
Readers, let's talk about The Good Place and that perfect series finale. Do you feel like the show wrapped up properly? And have you walked away from the show feeling a little more moral? If you haven't watched it yet, stay away from the comments until you have.
Featured image via NBC.
Meghan Hale is the kind of movie lover that has a "must watch" that is a mile long... and growing. When she isn't talking about the latest film and television news she is writing one of her many in-process novels, screaming film trivia at anybody who will listen, and working as a mental health care professional. Follow her on Twitter @meghanrhale for some fun theories and live reactions to all things entertainment.
Leave a comment