Tales of TWD Episode 2 Recap
AMC recently aired the latest episode of the anthology show Tales of the Walking Dead. And what an episode it was! This anthology series has set itself apart from the mainline show in several ways. One of the most significant ways is how the show 'reinvents' itself every episode. Unlike the main show, which follows the same characters, Tales of TWD can focus on a few for a single episode. This time around, for episode 2, we learned about Blair, played by Parker Posey, and Gina, played by Jillian Bell. Naturally, AMC titled the episode "Blair/Gina." Spoilers ahead for this episode!
In this latest episode, writer Kari Drake gave Tales of TWD a taste of a time loop. Or, at least, something similar. During the episode, we saw colleagues Blair and Gina trying to escape the apocalypse. In The Walking Dead universe, the apocalypse began in 2010, when Blair/Gina happened. They hijack an oil tanker truck, which eventually explodes. Every time this happens, they face a restart, putting them right back at the gas station. Are they walkers? Is it a mental breakdown brought on by the apocalypse? Or perhaps a combination of both?
At the start of the episode, we see Gina complaining about her boss, Blair's personality. She begins to learn about something called folie à deux. Essentially, this means that two people, who are close together, start to suffer from the same delusions. This is a real disorder and not just something from Tales of TWD! In the show, Gina reads that:
"One person is typically referred to as the primary partner, the principal, or the dominant partner. The secondary partner is typically more submissive. The disorder stems from the primary partner gradually imposing their delusion upon the secondary partner."
Tales of TWD Episode 2 Plot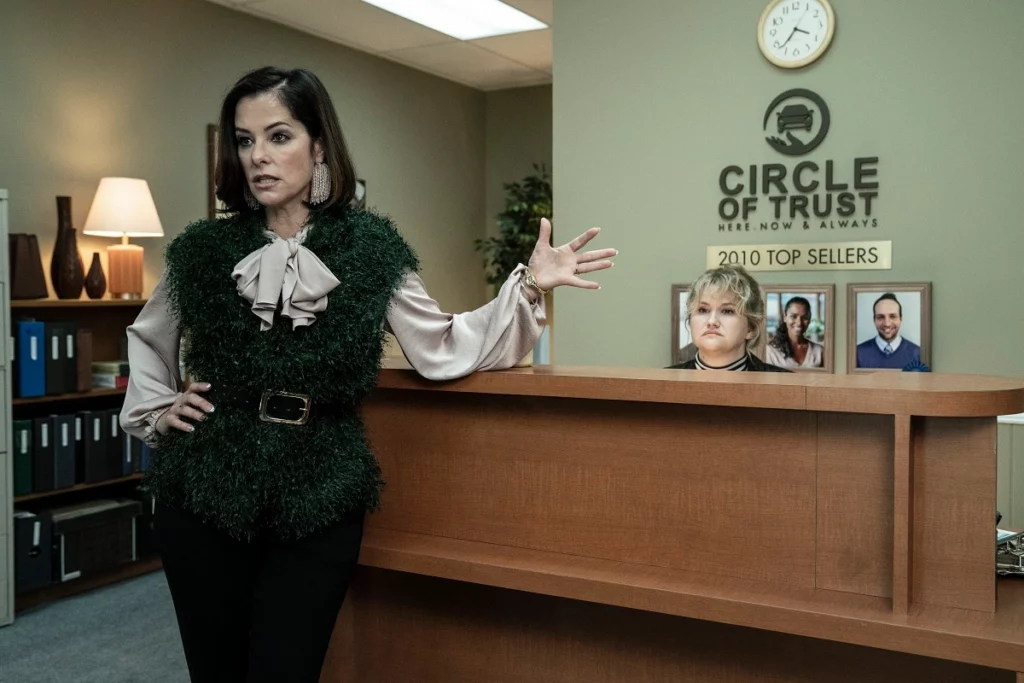 Image: AMC
In essence, one of the pair has a major mental illness, whereas the other individual has the delusions 'placed' on them. As the pair attempt to get out of town, we see that Blair is reading an article called The Dying Brain. The article says that "at the edge of life and death, a dark wave spreads across the brain." Sound familiar? It sounds just like what happens when walkers reanimate in Tales of TWD!
Eventually, the oil tanker at the gas station explodes, killing everyone. However, Blair and Gina wake up again, back at their workplace. They go back to the gas station, which repeats the cycle. No matter what they do, the tanker explodes, killing them and resetting the cycle. In one version, a Homeland Security Agent accidentally shoots the tanker, making it explode. In an alternative one, Gina tries to steal the truck, but it crashes. After dying, Gina and Blair wake up back at work, the only ones who can remember dying. Blair even asks herself, "Are we dead? Maybe this is a dream." We're not surprised – this isn't something that the Walking Dead has ever dealt with before, especially not Tales of TWD.
However, the pair finally release how they can break the cycle – work together. By working together, Blair and Gina realize they can properly steal the tanker. Eventually, the pair drive away together, leaving Atlanta far behind them. We see them riding off together towards the end of Tales of TWD. Blair questions if the pair are dead, but Gina has a great answer: "We're not dead. I think that you have a personality disorder and you passed it to me."
The End of the Cycle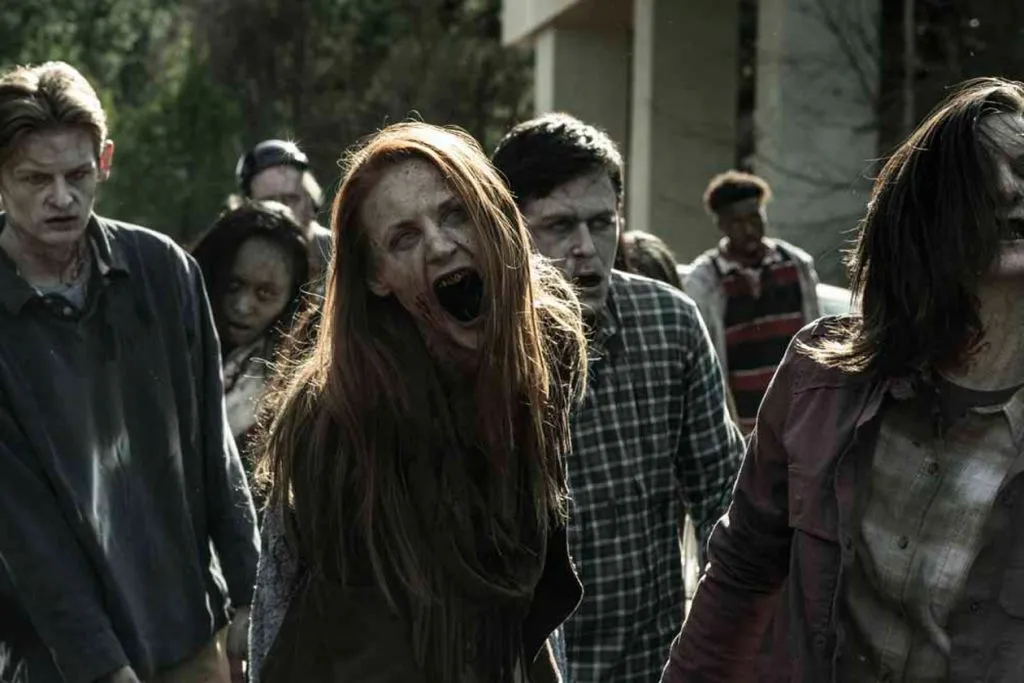 Image: AMC
Naturally, Blair asks how this is possible. After all, Gina is a co-worker, not a family member. However, Gina says: "Because people spend more time with their co-workers than their own families." Perhaps this whole episode of Tales of TWD was a comment on capitalism and work culture.
After all, many scholars have said that the idea of a zombie stems from a fear of capitalism. There are quite a few similarities between zombies and consumers, who constantly need to 'feed.' In Gina's view, "None of this is real. We ended up at the same gas station, facing the most traumatic of life-altering experiences together. Now we're sharing a delusion. None of this is real, but the disorder is real."
Towards the end of the episode, Blair asks about what happened during the loop when Gina turned into a walker and ate Blair. Gina claims it "didn't happen and "it isn't real." Or is it?
The next episode of Tales of TWD comes out on Sunday, exclusively on AMC.
What do you think? What happened in this time loop? Are you enjoying Tales of TWD so far? Let us know your thoughts below!
Hi! I'm Arvyn, and I'm an English teacher from the UK. I've been teaching English online for over 4 years to students from all across the world and all ages. Outside of work, I'm a huge fan of reading, video games, and playing with my adorable kitties. See ya!
Leave a comment