Stephen Amell Talks Heels Updates And Other Upcoming Projects
As an actor or actress, it's easy to get pigeonholed into certain roles and characters, especially if you've been playing them for a long time. Stephen Amell, who played Oliver Queen/Green Arrow on the CW's Arrow for eight seasons, recently went on Deadline's podcast to talk about his projects post-Arrow, which decidedly do not include a green hood or bows and arrows. Many people were wondering why Stephen Amell left Arrow and he addresses this, but Stephen Amell also talks Heels updates and other upcoming projects.
What Heels Updates Did Stephen Amell Talk About?
Featured image via Starz
Amell didn't have specific updates regarding a new season of Heels, but he did go in-depth about how he got involved with the show. He said going from Arrow to Heels felt like a graduation of sorts and it felt right. He actually hadn't thought about what he was going to do after he hung up his bow and arrows until his manager called him and said he needed to pay attention to this new script that he was sending over.
"My manager said, 'Starz is gonna make an offer. The character is great, the writing is great, and give it a look-see.' So I asked what it was for and he said, 'The lead character.' And 15 minutes into the first script I was like oh sh-t. Oh, man. If we get anywhere close to a deal on this and the numbers line up and more importantly I jibe with the showrunner and the network and what they're trying to do, then this is gonna happen."
Amell also said that it felt like it was meant to be because of the similarities between Jeff Hirsch, the CEO of Starz, and Mark Pedowitz, head of the CW. He mentioned that one of the first shows Pedowitz greenlit was Arrow and Hirsch's first show that he was trying to get off the ground was Heels. "Everything felt serendipitous," Amell said.
What about the infamous back injury from the fall of 2020? Amell addressed that too.
"I didn't get as far across the ring as I wanted to and I said, 'You know, let's just try it again.' So, I asked for a second take. And I thought I knocked the wind out of myself. I suffered a compression fracture in my T10 and L1. So basically…I broke my back. I was very lucky that it was an injury that once it's done, it's happened. It's not like a crack in the windshield that's gonna eventually spider out over time. There was a lot of pain because of the surrounding musculature in my body. But once that was released, I went back to work three or four days later."
Amell also had to take some time to reassure Hirsch that he was ready to commit to Heels and all he wanted for the show. He previously had to quarantine after he caught COVID-19 and then after he broke his back, Hirsch was not feeling very confident and it forced Amell to look at himself in the mirror, so to speak.
"Hirsch told me, 'We got a lot riding on this show and it doesn't work without you.' And I had to say to him that the past few weeks are not emblematic of who I am or my behavior. I promise that this is a fluke."
Thankfully, Amell got through the first season of Heels without further incidents and now says, "I think we have something good on our hands."
Some Code 8 Updates!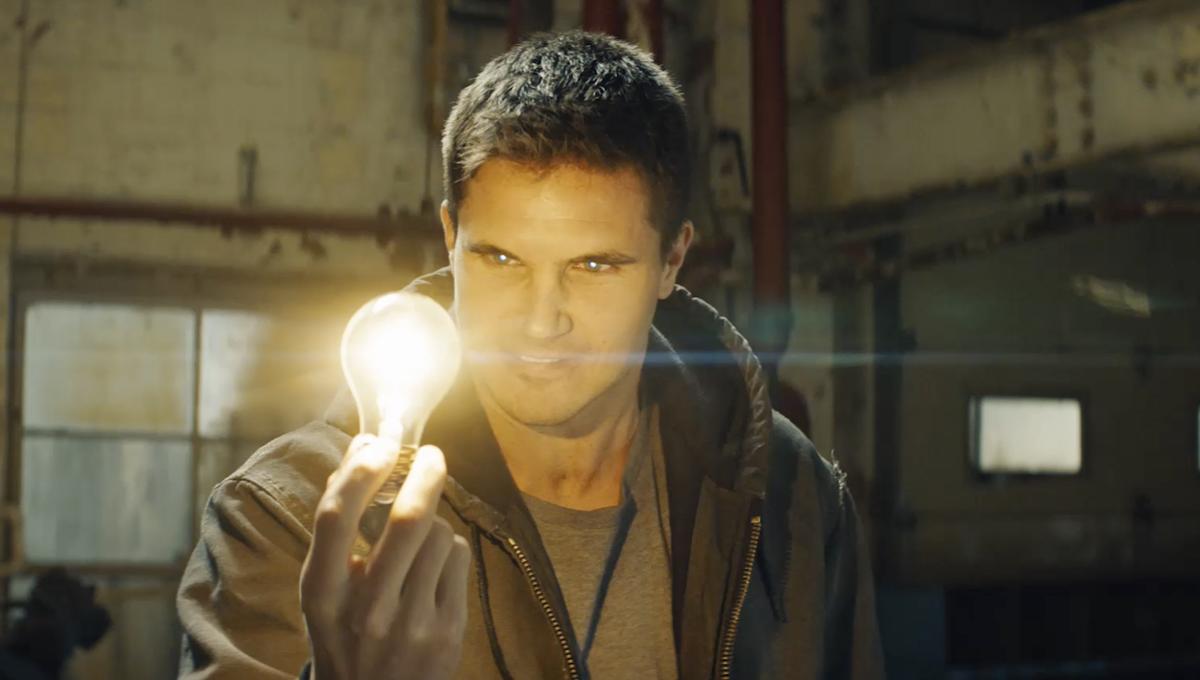 Image via Vertical Entertainment
The Heels actor also talked about expanding the Code 8 franchise, the most successful crowdfunding campaign in Canadian history. It shot to #1 on Netflix when it was released, and the streaming service is starting production on a Code 8 sequel. Amell said they now have a huge chunk of change and Netflix agreed to bring along director Jeff Chan, along with a 40-45 day shooting schedule and a "monster crew" filming with them in Toronto. Amell loves the script and compared it to Terminator 2 by saying, "Don't take this out of context, but Terminator 2 was what James Cameron wanted to do with Terminator but didn't have the means to do." He hopes the same will be true for the Code 8 sequel.
When asked if a certain Fast and Furious veteran will be joining the sequel (Vin Diesel breakdancing in a sci-fi movie??), Amell responded, "I would hope so! But we're still making choices on casting." He did mention that there's a certain actress in the sequel that's really pivotal to the plot. She has a power that won't be seen until the end.
In terms of any other updates, Amell said that he's hoping to get more news on a potential Season 2 of Heels and he's pumped for the Code 8 sequel. He said he's respectfully pushed back on some other opportunities because he wants people to see him in Heels.
Heels premiers August 15 on Starz.
Was Stephen Amell talking Heels updates enough to hold you over until he premiere? Are you excited about the Code 8 sequel? Let us know in the comments below!
Featured image via Starz
Keilin Huang is a freelance writer that likes the Oxford comma, reading from her neverending pile of books from the library, and Reeses peanut butter cups. She thanks her Dad for introducing her to his Superman comics and probably majored in Journalism because of Lois Lane. Contact her at [email protected]
Leave a comment