Star Wars Documentary On Infamous Holiday Special Is Coming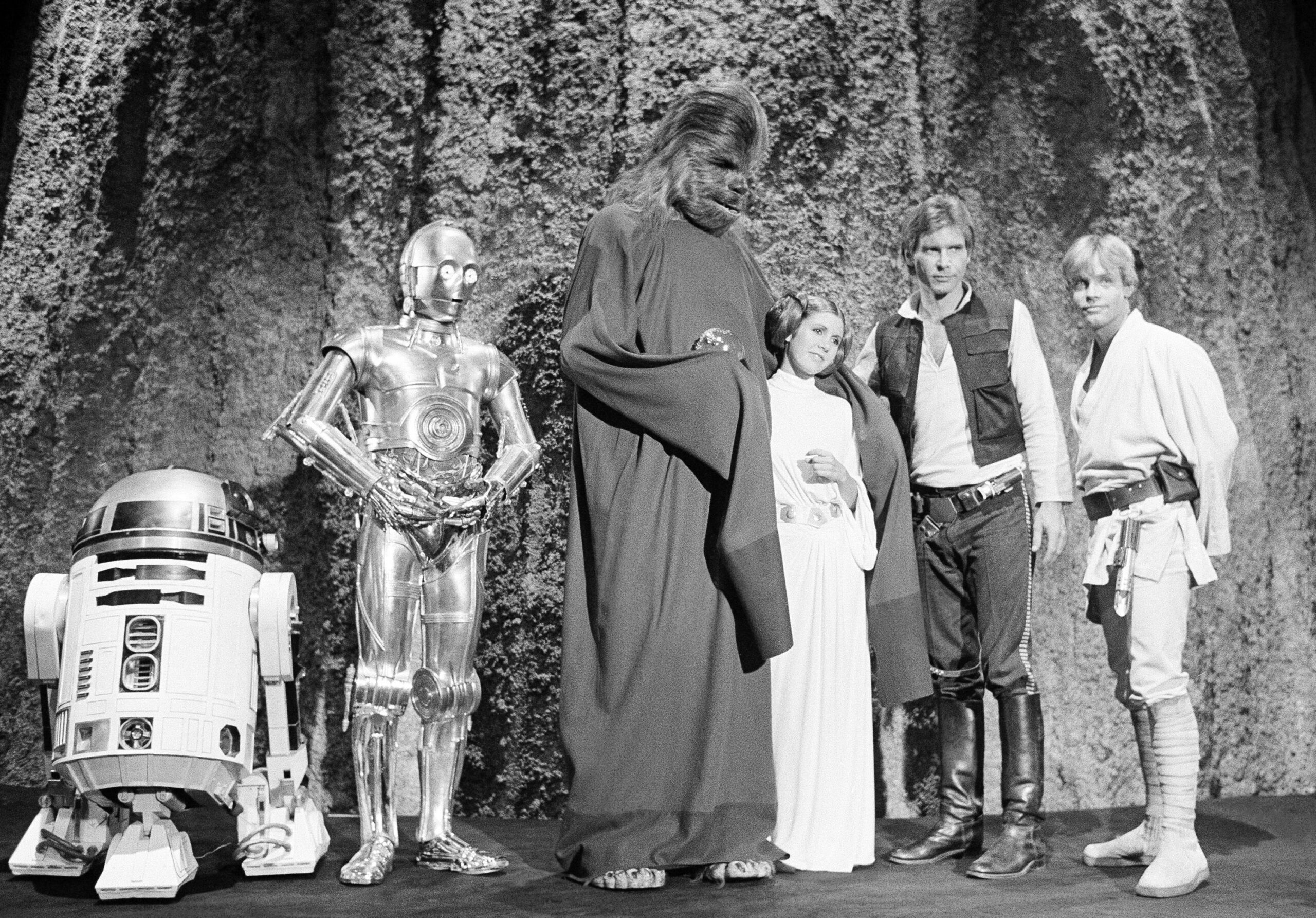 Hold on to your lightsaber toys because it's time for some news nobody expected! There will be a new Star Wars documentary – but what's it about? Well, the Star Wars Holiday Special, of course! That's right, the infamous and bonkers special from a long time ago in a galaxy far, far away is getting the behind-the-scenes treatment in a new doc called "Disturbance in the Force." And it's premiering on March 11th at the South by Southwest festival, so get ready to geek out.
Jeremy Coon and Steve Kozak are directing the movie. Naturally, it features interviews with many celebrity fans, like Seth Green, "Weird Al" Yankovic, and Taran Killam. Even the late Gilbert Gottfried is making an appearance! And Bruce Vilanch, one of the Star Wars Holiday Special writers, is dishing on how the whole thing came together. We can't wait to see what they uncover.
In case you need a refresher, the Star Wars Holiday Special was a variety show aired in 1978. However, it was a one-off thing, and it's not hard to see why. The whole thing was weird and out of place, even for Star Wars. We're talking Golden Girl Bea Arthur singing in the Mos Eisley Cantina and a Wookie watching some seriously questionable content. Carrie Fisher sings a song about Life Day, which is Wookie Christmas. It's a wild ride, let me tell you. So the news about a Star Wars documentary focusing on this Special is quite surprising!
What was the SW Holiday Special about?
Image: Lucasfilm/Disney
However, the special did have some redeeming qualities, though. For example, was a cartoon segment that featured the first appearance of Boba Fett. Well, technically, the second, if you count the 1978 San Anselmo Country Fair Day and Parade. You can watch that cartoon on Disney+ under the title "The Story of the Faithful Wookiee." But unfortunately, the rest of the special isn't available to stream. Perhaps the release of the new Star Wars documentary will change that.
Lucasfilm pretty much disavowed the Star Wars Holiday Special after it aired. George Lucas famously said he wanted to track down every bootleg copy and smash it with a sledgehammer. Ouch! But according to co-writer Bruce Vilanch, the Special was just a way to promote things back in the day. And boy, did it do that. It's a pop culture relic that will forever be remembered as one of the weirdest things ever to grace our screens.
So if you're a Star Wars fan or just a fan of weird pop culture, you won't want to miss "Disturbance in the Force." It will be a blast from the past that we won't soon forget.
Even so, this Star Wars documentary isn't the first time we've seen content from this infamous Holiday Special. Recently, Lego released a Life Day Christmas Special for Star Wars, a much better version of the Holiday Special. Perhaps we'll see the original Special finally make its way to Disney+!
New Star Wars Documentary
Image: Lucasfilm/Disney
Additionally, this isn't the only Star Wars documentary. We've had several of them over the years. The most recent one was Light and Magic. This one featured on the special effects behind some of Lucasfilm's biggest movies. It was a great look into how they managed to create some of the most groundbreaking visual effects from the original Star Wars. 
Naturally, reviews for the documentary were pretty positive. In fact, on Rotten Tomatoes, the film has a 100% approval rating from 13 reviews! On average, reviewers gave the series an 8.8 out of 10. According to the website, the series:
"Document the rise of ILM with comprehensive attention to detail, Light & Magic is a worthy salute to the elbow grease that goes into moviemaking and an absolute treat for fans of cinematic wizardry."
So, let's hope the new Star Wars documentary lives up to these expectations!
Hi! I'm Arvyn, and I'm an English teacher from the UK. I've been teaching English online for over 4 years to students from all across the world and all ages. Outside of work, I'm a huge fan of reading, video games, and playing with my adorable kitties. See ya!
Leave a comment