Star Wars Andor Actors Discusses Relationships
Disney just dropped the first three episodes of the spinoff show, Star Wars Andor. The show acts as a prequel to the film Rogue One, which was also a prequel. In essence, Andor is a prequel of a prequel! In this series, we see Diego Luna's character, Cassian Andor, and his life five years before the events of Rogue One. Andor is not part of the Rebellion; instead, he is similar to Harrison Ford's Han Solo because Andor is a criminal. Naturally, there are spoilers for these first three episodes, so don't keep reading if you haven't seen them!In Star Wars Andor, the titular character isn't the only one returning. Some fan favourites from the series, such as Mon Mothma and Saw Gerrera, also make an appearance. Genevieve O'Reilly and Forest Whitaker play each of these roles, respectively. However, unlike some of the other Star Wars series, the aim of Andor isn't to focus on fan service. Instead, the showrunners have introduced plenty of new characters. In the show, we'll see how they've individually shaped Andor into the character he is in Rogue One.Some new characters include the droid B2EMO, played by Dave Chapman, and the villain Syril Karn, played by Kyle Soller. There's also Adria Arjona's character of Bix Caleen and Stellan Skarsgård's Luthen Rael. In the episode that Disney just released, we see Bix introduce Andor to Rael. It appears that Rael will be the one to help Andor become part of the Rebellion. This seems especially true since the end of episode 3 shows Andor fleeing the planet of Ferrix, along with Luthen. He ends up leaving Bix behind – that's what we call an exciting ending!
Who is Bix in Star Wars Andor?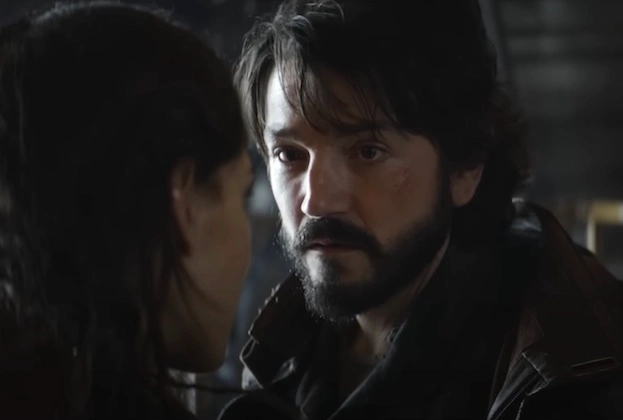 Image: Lucasfilm/Disney
These first three episodes of Star Wars Andor did well to center our characters and show some of their complex relationships. Namely, we saw more of the disharmony between Bix and Andor. They appear to have quite a long history together. In a recent interview, Arjona spoke about how the pair know each other. She mentioned that there are hints of romantic tension but also clarified that the pair wouldn't have worked long-term:
"I know they've had a long friendship. They're childhood friends, and there's this mystery of, 'Were they ever really in love? Were they ever together? Is there jealousy between Cassian and Timm? Is this a love triangle?' So it really is kind of unknown, but through their long friendship, trust has been built and then broken and then built back up and then broken again. But Bix still cares deeply for Cassian. He's incredibly complex and complicated, and he always seems to get himself in trouble or do things a different way. And like I said, Bix is so practical. She has her own business, and she is finally running it the way she wants to run it. She's at the top of her game. She finally has stability, but every time Cassian comes in, he just disrupts it a little bit. So she almost wishes better for Cassian, and she's incredibly protective over him. But she always ends up picking him over everything, and it kind of sucks…"
Adria Arjona Interview
Image: Lucasfilm/Disney
In comparison, Arjona spoke about how Bix and Timm Karlo, played by James McArdle, are a much better couple in Star Wars Andor, despite Karlo's death:
"Timm is safe. Timm is responsible. They function well together. They run a business together. Maybe she had hopes and dreams that it could've been Cassian, but who knows? It's just impossible with him, hence that line that Cassian gives Bix, and Bix responds, 'I don't ask you about your personal life.' So you could really feel the tension in that moment of, 'Oh, he doesn't like that Timm is in my life.' But he comes and goes a lot. That's his way of protecting the people that he loves."
Even though there is some romantic tension between the characters on the show, it doesn't seem like the writers will spend a lot of time exploring it. We saw Andor ditch Bix on Ferrix, and there's no indication that he'll ever come back. Of course, we'd love to see more of her, but it's interesting to see they've thought about untold backstories when creating the characters.
Currently, Andor sits as the Star Wars show with the highest rating on Rotten Tomatoes since the first season of The Mandalorian. The show is set to take the series in new and interesting directions. You can catch new episodes of Star Wars Andor every Wednesday, exclusively on Disney+.
Hi! I'm Arvyn, and I'm an English teacher from the UK. I've been teaching English online for over 4 years to students from all across the world and all ages. Outside of work, I'm a huge fan of reading, video games, and playing with my adorable kitties. See ya!
Leave a comment