Shows To Watch After Game Of Thrones Ends
Game of Thrones is coming to an end, and believe it or not, next Sunday is it. The last episode is sure to bring a lot of tears and cheers. Whether or not you've avoided the spoilers about the last episode of Game of Thrones, it's still going to end. Luckily, the show is going to continue in spirit with spin-offs set for HBO. These shows are not detailed strongly, but luckily, more info should be coming soon. Still, it will be hard to say goodbye to these characters. Ten years since the start of the show, many love Game of Thrones more than anything. So what happens next? Hopefully, fans find a new show to love and start binging. That's what this article is all about: shows to watch after Game of Thrones ends.
Before getting to the recommendations, let's talk about why Game of Thrones was so successful in the first place.
What Made Game of Thrones the Show to Watch?
There were many fans of Game of Thrones that were unpredictable. Fantasy as a genre is very specific and catered. That means most on the outside do not find the genre interesting. There were a lot of people who found fantasy to be interesting thanks to Game of Thrones. What made the show so different? A few things, actually.
Budget and Production
Let's get the obvious one out of the way. Game of Thrones is a monster production. There's a lot of money in these last seasons, but even the early ones were expensive. As CGI increased in the show, so did the price tag. HBO is not afraid of big budget programming. Shows like Westworld are nearly all CGI, so the money is there for the network. The question becomes how many shows can they produce like this? Well, for every Game of Thrones budget, there are cheaper shows on the network that are more casual dramas or comedies. That balance keeps HBO diverse in programming and costs. Like any major show, it costs a lot of money to make a quality product. Especially considering the lack of actual dragons to hire!
Characters and Story
There are a lot of fantasy novels out there. Unlike anything else in the genre, however, Game of Thrones has always been a standout. When the novels debuted, George R.R. Martin was a relatively unknown author. Now, he's synonymous with the fantasy genre. As a showrunner, Martin helped shape the show we know today. Although the show has outpaced the books, we know that Martin has hinted the story to the main showrunners. Will the books catch up? Martin is known for slow writing. The books are great source material for this wonderful show.
The characters central to the story of Game of Thrones are some of the best in the fantasy world. With spin-offs coming, there are likely more stories involving the families in Westeros. Hopefully, some characters or their early ancestors come back in stories for the new series. The best part of Game of Thrones has always been the characters central to the story. There's no telling what worlds Martin and the future show creators will be able to make.
Actors
It's tough to predict if young actors will be successful. Considering how young Emilia Clarke and Kit Harrington were when Game of Thrones started, it's impressive to see them now. The actors are getting paid top dollar to play the two most important characters, and they're knocking it out of the park. Many complaints have come up about the writing of the last season, but the actors have made the most of it. It'll be exciting to see what the actors do next, with people like Lena Heady already moving into more dramatic roles on television and film.
So what comes next for Game of Thrones audiences? Waiting for spin-off series may be awhile, so here are some shows to watch after Game of Thrones ends.
Shows to Watch After Game of Thrones Ends
Game of Thrones is known for a big budget, great actors, and interesting stories and characters. Here are shows that match that quality for when you start looking for shows to watch after Game of Thrones ends.
The 100 (2014-Present)
If you haven't seen The 100, you might want to add it to your list. There are a ton of great shows out there about the end of the world, but this one is incredibly unique and interesting. The 100 is a fantasy style show that fits in well with what Game of Thrones fans love. The show is also a book adaptation from a popular young adult novel. Young adult fantasy novels have been quite popular lately. In fact, The Hunger Games was a young adult series before reaching popular heights with the films. In The 100, the world has become unlivable. With some left behind as others head to space to escape doom, politics and drama run wild. The show is gritty and tense, just like Game of Thrones. Likewise, the show is very binge able. Catch The 100 on the CW, as well as Netflix for the older seasons. Younger audiences who can't handle Game of Thrones may have a fantasy favorite in this series.
The Expanse (2015-Present)
A big fantasy hit with Game of Thrones fans ought to be just as exciting as the HBO show. The Expanse is also based on a hit series of fantasy novels by Daniel Abraham and Ty Franck under the penname James S.A. Corey. The sci-fi series follows detective Joe Miller and a team of space explorers as they investigate intergalactic murder and mystery. Despite the vast space setting, human values and struggles are central to this story, just like GoT. SyFy held the series for its first three seasons, and cancelled it, causing outrage. Fans petitioned a new network to grab the show, and Amazon Prime picked it up. They are working on the fourth season now, and that is perfect timing for new viewers. Watch and binge the first three seasons on Amazon Prime now, and get ready for the new season coming sometime later in 2019. Do not miss this one!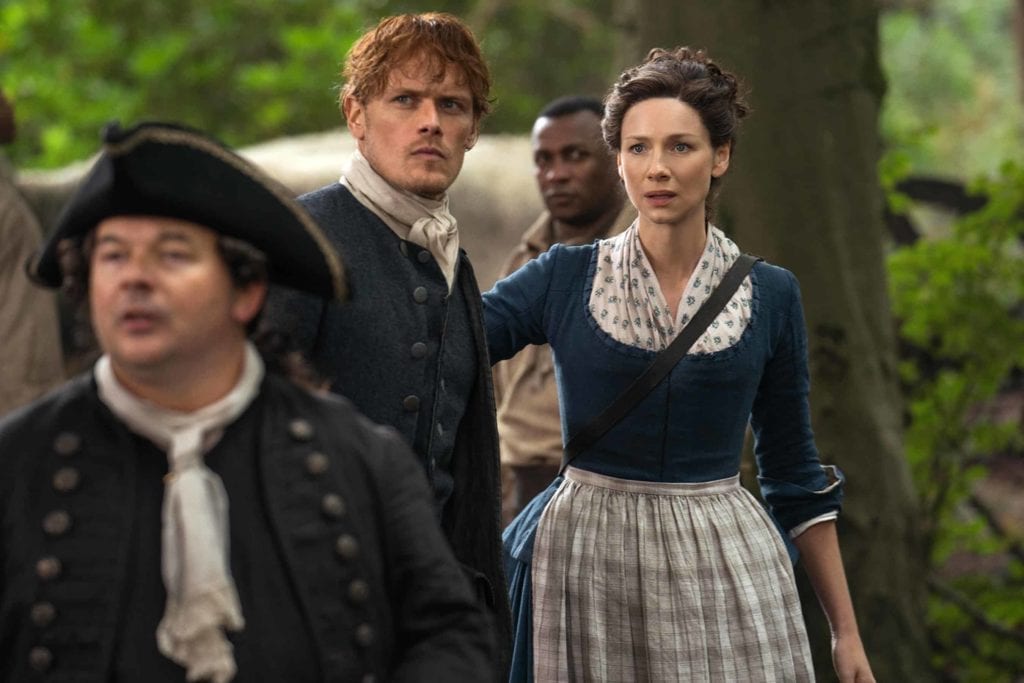 Outlander (2014-Present)
Some think of Outlander as the more romantic side of Game of Thrones, but it's just as brutal sometimes. The show debuted on Starz in 2014 and has since been a staple of the rival premium cable network. There are a lot of things to love about Outlander, including the time travel mixed in with historic style action and drama. The show is actually produced by a longtime fantasy TV producer, Ronald Moore, who has worked on Star Trek and Battlestar Galactica. The book series Outlander follows as a TV adaptation looks at Claire. She's a World War II nurse who is transported back into the 18th century. As she strives to look and find her husband in the present, a ton of horrid things that take place in 18th century Scotland follow. The show is a great example of the feminine perspective in times of absolute patriarchy and violence. Catch up with the show now, and a new season should be out by the time you finish!
Vikings (2013-Present)
Another show that is still on received a lot of hate initially for being a Game of Thrones knockoff. Vikings debuted in 2013 on History Channel and looked an awful lot like GoT. Unlike the HBO hit, Vikings was a historic look at the Norse stories and journey of heroes depicted in Tale of Ragnar Lodbrok. The clan following the Lodbrok family are conquering the area with brute force, but the characters are deep down heartfelt humans. A ton of influence came into this show from Game of Thrones, but it is far from a rip-off. The show was a surprise for many, seeing as this is different from what the History Channel normally produces. It has led to more scripted dramas on the network, but they still focus on documentary style and reality shows.
Conclusion: Finding Shows to Watch After Game of Thrones Ends
It will be impossible to fill the void Game of Thrones is leaving. Nonetheless, viewing quality shows does not end when the HBO hit fantasy saga ends. As mentioned, HBO is planning at least three spin-offs around Martin's world and Westeros. If you do not want to wait, catch up on any of the shows listed in this article. There are a lot of great options to choose from, and they should fill the void as much as possible. If you have to pick one, Vikings may be the best to start with because it is very similar to Game of Thrones. If you want the best show of the pack, however, go with Outlander. The acting and characters are top notch. Likewise, the show is produced by a team very similar to Game of Thrones, and the budget is high for great visuals.
There are a no right answers to what happens after Game of Thrones. Despite backlash, the show is still historic. Nobody will likely do a show like this again, so enjoy the final episode. After the show ends, dive into one of these great programs as you wonder what shows to watch after Game of Thrones ends.
Featured image via HBO
Taylor is the Gaming Editor of Comic Years and a lifelong fan of video games. He holds two degrees in Political Communication and wrote a Master's Thesis on resistance movements, race, and the exploitation of college athletes. His wife and two Toy Australian Sheppards keep him sane.
Leave a comment