She-Hulk Was Inspired By Ragnarok, Say Its Directors
The series She-Hulk continues to conclude this first season of 9 episodes with action, drama, and above all, laughter. This production has won over the audience. Firstly for the humor that inspires each of its chapters and for the MCU characters that appear in it. In a recent interview with the series' director, Anu Valia, she commented on her inspiration. According to her, She-Hulk was inspired by Ragnarok because of its director Taika Waititi's touch in the movie. Not only do you see the action, but it has a touch of comedy, which people like, Valia said.
She applauded Waititi's style. As for her opinion, it touches on the different emotions of the person. This style reflects different situations. They can be tragic, like Odin's death in Thor Ragnarok, or the comic scenes, like when Hulk whipped Thor in The Grandmaster Palace.
Valia noted that he wanted to use this mode of direction in the Disney+ production of She-Hulk. She succeeded in doing so, as this one contemplates several emotional situations. We see Bruce's sadness over the death of his friends, Jennifer's anxiety over her double life, and all the comedy that goes with it.
She-Hulk Was Inspired by Ragnarok, Say its Directors
Image via Marvel Studios.
Director Anu Valia stated the source of her inspiration for Disney's She-Hulk series on the Friends From Work podcast. In this broadcast, she revealed that Ragnarok, the Thor 2017 movie, inspired She-Hulk. She highlighted Waititi's style that makes people laugh with comedy without leaving aside the seriousness of the plot.
She stated in the podcast that she was inspired by how the plot can coexist with different elements. Clarifying that she was not only looking to tell a story but that the story should be fun—this inspiration leaving aside the fear of creating something good and doing something original.
She highlighted the work done in Thor by Waititi, not only in Ragnarok but also in this saga's last sequel. Valia also commented that there are funny moments but also tragic and sad ones. She mentioned Jane Foster's terrible situation, fighting cancer, and funny moments like when Zeus throws the Thunderbolt at Thor.
Image: Marvel/Disney
Another one who, in Valia's opinion, has this style and has made it noticeable in each of his productions is James Gunn. She stated that this director's style is palpable in Guardians of the Galaxy. Fights, romances, dramas, and many comic and funny moments.
She highlights the balance that both directors put in each of their productions, which denotes how popular they are, especially Thor Ragnarok, considering that the public loved it. The film grossed $854 million, so Valia's opinion has merit.
She ended her podcast interview by stating that she wanted to create something new and unique. However, She-Hulk was inspired by Ragnarok. The movie was always on her mind because of the fun it was when she was in the development process. So she built something new based on something she liked and made her laugh.     
The Reference to the Movie in the First Episode
Image: Marvel Studios/Disney+
There's a direct reference that She-Hulk was inspired by Ragnarok. It's not only seen in the laughs and the balance she seeks to convey through human emotions. There was another reference from this movie that many people overlooked in the first episode of She-Hulk. This moment is in the crash scene when they see the alien ship. 
The ship in question is from Sakaar, the planet the Hulk went to after the Quinjet crashed. Causing the green giant to land on that planet. He would be the champion of The Grandmaster Palace tournament until Thor also arrives there after his first encounter with Hela.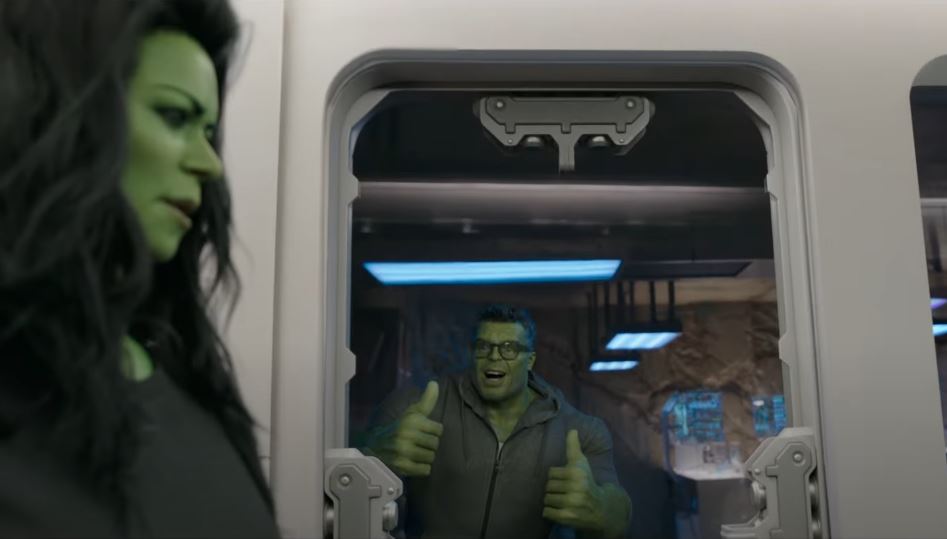 (Image: Marvel Studios)
At this point, there are many conjectures. One of these is that the ship's pilot was the Hulk's son. Readers should note that in the comic, this character has a family on this planet, a wife and a son. There is a possibility that he went searching for his father to take him home.
This connection makes sense to some extent, considering that at the end of the She-Hulk series, Bruce Banner returns to Sakaar. This trip opens the possibility of him returning to his family to enjoy life with them and leaves openings for other Marvel productions.
This event could lead to the production of Hulk: World War, in which the green giant declares war on humans. This conflict is because they eliminated his wife and son, and he wants revenge.
Featured Image Via Marvel Studios 
I am a circus aerialist influenced by Dick Grayson and Spider-Man. Fortunate to write about the characters that inspired me. I also have a Bachelor's degree in Political Science and a Master's degree in International Trade.
Leave a comment