She-Hulk Photos Show Tatiana Maslany in the Famous Scene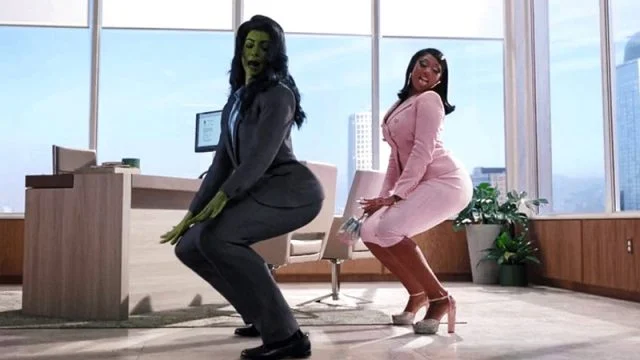 One of the largest cameos in the history of She-Hulk film: Attorney at Law occured in the most recent episode, when Megan Thee Stallion made an appearance. Tatiana Maslany, who plays Megan in She-Hulk, twerks in the latter's office in a clip that has since gone viral on the internet. Currently, behind-the-scenes pictures from the incident have surfaced, showing Maslany wearing motion capture equipment so that VFX creators could replicate her Hulk alter ego. Maslany described the appearance as the best day of her life earlier this year, though she didn't say who was appearing at the time.
"I really want everyone to see it because it was the greatest day of my life," Maslany recently revealed to THR. "It was the greatest moment of my life. Especially in the mo-cap suit! There's no way I'm going to feel cool if I'm opposite the most beautiful cool person on the planet. There's just no way. So if I can look like a little kid dancing in pajamas, that's fine with me. As long as I get to dance with her, I'm happy."
The show follows Tatiana Maslany as Jennifer Walters
Source: Polygon
As Jennifer Walters in the She-Hulk film, a green 6-foot-7-inch superpowered behemoth, navigates the challenging world of a single 30-something attorney, She-Hulk: Attorney at Law follows her journey. Numerous MCU veterans, including Mark Ruffalo as the Hulk, Tim Roth as the Abomination, Charlie Cox as Daredevil, and Benedict Wong as Wong, will appear in the nine-episode series. In addition, Josh Segarra plays Augustus "Pug" Pugliese, Renée Elise Goldsberry plays Mallory Book, and Ginger Gonzaga plays Nikki Ramos. Kevin Feige, Louis D'Esposito, Victoria Alonso, Brad Winderbaum, Kat Coiro, and Jessica Gao are executive producers. Jennifer Booth and Wendy Jacobson share the role of executive producer.
Nine episodes of She-Hulk film: Attorney at Law came out on August 18 and ends on October 13. The MCU's Phase Four television series finale is this one. Critics gave the show mostly favorable reviews, praising Maslany's performance and the lighter tone in particular, however opinions on the visual effects of the show caused division.
She-Hulk film comes from the comic character of the same name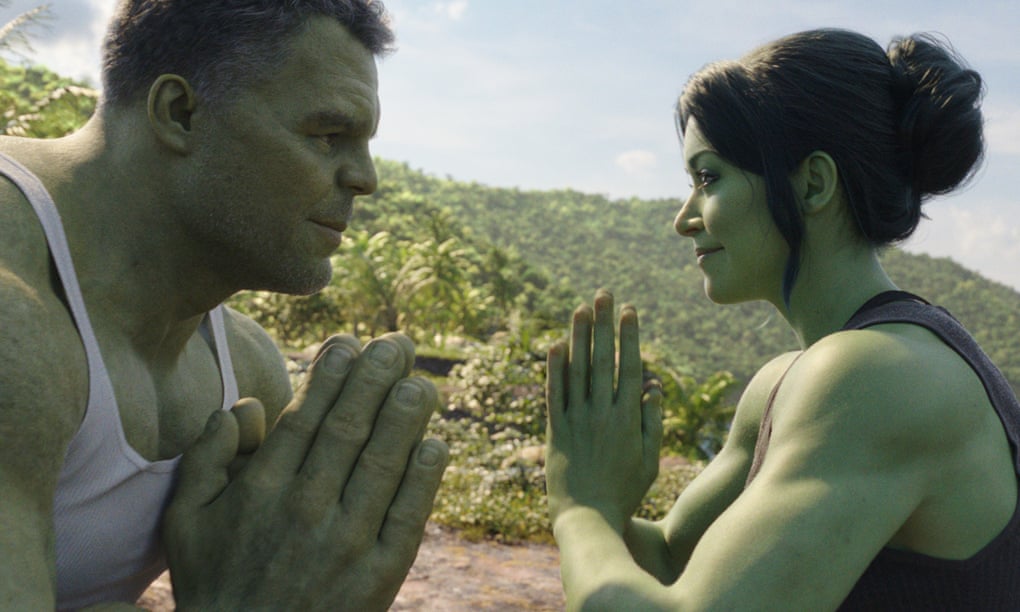 Source: The Guardian
Jennifer Walters, a fictional character known as She-Hulk, appears in American comic books produced by Marvel Comics. She debuted in The Savage She-Hulk #1, written by Stan Lee and illustrated by John Buscema (cover-dated February 1980).  Walters got an emergency blood transfusion by her cousin Bruce Banner after suffering an injury, and as a result, she developed a milder form of the Hulk ailment. As a result, the lawyer, Walters transforms into a big, strong, green version of herself. She essentially keeps her personality, including the majority of her intelligence and emotional control, unlike Banner. She can still lose control when angry, and when she does, she gets considerably stronger, just like the Hulk. Her change is permanent in later seasons, and she frequently breaks the fourth wall for comedic effect.
She-Hulk film has served as a member of the Defenders, Fantastic Force, Heroes for Hire, Fantastic Four, S.H.I.E.L.D., the Avengers, and the Fantastic Four. She routinely uses her legal and personal experience to serve as legal counsel to various superheroes and other metahumans. She is a highly skilled lawyer who accidentally became a superhero. Under the guise of She-Hulk, Jennifer had somewhat diminished versions of her cousin's abilities. She also had a more Amazonian, less monstrous aspect. Similar to Bruce Banner, her She-Hulk metamorphosis initially comes from rage. Her altered appearance was initially attributed to her irrational desire to resemble the ideal woman. This is comparable to the mutations caused by her cousin Bruce, Doc Samson, and the majority of other people who received gamma radiation over time.
Leave a comment